Why the Veteran Health Care Bill Was Smacked Down by Republicans
The Senate failed to advance legislation Wednesday meant to protect veterans exposed to toxic materials during their service. Forty-one Republicans and one Democrat voted against the measure, blocking it from reaching the 60-vote threshold needed to bypass the filibuster rule.
The failure of the Sergeant 1st Class Heath Robinson Honoring Our Promise to Address Comprehensive Toxics (PACT) Act came as a surprise, since an earlier version of the bill passed by a wide margin of 84-14 on June 16. All 14 "no" votes at the time were from Republicans, but additional GOP senators and Senate Majority Leader Chuck Schumer, a New York Democrat, who switched his initial "yes" vote to "no" to allow a future vote on the legislation, joined them Wednesday.
While not all of the Republican senators who voted against the PACT Act have publicly explained why they did so, several have offered insight on why the GOP opposition grew after the initial vote in June.
A release from GOP Senator Pat Toomey's office on Tuesday said that the PACT Act "would enable $400 billion over the next 10 years in spending completely unrelated to veterans." It noted that Toomey, a Pennsylvania lawmaker, has a "technical fix" that "does not reduce spending on veterans by even $1 or affect the expansion of care and benefits in the underlying bill."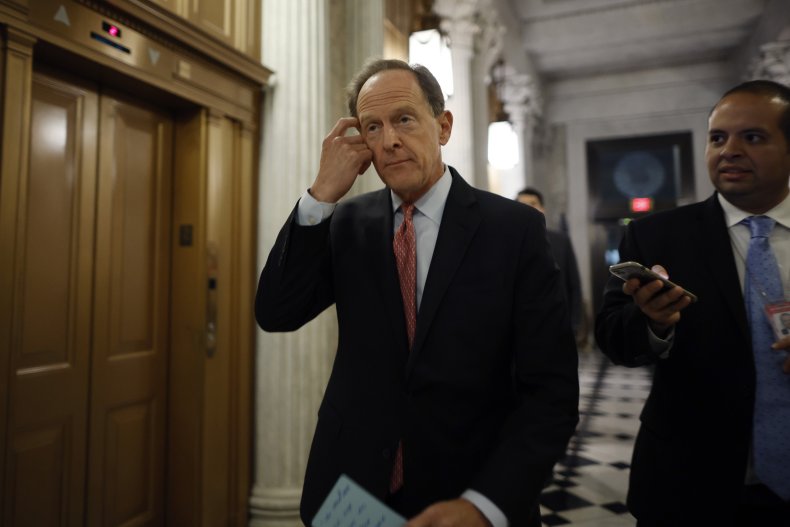 "The PACT Act as written includes a budget gimmick that would allow $400 billion of current law spending to be moved from the discretionary to the mandatory spending category," the release read.
It went on: "This provision is completely unnecessary to achieve the PACT Act's stated goal of expanding health care and other benefits for veterans. However, it would enable an additional $400 billion in future discretionary spending completely unrelated to veterans. By failing to remove this gimmick, Congress would effectively be using an important veterans care bill to hide a massive, unrelated spending binge."
Newsweek reached out to Toomey's office for further clarification on what specific part of the legislation enables this spending.
Republican Senator John Cornyn of Texas has also commented on why the effort to advance the legislation was unsuccessful. He was quoted in a Wednesday CNN article as saying that Schumer would not allow amendment votes that Republicans were pushing for.
"There was an agreement between Senator Tester and [Senator Jerry] Moran for two amendment votes when this bill passed," Cornyn said. "Senator Schumer would not allow those votes to occur. And what we're hoping for is there will be a negotiation to eliminate some of the mandatory spending in the bill and then the bill can pass. But this is a cloture vote to provoke a conversation. But I expect it ultimately to pass in some form or another."
Newsweek reached out to Cornyn for further comment and clarification on what amendment votes he was referring to.
Republicans have faced criticism ever since their opposition blocked the bill from advancing. Tester, chairman of the Senate Veterans' Affairs Committee, said in a statement Wednesday that the "eleventh-hour act of cowardice will actively harm this country's veterans and their families."
"Republicans chose today to rob generations of toxic-exposed veterans across this country of the health care and benefits they so desperately need—and make no mistake, more veterans will suffer and die as a result," he added.
Comedian Jon Stewart has also sharply condemned the development.