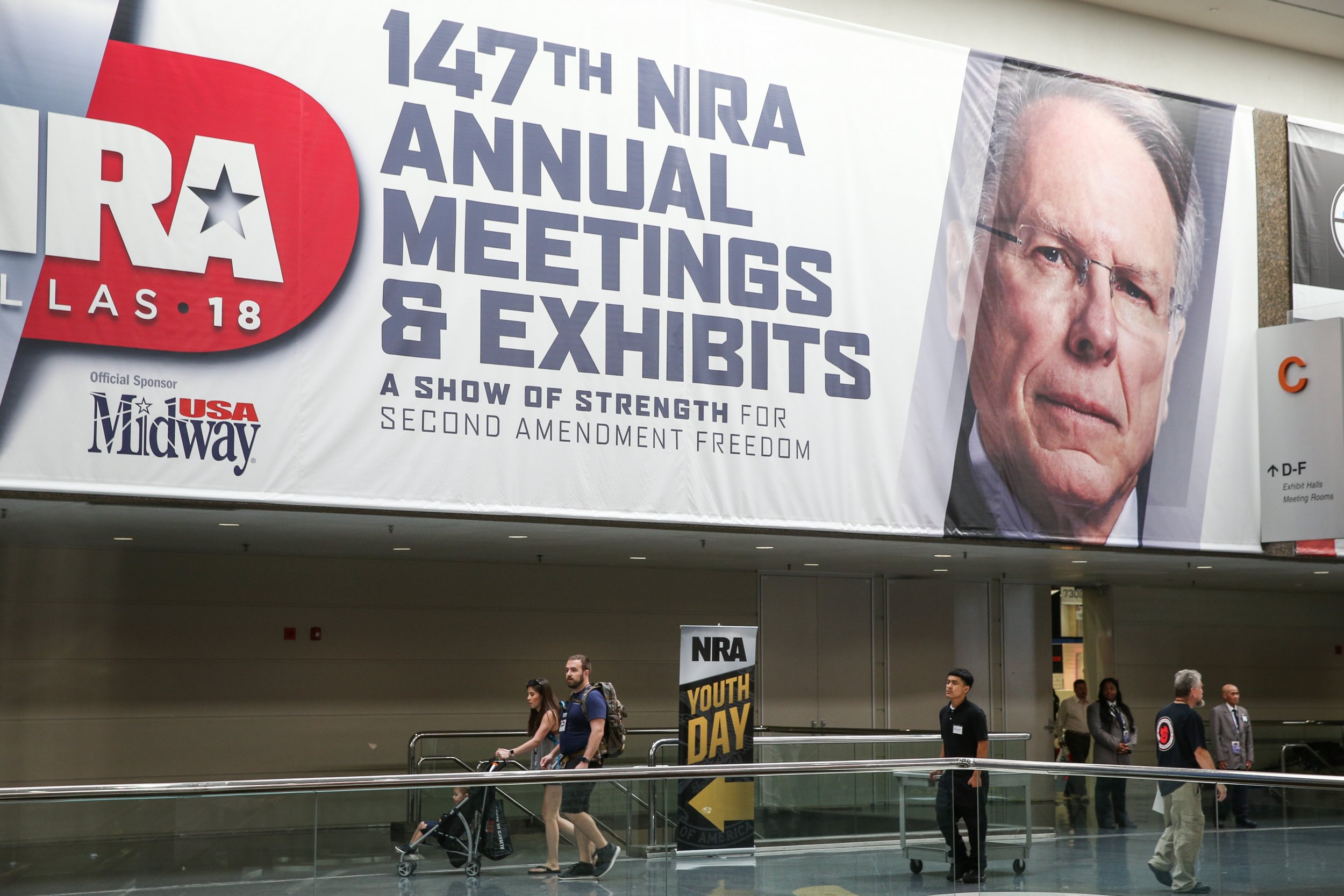 This past weekend, the NRA was in Indianapolis for their annual meeting, advertised as "15 acres of guns and gear."
At first, hearing about this event made me feel nostalgic. I remember my 10th birthday, when my father gifted me a lifetime NRA membership. There are memories of cool fall days shooting clays with my grandfather's shotgun. I take pride in the extensive firearm experience I gained as a Marine Corps infantry officer in Iraq and Afghanistan.
However, this gathering of gun enthusiasts this weekend reminds me of the day, about a year ago, when I resigned my NRA membership.
I used to be proud of my NRA affiliation. It was a group that brought me together with like-minded people. I have friends and family who are still members; some were even in Indianapolis. But now I'm proud that I left, especially given the leadership meltdown we saw this weekend in Indianapolis, with scandal after scandal breaking throughout the weekend.
NRA members are not the problem. Responsible gun owners are not the problem. Most people at the annual convention are not the problem. The problem is the organization's leadership and the politicians that act at its behest.
Simply, the NRA has strayed far from its mission.
Today's NRA barely resembles the organization formed almost 150 years ago to aid marksmen with firearm training, safety and enthusiasm. Even in my youth in the 1980s and early 90s—after the NRA became deeply involved in public policy—at its core, the organization was still about safe, responsible gun ownership.
But much has changed in my lifetime. Earlier this year, the NRA publicly opposed a bill to re-authorize the Violence Against Women Act (H.R. 1585,) legislation that would prevent convicted stalkers and abusive boyfriends from possessing firearms.
The NRA's organizational position was clear. They didn't want to prohibit convicted domestic abusers from purchasing guns. Why? Because any gun purchase—even by a dangerous person—increases profits for gun manufacturers, and any regulation—even common-sense ones—is to be opposed.
The House recently passed a bill requiring background checks on the sale of all firearms (H.R. 8.) Currently, federal law doesn't require background checks on unlicensed gun sales, such as those arranged between strangers who meet on the internet or at gun shows. The bill ensures that no matter where a person buys a gun, they first must pass a background check.
Numerous polls have shown that up to three quarters of NRA members support a federal background check bill. And yet, the NRA is fighting tooth and nail against it. Responsible gun owners do not want to see guns in the hands of people who shouldn't have them. But the NRA is betraying its own members when it comes to gun safety and opposing policies that are proven to significantly reduce gun homicide rates. But, again, these irresponsible policies sell more guns. The common refrain is "guns don't kill people, people do." Well, for all of us that believe that is true, why would we want convicted, dangerous people to have unfettered access to firearms?
Perhaps the worst example of the state of today's NRA is the manner in which the institution demonizes its opposition, especially survivors of gun violence. After the Parkland mass shooting, NRATV personalities attacked the Parkland student survivors as "useful idiot[s]," and even suggested they might be actors, part of some made-up grand conspiracy.
It's representative of the gun lobby's current modus operandi: childish name calling, fear mongering and misinformation. That's why more and more responsible gun owners like me are leaving the NRA.
I believe the overwhelming majority of NRA members are good people and responsible gun owners, but I decry the NRA's leadership and direction. I oppose its tactics. I condemn its inability to support its members, and I lament its transformation from a sportsman's organization into a shill for gun manufacturers and a wedge-creator in society.
A common refrain we hear from NRA leadership is a call for members to "stand and fight" for their rights. That's what I am doing now.
As a Marine Corps veteran, I know when to step up and speak truth to power. I have been trained to examine the battlefield and employ the tactics that will result in the greatest gains for my country, while minimizing the loss of life. That's why I left the NRA, and that's why I now advocate for gun violence prevention.
That feeling I felt in my gut when I heard about the NRA meeting in Indianapolis; I thought it was nostalgia. I was wrong. It was disgust and embarrassment. Nonetheless, that feeling is now motivating me.
Neese is a Marine Corps veteran and founding member of the Everytown for Gun Safety Veterans Advisory Council.
The views expressed in this article are the author's own.​​​​​