Why the Vice Presidential Debate Matters... Both At Home and Overseas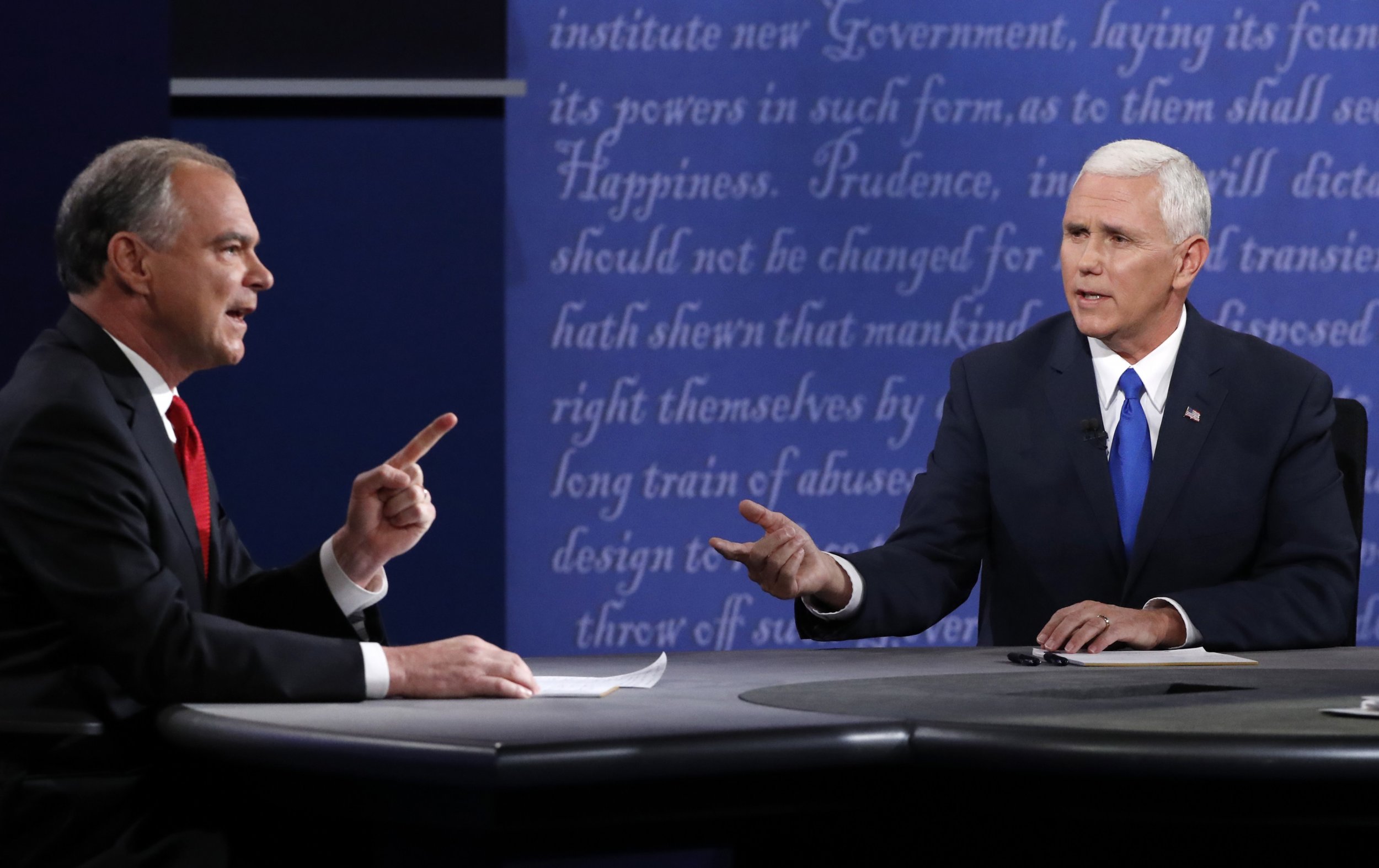 Indiana Governor Mike Pence and Senator Tim Kaine, the running mates of Donald Trump and Hillary Clinton respectively, met Tuesday for the sole U.S. vice presidential debate. The event—which Pence is widely considered to have edged—has been overshadowed by the Trump-Clinton presidential debates, but the issue of who becomes vice president matters, potentially greatly, for U.S. domestic and foreign policy in coming years giving Tuesday night significance.
In part, this is because of the increased status and resourcing of the vice presidential office in recent decades. This has been epitomized in the last quarter of a century by the sizeable influence of the last three incumbents: Joe Biden, Dick Cheney, and Al Gore.
Indeed, Cheney, who was a predominant voice in many of Bush's decisions, including the U.S.-led invasion of Iraq in 2003, is widely viewed as the most powerful ever holder of his office. Meanwhile, Biden and Gore played a major role in U.S. domestic and foreign policy too.
Biden was, for instance, a key player encouraging Obama to seek last year's nuclear deal with Iran, and is pushing hard for the pending Trans-Pacific Partnership trade deal with Australia and 10 other countries in Asia-Pacific and the Americas to be ratified by Congress. A good example of Gore's influence in Bill Clinton's administration was the driving force role he played in the international negotiations that led to the 1997 Kyoto Protocol to help tackle climate change.
To be sure, part of the reason for the influence of all three vice presidents was the generally close relationships they enjoyed in office with Barack Obama, George W. Bush and Bill Clinton respectively. However, the common structural factor is the increased status of the vice presidential office which, as well as being reflected in larger staff budgets, also includes greater proximity to the centre of power through a West Wing office in the White House; weekly one-on-one meetings with the president; and authority to attend all presidential meetings.
It is this model of the vice presidency that Kaine or Pence will come into, and it is therefore likely that the new incumbent will be a significant player in the new administration. On the foreign policy front, for instance, both candidates have the potential to 'hit the ground running' given their previous experience.
Pence, for instance, was vice chair of the House of Representatives subcommittee on the Middle East. Meanwhile, Spanish-speaking Kaine could have a particularly influential role on international policy thinking if Hillary Clinton wins given his service on both the Senate Foreign Relations and Armed Services Committees.
There is, however, a potentially even bigger reason why the choice of vice president matters to both U.S. and international audiences. That is, by historical standards, both Hillary Clinton and Donald Trump are relatively old as major party presidential nominees at 68 and 70 respectively. Indeed, if Trump won, he would be the oldest person to win presidency, surpassing Ronald Reagan who was 69 when he emerged the victor in 1980.
This elevates the possibility that, especially if Trump or Clinton won a second term in 2020, Pence or Kaine might be required to assume the presidency upon the incumbent's unanticipated death or incapacity. And it is for this reason that both Trump and Clinton have chosen younger running mates (Pence is 57 and Kaine is 58) with wide-ranging political experience.
Both Trump and Clinton are aware that in the nuclear age the electoral stakes have grown of not selecting a deputy who is perceived to be capable of assuming the top job. This latter factor was a major feature of the 2008 election when Republican nominee John McCain, then aged 71, made the misjudgement of selecting Sarah Palin (then 44)—whose only major experience of office was less than two years as governor of Alaska. Rather than boosting McCain's campaign, Palin was—ultimately—widely viewed at the time as too inexperienced to be able to potentially become a heartbeat away from the presidency.
History underlines the crucial role that vice presidents stepping up to the presidency have played and it is perhaps Harry Truman who best exemplifies this. Truman was vice president from just January to April 1945 before assuming the presidency after the death of Franklin Roosevelt.
Within weeks of assuming office, Truman had to make several hugely consequential and controversial decisions, including the dropping of atomic bombs on Hiroshima and Nagasaki in August. He also attended in July and August that year the landmark Potsdam conference with the Soviet Union and the United Kingdom to decide how to administer the defeated Nazi Germany.
A third reason why the debate and the vice presidency matters is that it has become perhaps the single best transitional office to the presidency in recent decades, and it is more than possible that Kaine or Pence could run for the top job in the future themselves. Indeed, since 1960, four sitting vice presidents (Richard Nixon in 1960; Hubert Humphrey in 1968; Walter Mondale in 1984; and Gore in 2000) won their respective party's presidential nomination, but then lost the general election, while two vice presidents have been elected president (Nixon in 1968 and George H.W. Bush in 1988).
One reason vice presidents have, in the post-war period, enjoyed particular success in securing their party's presidential nomination relates to the 22nd Amendment in 1951. This constitutional amendment restricted presidents from serving more than two terms. Importantly, for vice presidents, this allowed for the possibility of organizing a campaign in the sitting president's second term of office without charges, from inside or outside his party, of disloyalty.
Taken overall, Tuesday's vice presidential debate mattered, in part, because it gave a showcase on the people who could become the next but one president. Moreover, even if Pence or Kaine never assume the top job, they both have the potential to play very influential roles in the next few years as vice president on both the domestic and foreign policy fronts.
Andrew Hammond is an Associate at LSE IDEAS (the Centre for International Affairs, Diplomacy and Strategy) at the London School of Economics