Why Voters May Be Shut Out of the 'Pandemic Primary' as Joe Biden Tries to Lock Up Democratic Nomination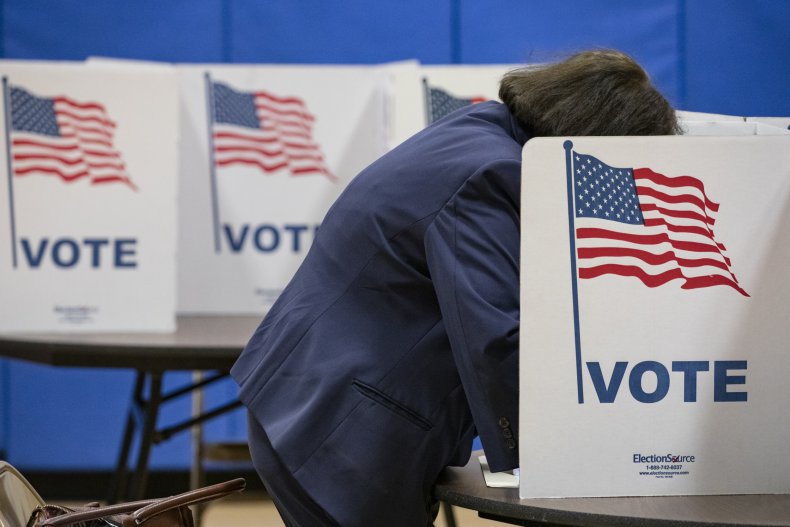 This story is being co-published with Capital & Main
Update: Monday afternoon, after this story was published, Wisconsin Governor Tony Evers issued an executive order delaying the state's primary election until June 9. Republicans are expected to challenge the order in court.
A week and a half ago, Emma Fulwilder of Green Bay, Wisconsin, requested an absentee ballot to vote in Wisconsin's upcoming election. She has still not received it. She received no confirmation that her request was successful, so a few days later, when friends remarked that they too hadn't gotten their ballots, she checked the site where state officials have been directing voters to look. There was no record of Fulwilder's request, and no indication that there was an issue with her information, so she requested her ballot again.
Fulwilder, a planner at an engineering firm but currently laid off like millions of Americans, has a child with asthma, and also has asthma herself, so going to the polls is out of the question. "I really don't like the idea of sitting out an election. This is my civic duty," she says. Fulwilder is active in politics—she's a member of Citizen Action of Wisconsin, a grass-roots organizing group, and she even ran for local office a few years ago. The thought of not voting in this election—in any election—is incomprehensible. "I don't know if it's safe for me to participate if I have to go to the polls," she says. "I can't imagine not voting, but I'm in a spot where I have to consider that if I don't get my absentee ballot."
With no ballot in hand on the last day to apply for absentee ballots (before a judge extended the deadline by a day), she requested her ballot a third time.
Fulwilder then took to Facebook to complain about not receiving her ballot. A city official responded that Green Bay was facing a backlog of 7,000 absentee ballot requests, Fulwilder's among them. A recent court ruling allows absentee voters to turn in their ballots up to one week after the original deadline—if, of course, they receive their ballots.
While the global crisis of the coronavirus continues to unfold and as 15 states have postponed their elections, the state of Wisconsin is moving forward with the state's presidential primary and local elections, scheduled to take place on Tuesday, April 7. The controversial decision will make voting more challenging in a state where voters run into roadblocks even during normal elections.
* * *
The march toward election day has not been simple. The Democratic Party of Wisconsin, as well as mayors across the state, have called to postpone the election. The Democratic National Convention, set to take place in Milwaukee, has itself been postponed from July to August. A judge recently declined to delay the primary but ruled that absentee voters will have more time to submit their ballots. (Wisconsin Republicans are appealing to the U.S. Supreme Court to overturn this decision.)
Wisconsin Governor Tony Evers, a Democrat, had said up until Friday that he would not delay the primary. "Nothing has changed from my vantage point," he said at a press conference on March 31. "It's in state law. The date is set and we're encouraging lots of people to vote absentee and online."
On Friday, Evers shifted course and announced a special session of the legislature for Saturday to discuss postponement. Evers was now proposing to delay the primary until late May and mail a ballot to every registered voter. Republican policymakers, who have a majority in the state legislature, have refused to postpone the election; the special session lasted five seconds in the Senate and 17 seconds in the House as Republican leaders opened it and then immediately adjourned. It seems that if Evers wishes to delay the election, he must act without legislative approval. He suggested he would do so Friday, saying, "If [the legislature takes] no action, we'll be looking at whatever action we can take."
New hurdles born out of the pandemic will disproportionately affect marginalized populations.
If an election indeed takes place Tuesday, it will be chaotic. The state is facing a severe shortage of poll workers as well as a massive number of absentee ballot requests that the state may not be able to handle. Beside the state's strict voter ID law, new hurdles borne out of the pandemic will disproportionately affect marginalized populations, including low-income people, people of color, seniors, and people with disabilities—but will make voting harder for nearly everyone.
Because of the shortage of election workers, Evers has asked the National Guard to work the few polling stations that will be open in Wisconsin. Meanwhile, voters have requested more than 1.2 million absentee ballots across the state.
Presidential candidate Bernie Sanders also called for the state to reconsider its current trajectory. "We don't want people to have to risk their lives in order to cast a vote," he said on MSNBC Wednesday. Sanders thinks states should move to all-mail elections. Sanders' opponent Joe Biden, who leads the polling in Wisconsin, downplayed the threat of in-person voting, suggesting the importance of proper procedures—"having people walk into a polling booth with accurate spacing, six to 10 feet apart, one at a time, going in and having the machines scrubbed down," he said Thursday in a virtual news conference.
One justification for continuing with the election is that Wisconsin's spring voters decide more than the state's preferred presidential candidate. Also on the ballot are elections for a state supreme court judge and numerous county executive and city positions.
If the primary were delayed, "You would have, in the midst of a pandemic, hundreds of essential government positions vacant," says Joe Zepecki, communications director in Wisconsin for the labor-backed For Our Future PAC.
Still, a number of lawsuits were filed to delay the election, including a lawsuit from advocacy organizations that charged voters of color will be disproportionately affected by an election during a pandemic. "African American and Latino voters will have less opportunity than other members of the electorate to participate in the political process and to elect representatives of their choice because they are less likely to be able to vote via mail in absentee ballot," the lawsuit charged.
If the election in Wisconsin continues as planned, there will be a small patchwork of polling stations and a wide influx of absentee voting—if voters both receive their ballots and meet each requirement for their vote to be counted.
The process is "a travesty," says Robert Kraig, executive director of the advocacy group Citizen Action of Wisconsin, of which Fulwilder is a member. He believes that the governor should do whatever is necessary, including extending the terms of lame duck officials, to protect health and safety.
"People will die because of this," says Kraig. "There will be people who will get COVID-19 because they felt like they had to vote."
"People will die because of this. There will be people who will get COVID-19 because they felt like they had to vote."
In addition to the immediate dangers, there are procedural problems that will almost certainly disenfranchise voters.
First, if people want to avoid in-person polling (and curbside voting), they have to request absentee ballots. This requires an internet connection. Internet access is out of reach for some low-income people and seniors, and library computer labs are closed.
And in order to file an absentee ballot, voters must adhere to the state's strict voter ID law and scan a picture of their ID. As of last week, hundreds of voters, mostly seniors, sent selfies of themselves holding their IDs—not permissible under the law.
People voting absentee are furthermore required to have a witness's signature certifying their ballot—this during a time of social distancing in which people are advised to stay home and limit their contact with others. As of March 31, more than 400 people in Milwaukee had returned their ballots without a witness's signature.
* * *
Voting for marginalized populations has never been simple in the first place, never mind a pandemic. Low-income people historically have much lower voting rates than higher-income people.
For the most part, "Only the rich vote—they determine who wins and loses," says Tim Smeeding, a professor of public affairs and economics at the University of Wisconsin- Madison. Poor people, he explains, have incredibly busy lives and are less connected. "They're worried about paying their rent next month, worried about putting food on the table." Politics is often a secondary concern to survival. And obstacles like voter suppression, lack of public transportation, and having to work on election day hardly eases the burden. The low voter turnout in 2016 was partially linked to the state's strict voter ID law. Additionally, Wisconsin removed approximately 700,000 "inactive" voters (people who hadn't voted in four years) in 2017 and 2018. A court case recently ruled that Wisconsin could not purge an additional 200,000 voters who did not respond within 30 days to a mailing.
Now, in the wake of COVID-19, even more obstacles have been thrown in the path of marginalized voters. In Milwaukee, where a large population of black voters live, just five polling stations, instead of the usual 180, will be open. "This whole crisis has exacerbated the inequities that have existed in our voting systems for a long time," says Rick Banks, political director and organizer at Black Leaders Organizing for Communities (BLOC), one of the advocacy groups that filed a lawsuit to delay the primary. Banks foresees more lawsuits coming after the election, especially if returns show that marginalized voters were particularly disadvantaged.
In Milwaukee, where a large population of black voters live, just five polling stations, instead of the usual 180, will be open.
In an election such as this one, "Middle- and upper-class white people are in a better position to vote," says Kraig. Indeed, Waukesha County, largely white and a Republican stronghold, is the third-largest county in Wisconsin. And it is nearly tied with more-diverse Milwaukee County in absentee ballots returned as of April 3. Waukesha County voters have submitted 67,986 absentee ballots, while Milwaukee County voters submitted 72,213. Milwaukee County's population is more than double that of Waukesha County.
Citizen Action, BLOC, and For Our Future have continued organizing, pivoting to digital canvassing instead of in-person events and door knocking.
It hasn't been easy: Door knocking is in many ways preferable to phone calls and texts. It tends to be more effective in terms of persuasion and reaching voters. It's also easier on the canvasser—people can be quite rude over the phone but tend not to scream obscenities when they are face-to-face with a real person. But on the other hand, some people who are isolated at home may be more open to phone calls in the time of social distancing. For Our Future has even begun "Twitter scraping" for the first time—checking who follows them on Twitter and, if they're from Wisconsin, engaging them in conversation about the election.
For Citizen Action, the time is ripe to talk about the merits of Medicare for All and how health care should be accessible for anyone who needs it. Kraig points out a Citizen Action survey that found that nearly half of Wisconsinites had encountered financial barriers to health care within the past year, not a happy result when a global pandemic is fast spreading across the state, and millions of people have lost their jobs and thus their employer-provided health care.
And of course, digital canvassers are talking about the importance of voting while still trying to keep safe.
The obstacles thrown into the path of voters, like the voter ID law, are "absurd in the context" of a global health crisis, says Kraig.
He pauses. "It was absurd all along."
Copyright Capital & Main