Why Wall Street Is Suffering From China's Slowdown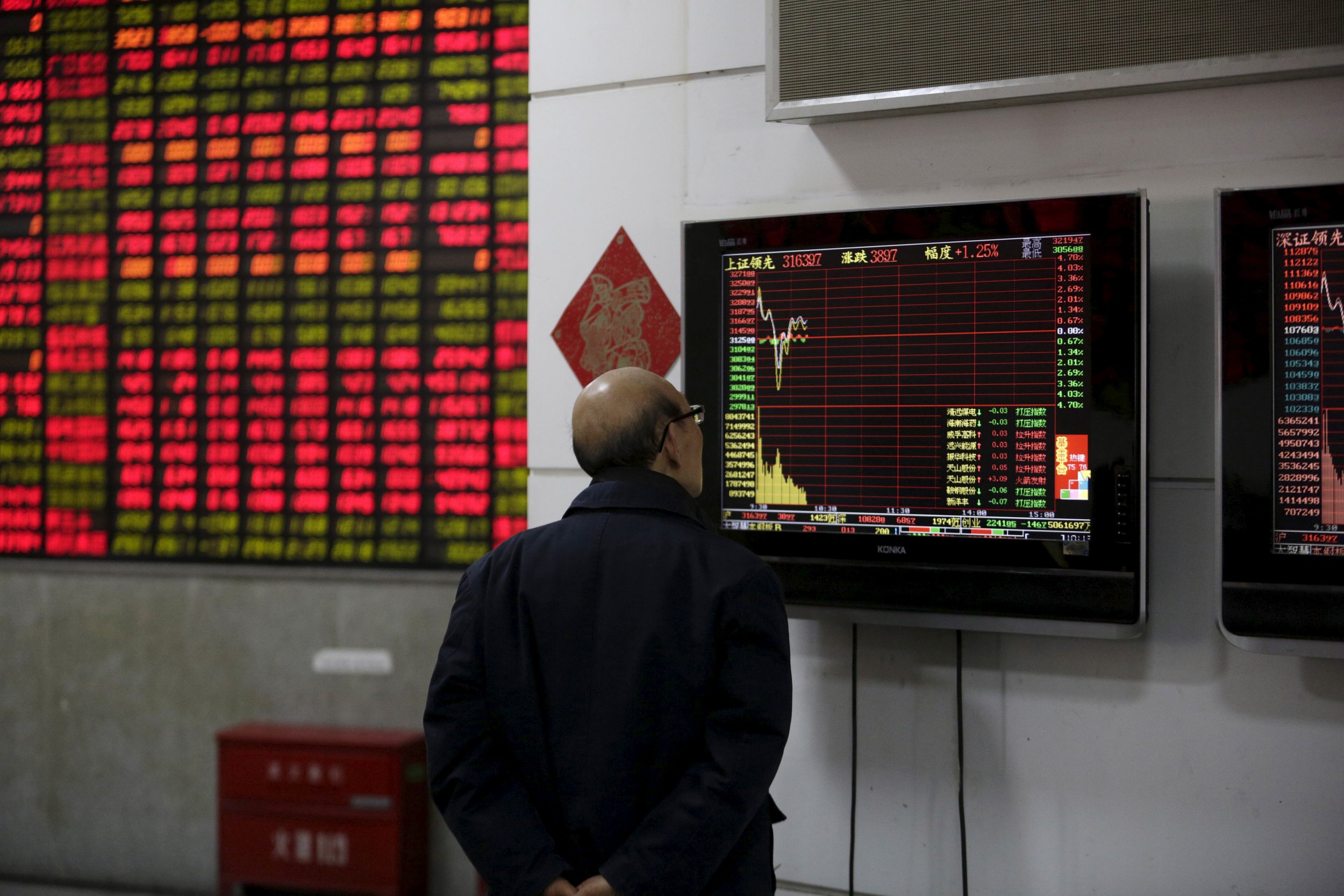 China, the world's second-largest economy after the United States, and America's largest trading partner, is slowing down. And while sales to China represent only about 7 percent of U.S. exports—accounting for less than 1 percent of U.S. gross domestic product—the pricking of the Chinese bubble inevitably means U.S. stocks take a hit too.
Already in 2016, China's stock market plunged to a 12-year nadir, and the pessimism spilled over into the Dow Jones Industrial Average, which shed 5 percent at Thursday's close, marking Wall Street's worst-ever start to a New Year. On Friday, the Shanghai Composite Index made shallow gains, closing nearly 2 percent higher, as the Chinese central bank set a higher exchange rate for its currency, the yuan. In the U.S., stocks opened higher Friday, boosted by a positive jobs report for December, but remained cautious.
There were jarring stock gyrations this week in China, the U.S. and across the globe as China pared the reference rate it uses for its currency to the weakest level since March 2011, a monetary move that has far-reaching ramifications.
China represents around 16 percent of America's total trading activity (exports and imports), valued at more than $500 billion a year, according to the most recent data from the U.S. Census Bureau. That puts China well ahead of the U.S.'s other top five trading partners, Canada, Mexico, Japan and Germany (in that order).
By weakening its currency against the U.S. dollar, China makes imports from China to the U.S. cheaper and, by extension, imports from the U.S. to China more expensive. The latest Census data show U.S. exports of just over $100 billion a year to China, while China has racked up imports to the U.S. of around $450 billion a year. Considering that 40 percent of the revenue reaped by S&P 500 companies comes from overseas—with China in pole position—this erodes the profits of a long list of U.S. corporations.
The impact was on prominent display in the first hours of the New Year, with U.S. technology stocks, in particular, getting pummeled. Before Friday's bounce, the Nasdaq Composite started the New Year trading 10 percent below last year's high. S&P 500 companies, which are already expected to report fourth-quarter earnings about 7.3 percent below a year ago, are starting 2016 squarely on the defensive.
Depending on how China handles its monetary policy going forward, this could just be a warm-up. Goldman Sachs released an analysis of the 20 stocks most exposed to China in the second half of last year, which showed that 85 percent of them are tech. The most exposed companies traded in the U.S. included Skyworks Solutions Inc., Wynn Resorts Ltd., Qualcomm Inc., Broadcom Corp., and Micron Technology—all with more than 50 percent of their sales reliant on China. Other companies taking a hit this week were Apple Inc., Facebook, Google's parent company Alphabet Inc. and Amazon Inc.
Until now, China's robust rate of growth has made it one of the only bright spots for the U.S. economy in the post-financial crisis decade, so China's slowdown could land a major blow, says Steven Hanke, professor of applied economics at Johns Hopkins University, who has also served as economic adviser to world leaders ranging from Ronald Reagan to Indonesian dictator Suharto during the Asian financial crisis. He's also a senior fellow at the Cato Institute, a public policy research organization based in Washington.
"China did very well during the financial crisis, which helped carry the U.S. economy, but it now appears they're running into headwinds and this will have negative ripple effects," he tells Newsweek.
According to a note from Deutsche Bank this week, China's gross domestic product is still expected to grow an estimated 6.7 percent this year—a rate the U.S. only wishes it could achieve—but that's a far cry from the scorching GDP growth rates of 10 percent to 15 percent in the past decade.
Hanke sees China's deceleration touching almost every continent, from Australia and South America, which produce commodities consumed by China, to Europe and the U.S., which are still recovering from the Great Recession. For the most recent turmoil, he lays much of the blame squarely on the country's mishandling of its currency valuations and monetary policy, which, he notes, "is increasing the uncertainty aspect for markets."
In addition to weakening its currency this week, then walking it back, China also imposed circuit breakers on the market just minutes into its stock trading on Thursday, injecting more panic into an already shaky session and resulted in the closing of its stock market just 29 minutes into trading.
Further muddling the situation for global investors is the fact that China has a long history of glossing over financial data, for instance its GDP, says Hanke. "When China puts out a GDP number, it seems to have a lie coefficient attached to it," he says. "It reminds me a lot of the old Soviet data."
A London-based trader tells Newsweek that market participants have become adept at reading into a wide range of niche data from China that might illustrate how its economy is really doing, such as "copper, iron ore and electricity consumption." But, he adds, "It's definitely an art and not a science."
Hanke says that while China's management of its monetary policy and financial data reporting can still be "quite poor," it is maturing. But it will need to mature more, particularly with so much at stake.
"Remember, China adds 25.2 percent to the world's GDP," says Hanke, referring to China's growth rate in 2015. "That means if China isn't growing, the world's total growth gets cut by one-fourth. That means China is by far the most significant contributor to the global economy." By comparison, the U.S., which isn't growing as fast as China, contributes 19.1 percent of global growth, he says.