Why is Warped Tour Ending in 2018? Founder Kevin Lyman Explains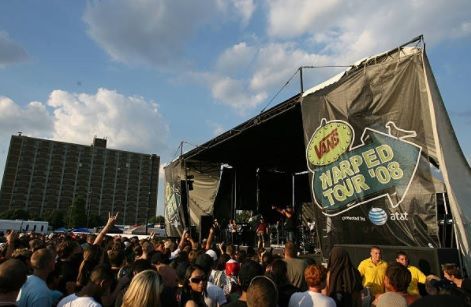 It's time to say goodbye to Van's Warped Tour. The "punk-rock summer camp," which began in 1995, will come to an end in 2018. The festival's creator took to Twitter on Wednesday to issue an official statement. "Today, with many mixed feelings, I am here to announce that next year will be the final, full cross-country run of the Vans Warped Tour," said founder Kevin Lyman. He added, on the tour's official website: "I have been a very lucky person to have traveled across the country and sometimes around the world as one of the founders and producers of the Vans Warped Tour."
Declining ticket sales and fewer bands participating were a few of the reasons cited by Lyman, though it might have something to do with exhaustion, too. "Before Warped I was on three years of Lollapalooza, so [it's been] 26 straight summers out on the road," he told Billboard on Wednesday. "Not that I'm completely going anywhere, but traveling around the country with a tour this size in the landscape that we're in is… to be honest, I'm just tired."
While 2018 will be Warped Tour's final summer, Lyman announced that there will be a 25th anniversary celebration in 2019. He also hinted that some favorite bands would return to next summer's lineup. "You're gonna see a big mix of bands I felt really embraced the Warped Tour lifestyle," he said. "I don't want to say a 'mature' lineup, but bands that I think could use one more big push of Warped Tour to help further their careers."
Van' has always sponsored the festival. "Kevin came to us about how he wanted to do this tour and he needed money," Steve Van Doren, the sneaker company's vice president, told Billboard. "Vans was really strong in Southern California, but I wanted to get our brand out to the youth of America around the country."
"I truly look forward to seeing as many of you as possible during this final cross country run, and getting to thank you for your support on this wild adventure," Lyman wrote on the Warped Tour website. "Until then, take care and be safe."