What Is Going on with Preet Bharara?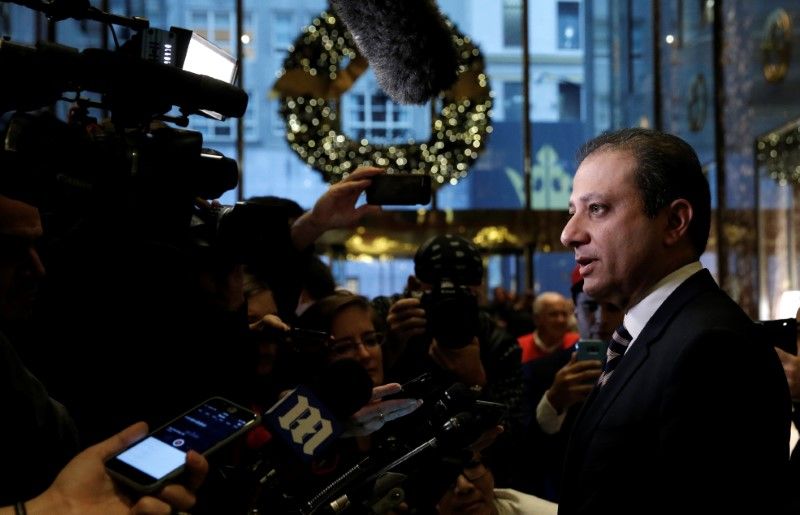 Why did the White House fire Preet Bharara, the acclaimed federal prosecutor? Days later, the question continues to stir Washington, as well as Wall Street and the world of New York media.
Bharara, who served in the Southern District of New York, was one of 46 U.S. attorneys asked to resign last week. Presidents regularly replace U.S. attorneys with their own appointees, although this kind of mass housecleaning is unusual. What complicated the situation with Bharara was both his prominence and his having been asked, during the presidential transition, to stay on in the job. Bharara even met with Donald Trump at Trump Tower during the transition and said he would stay. So when Bharara was asked for his resignation by a top Justice Department official, Dana Boente, he balked and refused, saying he had been asked to stay on by the president. A day later, Bharara was fired.
Related: How Donald Trump, Steve Bannon get Joseph McCarthy wrong
What accounted for the turmoil? According to Bharara, Trump and Attorney General Jeff Sessions asked Bharara to stay on. Trump administration officials insist they never gave Bharara an open-ended invitation to do so. What's more, Trump himself placed a call to Bharara last week. The U.S. attorney refused to take the call, citing various Department of Justice protocols. What Trump was calling about remains unclear. A White House spokeswoman, Sarah Huckabee Sanders, said Sunday night the call to Bharara was just "friendly"—a point White House Press Secretary Sean Spicer echoed on Monday.
Bharara added to the intrigue by tweeting from his personal account that he now knows "what the Moreland Commission felt like"—an allusion to a 2013 panel appointed by New York Governor Andrew Cuomo to investigate corruption in the state capital and make recommendations. Cuomo was criticized for disbanding the Moreland Commission. Bharara investigated its disbanding but found no wrongdoing in its early dissolution.
Was Bharara suggesting that Trump had similarly hobbled his investigations? Was he intimating that he was investigating Trump or the Trump campaign? Or was it an oblique reference to investigations of Trump-friendly Fox News, which began because it didn't inform shareholders in a timely manner of the potential sexual harassment suits it was facing? Or was Bharara just being cheeky? Ever since he was fired Saturday, the story has grown only more intriguing.
What's driving the story is that the Southern District of New York job is considered the most prominent of the U.S. attorney positions. It includes Manhattan and has seen prosecutions of cases involving terrorism and financial crimes. Previous occupants of the post include former New York Mayor Rudolph Giuliani, FBI Director James Comey, former New York Governor Thomas Dewey (who was a presidential candidate) and Henry Stimson, who served as secretary of state and secretary of war.
The White House has yet to name a replacement, but speculation has centered on Marc Mukasey, a former prosecutor turned white-collar criminal defense lawyer whose clients include Roger Ailes, the longtime founder and head of Fox News who left his post in the wake of the sexual harassment charges. Mukasey's father, Michael, served as attorney general under George W. Bush and was a prominent supporter and surrogate speaker for Trump during the 2016 presidential campaign.
Bharara used his powers to prosecute top Wall Street figures. His pursuit of Steven Cohen, the SAC Capital Advisors founder, was one of the inspirations for the Showtime original series Billions. He also prosecuted famed pyramid schemer Bernard Madoff. On the political front, Bharara had ongoing investigations into the Cuomo administration and the campaign of New York Mayor Bill de Blasio, and he convicted Sheldon Silver, the 11-term speaker of the New York Assembly.
Now he's out of a job.