Exploring Legal Action Over U.K. Government's Arms Sales to Saudi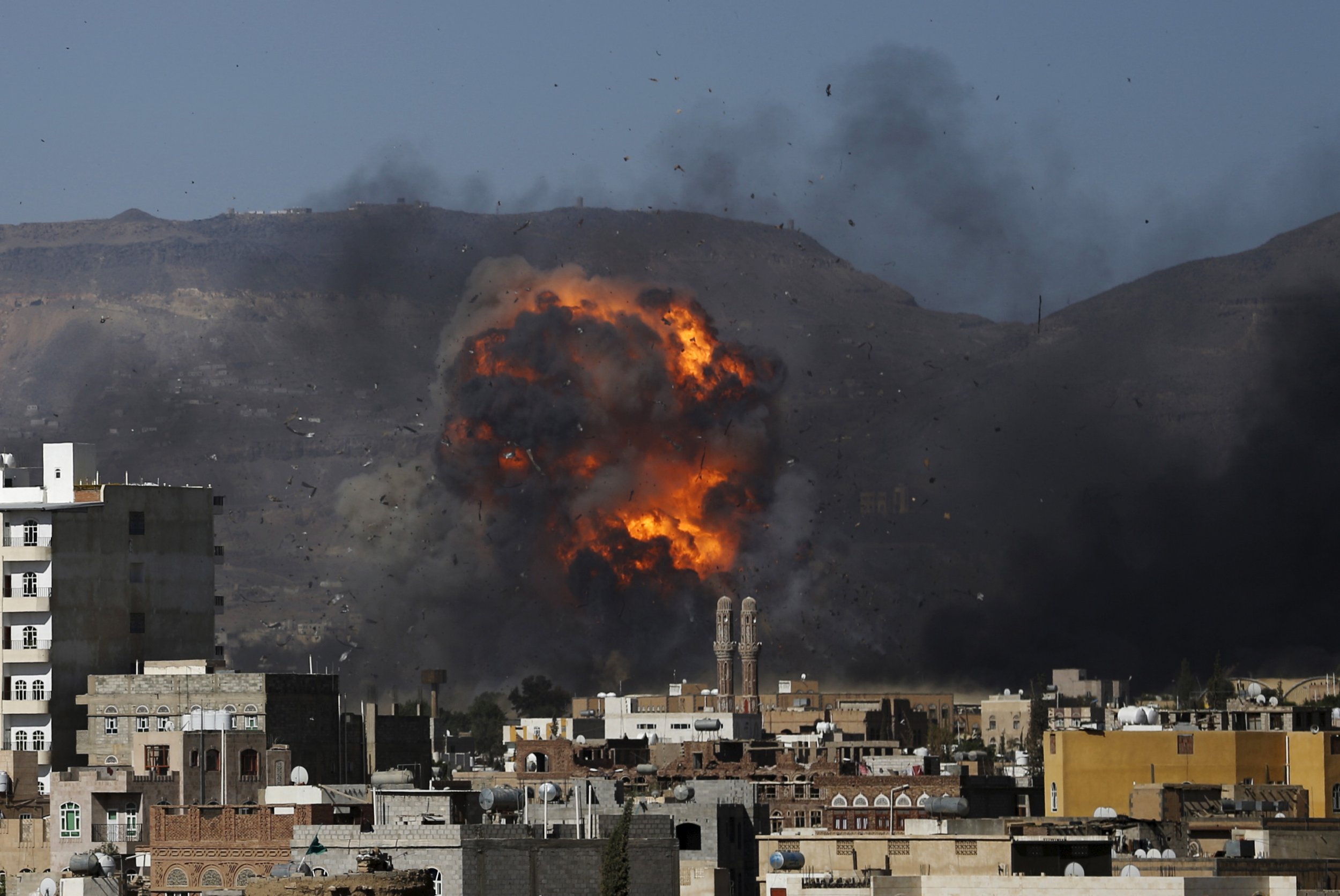 No matter what conflict they are used in, or the atrocities they are connected to, the U.K. government is always at pains to assure the world that it follows some of the most rigorous and robust arms controls in the world.
Of course nothing could be further from the truth, and nowhere is that more apparent than in the bombardment of Yemen, the poorest country in the Arab world. U.K.-built fighter jets and bombs have been linked to war crimes carried out by the Saudi-led coalition that has been bombing Yemen for the last nine months.
Over 5,000 people have been killed in a conflict which has destroyed vital infrastructure and left many without access to clean water or electricity. The destruction on the ground has exacerbated the ongoing civil war and created a power vacuum that has allowed the expansion of Al-Qaeda and Islamic State militant group (ISIS).
On August 19, Stephen O'Brien of the U.N. Office for Coordination of Humanitarian Affairs reported to the U.N. Security Council that the "scale of human suffering [in Yemen] is almost incomprehensible." Condemning "attacks on residential areas and civilian infrastructure," he asserted: "These attacks are in clear contravention of international humanitarian law."
O'Brien is far from the only one to accuse the Saudi-led coalition of war crimes. Commenting on the destruction of a hospital facility, the country director of medical charity Médecins Sans Frontières remarked on October 27: "The fact of the matter is it's a war crime. There's no reason to target a hospital. We provided [the Coalition] with all of our GPS coordinates about two weeks ago."
Subsequent reports from Human Rights Watch and Matrix Chambers, published by Saferworld and Amnesty International, have made similar accusations. These reports have linked specific attacks on civilian sites to U.K. military equipment. The reports have been damning but the response of the U.K. government has been to fudge the issue or ignore it entirely.
Appearing on British political program Newsnight last month, the Foreign Secretary, Philip Hammond, implied that he was calling for investigations. "We need to see proper investigations," he said. "We need to work with the Saudis to establish that international humanitarian law has been complied with—and we have an export licensing system that responds if we find that it has not."
The words may have sounded unequivocal, but in reality no such investigations have taken place, nor are planned. As a government spokesman subsequently explained: "The U.K. government has stressed, to the Saudi authorities, the importance of conducting transparent investigations into all incidents where it is alleged that international humanitarian law has been breached. The U.K. government itself is not carrying out separate investigations into these incidents."
On paper the U.K.'s licensing criteria is very clear. It says that licences should be revoked if there is a "clear risk" that equipment "might" be used in violation of international humanitarian law. This must be assessed at the time the licensing decision is made. By any reasonable interpretation this should prohibit all future arms sales to Saudi Arabia.
Unfortunately, the U.K. has supported the bombing in Yemen since day one. Hammond made this clear at the time, when he pledged to "support the Saudis in every practical way short of engaging in combat."
His support is nothing new and can be characterised as institutional rather than party-political, with the last Labour government having invested just as much time and political capital into military cooperation and promoting arms sales to the Saudis.
Saudi is the world's largest buyer of U.K. arms, with the coalition government alone having licensed £4-billion worth ($5.9-) of military equipment. There are clearly a lot of vested interests and members of the U.K. and Saudi establishment who have too much to lose from an end to business as usual. This is unlikely to change by itself, with the Gulf press reporting that the U.K. government will be making "high-level bilateral visits with Saudi Arabia in the next three-to-six months in a surge of diplomacy aiming to seal multi-billion-pound defence contracts."
Campaign Against Arms Trade (C.A.A.T) and our lawyers at Leigh Day have announced that we are considering legal action against the government for its role in the conflict. At the time of writing there may be a fragile ceasefire in place, but early signs aren't good, with both sides accusing each other of breaking it.
As long as Saudi enjoys the political and military support of the most powerful Western nations, then it will continue oppressing its own population and those of neighboring states.
The arms sales, and fawning political support of governments like the U.K., are empowering the regime and making the chances of long-term peace even more remote. If the ceasefire breaks then it will represent another business opportunity for the arms companies, but for Yemeni citizens it could be the difference between life and death.
Andrew Smith is a spokesman for Campaign Against Arms Trade (CAAT) .