When Did Valentine's Day First Become A Celebration of Romance?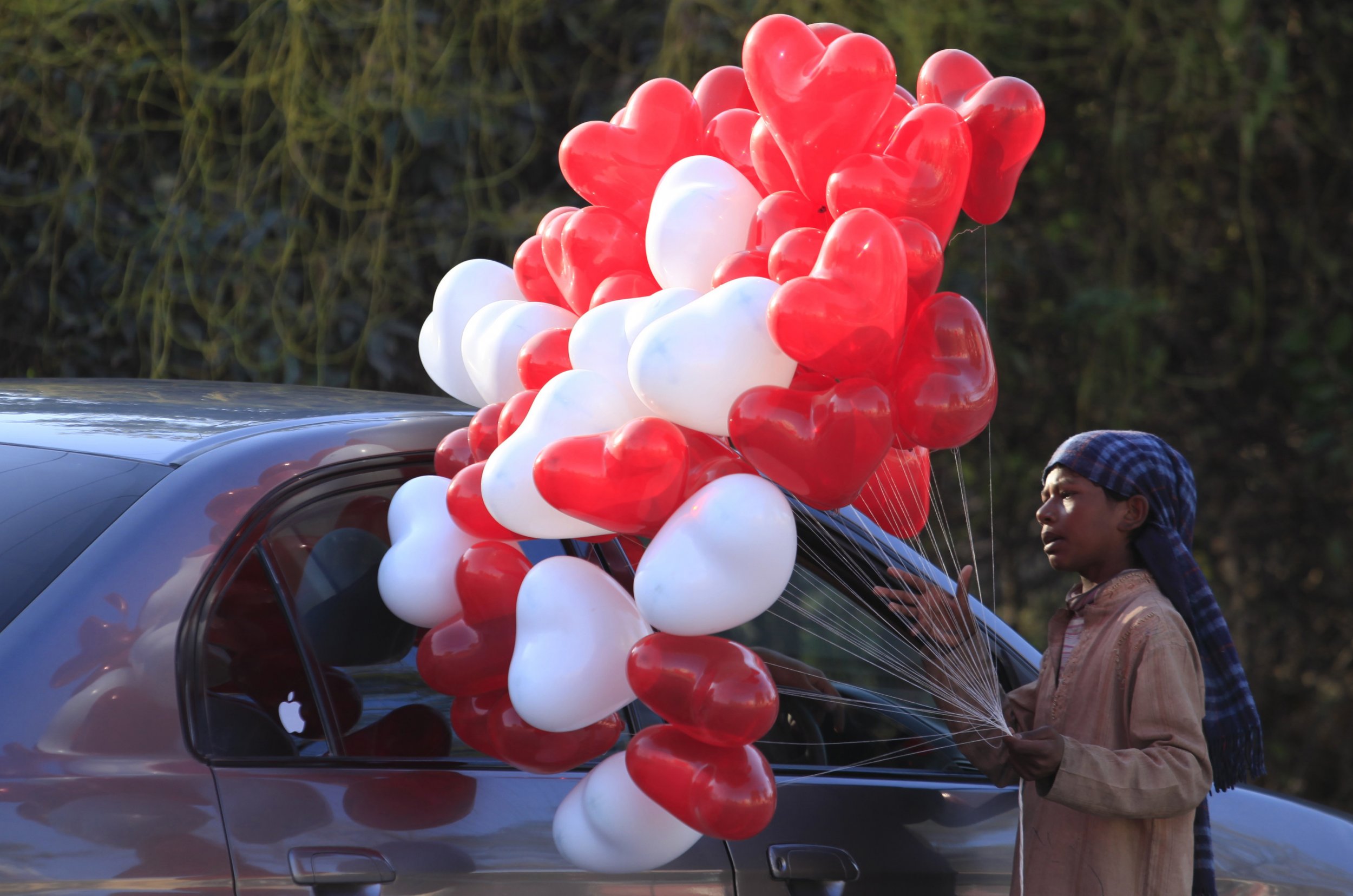 It's here again. February 14. The day when your relationship status is not just a matter for Facebook but the subject of public scrutiny from friends, colleagues and well-intentioned relatives.
Yes, Valentine's Day, the supposedly most romantic day of the year when couples feel intense pressure to demonstrate their love for each other and normally carefree singletons are meant to make like Bridget Jones and worry about being alone forever drinking wine in their pyjamas.
Whether the thought of it brings you out in a cold sweat or a warm fuzzy glow, you might wonder why this particular date has become synonymous with romantic love. The roots of the annual celebration, like all good tales, is bound up in a series of lies, myths, embellishments, and a small grain of truth.
By most accounts, Saint Valentine of Rome should be the target of your gratitude/ire as he plays the protagonist in a number of myths believed to have inspired a ritual that has existed since the second century.
A version of Saint Valentine's life reports that in circa AD 280, Emperor Claudius II became convinced that married young men faced too many distractions to make effective soldiers. Claudius decided that outlawing marriage for young men was the only way to maintain a strong military force. Valentine, then a priest, disobeyed the Emperor's decree and arranged secret nuptials for love-struck youngsters. When Claudius discovered Valentine's plot, he sentenced him to death. His execution was carried out on February 14.
Another legend claims that Valentine was arrested for providing assistance to prisoners. While incarcerated, he, rather controversially some might say, fell in love with his jailer's daughter. Prior to his execution, he confessed his love in a note rumored to be the first Valentine's Day card.
However, it's possible the origins of Valentine's Day were a way for the Christian church to divert attention from the pagan fertility festival Lupercalia that is known to have taken place between February 13 to 15.
However much you may loathe the idea of spending the evening sitting in an overpriced restaurant surrounded by couples struggling to keep their attention away from their phones, be glad you are not a citizen of ancient Rome. Lupercalia involved the ritual sacrificing of goats, before their skins were stripped and used to whip the women of the city to aid their fertility. If that wasn't enough, the women's names were placed in a giant urn where young men would go to randomly pick their partner for the year.
By the fifth century, Pope Gelasius had officially declared February 14 as St. Valentine's Day. However, scholars believe it was medieval poet Geoffrey Chaucer who first established romance at the center of the Valentine tradition.
Rosalyn Rossignol, author of Chaucer A to Z: The Essential Reference to His Life and Works, tells Newsweek that it was Chaucer's "dream vision poem," The Parliament of Fowls, with its reference to Valentine's Day as the occasion when a collection of birds gather to choose their mates in a "wonderful drama observed by the poet/narrator," which introduced courtship into the equation.
From there, history accounts for a number of overt declarations of love made on this date. Around 1415, Charles, Duke of Orleans, sends the first recorded note, declaring to his "very gentle Valentine," that he was "already sick of love."
By the mid-18th century, Hamlet had promised his Valentine he would, by the morning of Valentine's Day, "maid at your window," while the distribution of cards and letters was now popular across England.
Hallmark produced its first Valentine's card in 1913, adding a dash of convenience to the sacred day of love. Ever since, purchasing gifts for loved ones has been synonymous with Valentine's Day. The Greeting Card Association estimates that 145 million cards are sent around the world every year.
For many, the day is still steeped in genuine displays of affection. A report in 2013 from the American Express Spending and Saving Tracker found that 6 million American couples will get engaged on February 14. Some go even further by choosing to tie the knot on the actual day, like Sherlock star Benedict Cumberbatch and his wife, theater director Sophie Hunter.
Should you wish to avoid the day altogether, head to Saudi Arabia where Valentine's Day has been outlawed, but stay away from South Korea which celebrates on the 14th of every month.
If you need inspiration on what to get a loved one, Newsweek's Nick Foulkes has curated a series of bespoke gift ideas that could have saved Hamlet the trouble of hanging outside his beloved's window all day.