Why We Filed a Civil Rights Claim Against UC Berkeley Law School | Opinion
In August 2022, at least nine student groups at the University of California, Berkeley Law School, adopted a bylaw excluding Zionist speakers, garnering national and global attention and ire, bringing to the fore both the rampant rise of antisemitism through the lens of "anti-Zionism," and the limits and boundaries of free speech, a bedrock principle of American law.
As we sat and watched, the university wrapped itself up in a pretzel, trying to explain away, excuse, and minimize the conduct of its student groups. Incredulously, at the time the bylaw passed, the dean of UC Berkeley Law School, Erwin Chemerinsky, stated that "only a handful of student groups" adopted the bylaw.
It is unfathomable that a similar statement would ever be made that "only a handful" of student groups banned speakers of any other ethnic, religious, or racial group. Yet such blatant discrimination against Jews continues to be excused, justified, and mainstreamed.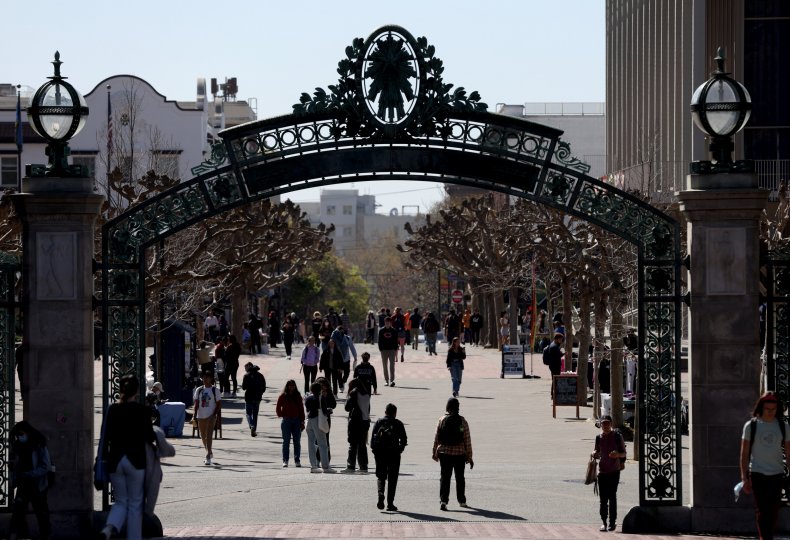 Chemerinsky insists "because the situation at Berkeley Law is about choosing speakers based on their viewpoints, the student groups have the First Amendment right to reject views they oppose." The dean is wrong.
The student groups at Berkeley Law are being willfully deceptive. Rather than simply exclude Jewish speakers, they exclude speakers who have expressed and continue to hold views in support of Zionism.
Zionism refers to the Jewish people's right to self-determination and liberation in their ancestral homeland, the Land of Israel. It is not merely a "viewpoint" as the Dean suggests, but rather something that has for millennia formed an integral and indispensable part of Jewish identity. A rejection of those who identify as Zionists, which is a vast, overwhelming majority of Jews, is therefore no different to excluding anyone else on the basis of their faith, shared ancestry or national origin.
And Title VI of the Civil Rights Act specifically states that "[n]o person in the United States shall, on the ground of race, color, or national origin, be excluded from participation in ... any program or activity receiving Federal financial assistance." Title VI also provides protection from discrimination on the basis of shared ancestry or ethnic characteristics.
Let there be no equivocation: anti-Zionism is antisemitism. Denying the Jewish people's right to self-determination or Israel's very right to exist, is an antisemitic act of racism. By effectively saying "Zionists not welcome," what these student groups really mean, is that Jews aren't welcome. And instead of calling them out for this and acting, Chemerinsky and Berkeley Law are aiding and abetting in the exclusion, marginalization and silencing of Jews, in what is already a deeply hostile environment for Jewish students, faculty and staff.
As a number of Jewish students at Berkeley Law wrote, in the wake of the passage of this bylaw, it will now force them into an all too familiar position, of having to "deny or denigrate a part of their identity or be excluded from community groups."
No individual should be forced to make such a decision or to hide a most basic and fundamental component of their Jewish identity, let alone in a public place of education.
It is for these reasons that we could not sit idly by, while Jewish students are being so brazenly discriminated against at Berkeley Law.
The fact that "only a handful" of student groups adopted this racist by-law, in no way diminishes the gravity of the discrimination and injustice, nor the fact that Title VI of the Civil Rights Act, that is meant to protect students from the exact kind of discriminatory actions that have been implemented at Berkeley Law, is being so flagrantly violated.
In filing this claim, we have called on the federal Office for Civil Rights (OCR) to initiate an urgent investigation of Berkeley Law and revoke the discriminatory bylaws.
In addition, OCR ought to compel UC Berkeley to adopt the widely endorsed International Holocaust Remembrance Alliance (IHRA) working definition of antisemitism, which specifically lists "Denying the Jewish people their right to self-determination," which goes to the very core of Zionism, as an example of contemporary antisemitism.
The OCR should further require the university to create a training program, to educate about antisemitism, its history and modern manifestations, in order to foster an environment on campus that is open, inclusive, and does not discriminate or marginalize Jewish students, including those who publicly identify as Zionist.
Why did we file this complaint against the University of California Berkeley School of Law? Because we will use every tool at our disposal to fight against antisemitism. Rest assured that we will continue to fight to protect Jewish students across the country from discrimination.
Gabriel Groisman is a partner at LSN Law in Miami, Florida, a Jewish rights leader and the former Mayor of Bal Harbour, Florida, and Arsen Ostrovsky is a human rights lawyer and CEO of the International Legal Forum.
The views expressed in this article are the writers' own.