Why Were Charges Against Jussie Smollett Dropped? The FBI is Looking Into It
After criminal charges were dropped against Empire actor Jussie Smollett Tuesday, the FBI is now reviewing the circumstances of the sudden dismissal, KABC-TV reported the following day.
Though the situation is under review, Cook County State's Attorney Kim Foxx stood by the decision. "I believe this is a just outcome based on the circumstances," she told KABC Wednesday.
The Empire actor was facing 16 felony disorderly conduct counts. Since they were dropped, Smollett will not get his $10,000 bond payment back and will do community service.
Foxx said even if Smollett had been found guilty for his Class 4 felony, he would face "some type of restitution, community service–not prison."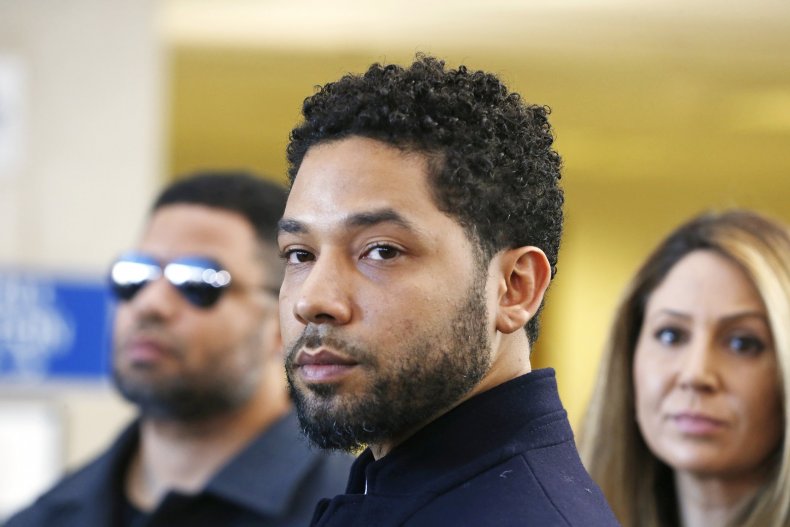 Smollett's family stood behind the actor in a statement issued to Newsweek Tuesday: "Our son and brother is an innocent man whose name and character has been unjustly smeared. Jussie is a son, a brother, a partner, a champion for human rights, and a genuine soul who would never be capable of what he was falsely accused of. He was the victim of an assault and then falsely blamed for his own attack. This morning truth has prevailed and he has been vindicated. All charges have been dismissed and his record expunged."
"The painful incidents we've witnessed him endure over the past seven weeks have been heartbreaking and unjust, to say the least. While many were quick to rush to judgment before hearing the actual truth, we are grateful that the truth about Jussie has come to light. We look forward to bringing the real perpetrators to justice. We thank God and our village for standing by us during this trying time," the statement concluded.
As previously reported, Smollett was allegedly attacked on January 29 by two masked men shouting racial and homophobic slurs. The alleged attackers reportedly hit him in the head repeatedly and wrapped a noose around his neck before fleeing. He later recounted this story on Good Morning America in February, defending himself to co-host Robin Roberts by saying: "It's unbelievable to me that any of this has come to this. That every single thing that I have done, every single thing that I have cooperated with, somehow has gotten twisted into being some bull that it's not."