Why 'Will & Grace' Is Still Necessary, Especially in Trump and Pence's America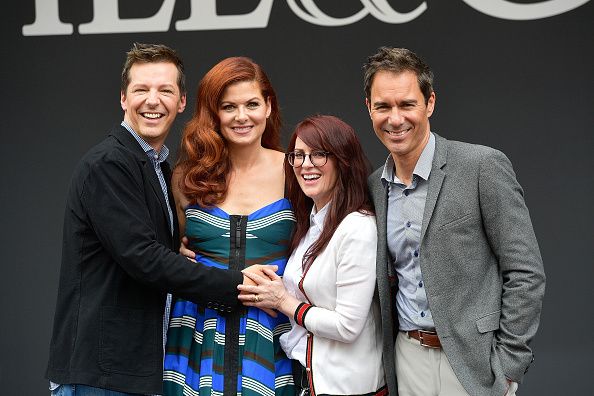 American audiences needed Will & Grace when it premiered in 1998. Many had not known an openly gay person (that they were aware of) in real life or on the small screen. Society has made huge strides on LGBTQ rights in the two decades since, including the Supreme Court's historic 2015 decision that legalized same-sex marriage. But progress is not linear, and as LGBT acceptance falters in the U.S., the country needs Will & Grace once again—if it can do its revival right.
"We're living in a culture that seems to be slipping backwards," Sarah Kate Ellis, president and CEO of GLAAD, tells Newsweek ahead of the show's return to NBC on Thursday. Amid an uptick in hate crimes, bullying and violence, there are the slew of anti-LBGT statements, decisions and appointments from President Donald Trump and Vice President Mike Pence, many of which GLAAD itself keeps track of as part of its Trump Accountability Project. Enter Jack and Will?
"About two decades ago, LGBTQ representation was near invisible on television," Ellis says, though it should be noted that Ellen DeGeneres had already made waves by coming out, on and off the air, via her sitcom Ellen.
Suddenly, not only was a gay man at the center of a primetime show, but he also wasn't the only gay character on the show. "Between the two main characters of Jack (Sean Hayes) and Will (Eric McCormack), you saw different versions of gay men," Ellis says. "I think it changed a lot of hearts and minds in America and around the globe."
But rapidly growing acceptance of LBGTQ Americans brings an inevitable backlash that's begun to factor into public policy. Trump, for example, instructed the Pentagon to move forward with a ban on transgender people serving openly in the military, broke precedent in failing to recognize June as LGBTQ Pride Month, and had his Justice Department file an amicus brief in support of "religious exemptions" that allow for discrimination against LGBTQ Americans.
Pence, as the governor of Indiana, signed a "religious freedom" bill that would allow businesses to refuse service to LGBTQ customers (after protests and boycotts, Indiana amended it). He also ran for Congress on a platform in which he vehemently opposed same-sex marriage, called homosexuality a "chosen lifestyle," and wanted to replace the Clinton-era "Don't Ask Don't Tell" policy with an outright ban on openly gay soldiers. Just this week, outspoken LGBTQ opponent Roy Moore won the GOP primary in Alabama for the right to represent the Republican party in the race for Senate.
Against that backdrop, it's time for a little reminder about equality, preferably one on the broadest of platforms, network TV. The familiar and beloved Will & Grace, oft-criticized for trafficking in stereotypes, will require some serious updates to be anywhere near as groundbreaking as it was in the '90s. The revival needs to include LGBTQ representation beyond just the "G" and introduce characters who are not white, and either rich or comfortable, to be remotely progressive in 2017. "We are a part of every other community," says Ellis.
The challenge of updating an existing narrative is part of what infuses the revival with so much potential. It can use the nostalgia and hype around it to draw in a broad audience and leverage its familiar characters to put a spotlight on sexual orientation and gender identity. How do the same characters deal with 1998 America versus 2017 America? Maybe they'll even call out their former selves. They'll have to do something different, because today merely having two gay men in a sitcom isn't revolutionary. Will & Grace may have once had the luxury of prioritizing the punchline over other considerations, but LGBTQ representation on television is now way past that stage. It's a little hard to imagine enough room in the show's quippy, over-the-top and sometimes purposefully offensive dialogue to deal with nuanced issues in a way that would do more than give the needle a halfhearted nudge.
The cast first came back together to shoot a new scene as an anti-Trump PSA for the 2016 presidential election. If that impetus to respond to the political and social woes of the nation is a hint at what's to come—and if what's to come is less obviously contrived and clunky than a standalone scene never meant to fit into an actual episode—it might be a good sign. Even so, the show could end up just preaching to the liberal choir. With television content so dispersed across networks, cable channels and streaming platforms, it's harder than ever to capture significant or bipartisan cross-sections of American audiences. How can Will & Grace change hearts and minds if it's ignored by those whose minds need changing?
"The thing that I loved about the show from the very beginning was that [current issues were] built into the DNA," Debra Messing, who plays Grace, said at a Tribeca TV Festival panel the week before the revival's premiere. "Within the comedy, we were shining a light on what's happening in the culture right now and politics right now." In that sense, she added, "we're going to be the show we always were. We're going to talk about what's happening now."
If that's true, and if the show can capture what the LGBTQ community really looks like in 2017, then it might just work. But it might be wishful thinking.