Why Won't Jerry Jones Fire Jason Garrett Despite Cowboys Struggles?
The Dallas Cowboys' season might be going from bad to worse but the franchise owner and general manager, Jerry Jones, remains adamant there will be no coaching changes before the end of the campaign.
The Cowboys lost 28-14 against the Tennessee Titans at home on Monday Night Football, slumping to 3-5, and are currently third in the NFC East behind the Washington Redskins and the Philadelphia Eagles.
The defeat makes Sunday's matchup against defending Super Bowl champions in Philadelphia even more important for the Cowboys, who look in danger of missing out on the playoffs for the seventh time in the last 10 seasons.
Jones, however, maintained Jason Garrett 's job would be safe until the end of the season.
"I'm not anticipating any more coaching changes," he told NFL Network when asked whether the Cowboys would consider replacing Garrett or offensive coordinator Scott Linehan.
"I think we realize we have eight games to go, we've got a long way to go in this season. We want to play better than we played tonight, so I certainly think each individual and coach and front-office person is going to have to do better, including me."
Last week, Marc Colombo replaced Paul Alexander as offensive line coach but the Dallas offense failed to trouble the scoreboard in the second half and Jones admitted the setback was unexpected.
"I thought we would be sitting here with a positive result," he was quoted as saying by ESPN. "This is a surprise to me and is a setback. Now when you're halfway through the season, losing a ballgame in the NFL, if that causes you to be deterred or to not think that there's a future ahead of you, then you've picked the wrong world to operate in."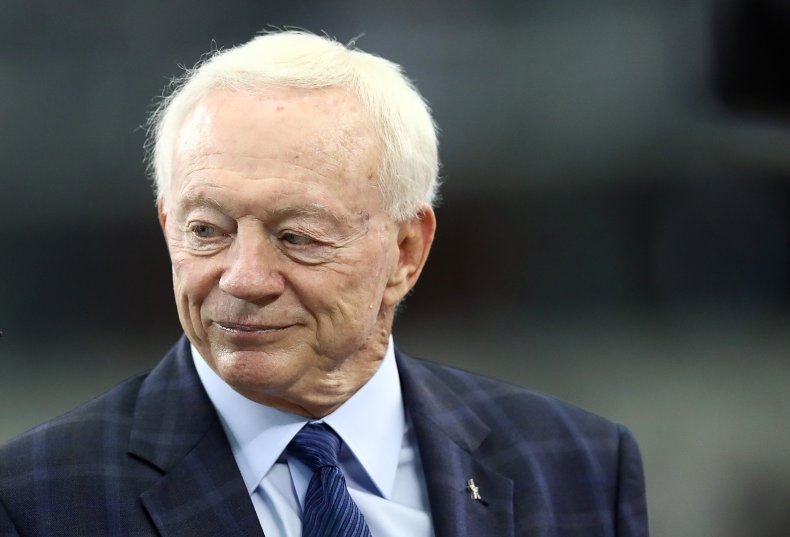 In some quarters Garrett is being held responsible for the Cowboys' lack of progress since he took over but Jones is traditionally reluctant to fire coaches during the season. Ironically, the only time he did so since taking control of the franchise in 1989 was to elevate Garrett in his current role to replace Wade Phillips, who had gone 1-7 in the first eight weeks of the 2010 season.
With each defeat, however, Garrett's position becomes untenable in the eyes of both Cowboys fans and analysts.
Last month, ESPN's Stephen A. Smith suggested the only reason the Cowboys head coach had held onto his job so far was his relationship with Jones. Smith renewed his criticism of Garrett ahead of Monday Night Football, when he questioned Michael Irvin's assessment of the Cowboys head coach.
Speaking on ESPN's First Take, the NFL Network's analyst had claimed Garrett knew "how to work with this group of [Cowboys] players".
Smith, however, suggested there was no evidence of it and pointed to Garrett's 70-58 record in charge of the franchise.
Dak Prescott also came in for criticism. The Cowboys quarterback completed 21 of 31 passes for 243 yards, two touchdowns and one interception but was sacked five times and fumbled the ball once.
Speaking on NFL Network after the game, six-time Pro Bowler Reggie Wayne suggested Prescott "had no more excuses".
"[Prescott's performance] is not good enough," he said. "He's turning the ball over and he looks like he's not sure where he wants to go with the ball […] There's no more excuses."
If they lose in Philadelphia on Sunday, the Cowboys might too be out of excuses.