Why Won't the Trump Administration Say How Many Separated Children Are Still in Its Custody?
The Trump administration appears to have blamed a District Court ruling ordering it to reunify families within 30 days for its refusal to disclose how many children separated from their families at the U.S.-Mexico border are still in its custody.
Last week, Health and Human Services Secretary Alex Azar revealed to lawmakers that 2,047 separated minors were being held by the Office of Refugee Resettlement.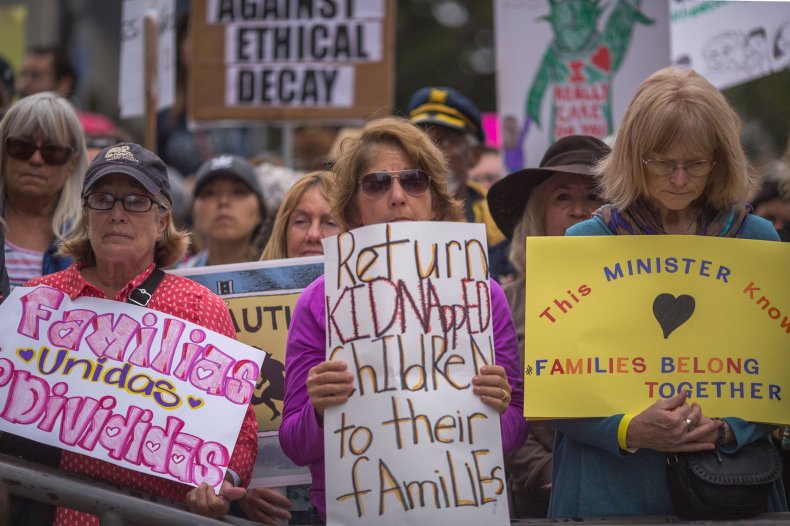 But days later, HHS spokesman Kenneth Wolfe told Newsweek the department would no longer be providing the specific number of separated minors in its custody and would instead be providing the "approximate number" of all unaccompanied children in its care," which, as of June 28, was 11,869.
The HHS appeared to attribute the decision to the District Court ruling handed down last Tuesday on June 26, giving the government 14 days to reunite parents separated from children younger than 5 years old and 30 days to reunite parents separated from children 5 years old and older.
"As HHS continues to evaluate the impact of the District Court ruling, and given the constantly changing number of unaccompanied alien children in our care...we are providing the total number of unaccompanied alien children in the care of HHS-funded grantees," the department said in its statement.
With the 14-day deadline quickly approaching, the HHS has said that "while we understand the interest in detailed breakdowns of this information, our mission has been and remains to provide every minor transferred to HHS, regardless of the circumstances, with quality and age-appropriate care and a speedy and safe release to a sponsor."
Lee Gelernt, deputy director of the ACLU's Immigrants' Rights Project, told Newsweek in a statement: "Through the litigation we anticipate getting actual numbers of separated families, but we also believe the government should be publicly transparent about their family separation practice."
The HHS has not responded to a request for an update on how many undocumented minors are currently in its custody or on whether it will reverse its decision to stop disclosing the number of separated children in its care.
More than 2,300 immigrant children were separated from their parents under the Trump administration's "zero tolerance" immigration policy, which was launched in May and saw the prosecution of all adults caught crossing the border illegally, including parents with children. Under the policy, parents were taken to federal jails, while their children were taken into the custody of the HHS.
President Donald Trump signed an executive order rescinding the policy on June 20 after facing widespread backlash over the practice, which the United Nations branded a violation of children's rights.
The HHS said hundreds of children were reunited with their families in the days following the reversal, however, it is unclear how many still have yet to see their parents again.
This article has been updated with a statement from the ACLU.