Why Won't Washington Redskins Change Their Name? With Cleveland's Wahoo (Kind Of) Out, It's Worth Asking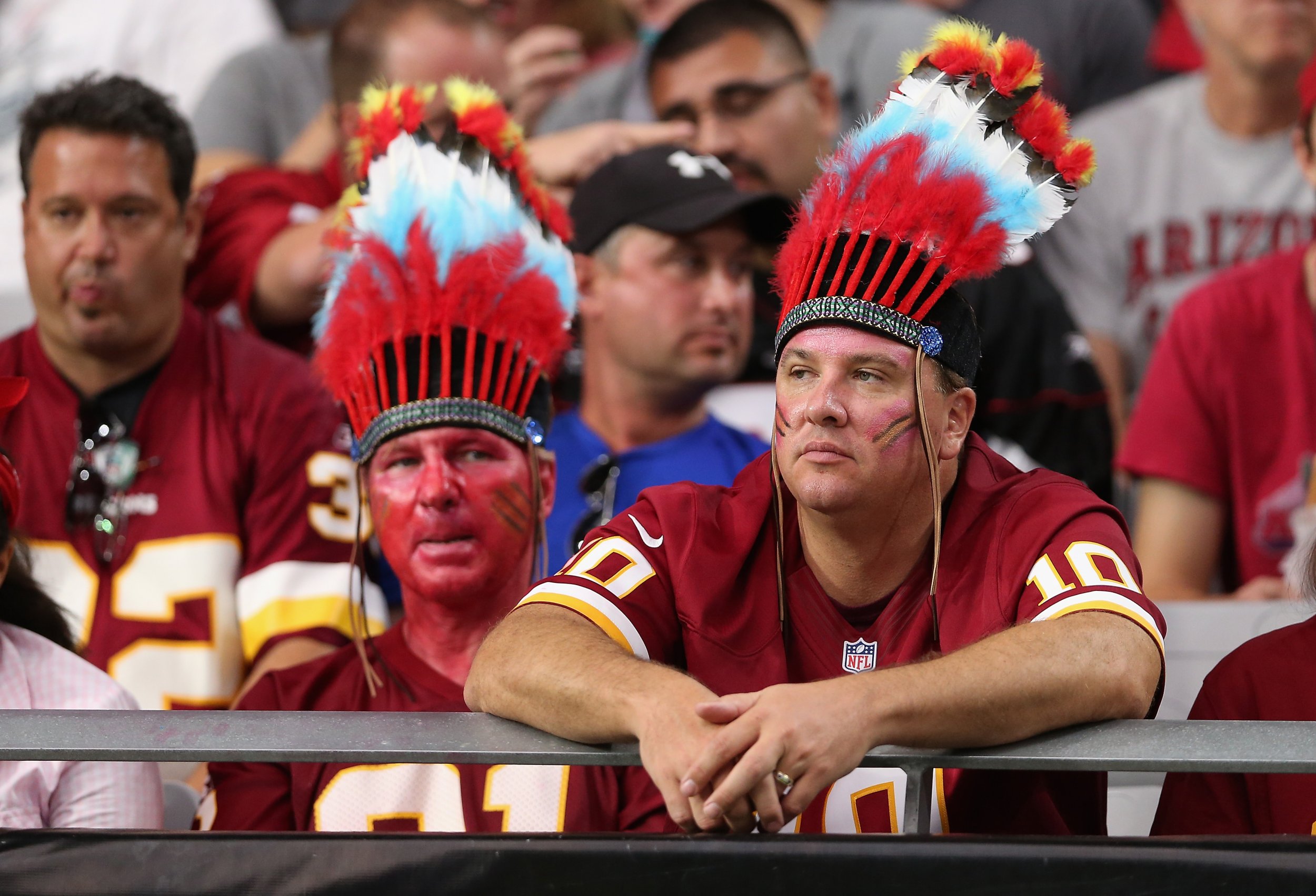 Chief Wahoo is (partially) dead.
The Cleveland Indians' jerseys on Monday, for the last time, featured the cartoonish, red-hued, wide-grinned caricature that lots of folks have called racist for years.
Cleveland was bumped out of the playoffs after an 11-3 shellacking by the Houston Astros. Earlier this year the franchise committed to removing Wahoo from its jerseys next season. So the loss basically killed Wahoo. (Ignore, for a moment, that the team will still be allowed to profit off Wahoo merchandise sold at local stores because we've got more ground to cover.)
So with Wahoo (kind of) gone, the Washington Redskins must be next, right?
I wouldn't bet on it.
(Note: We used the team's name for clarity's sake in the headline and once in the body but will refrain from here on.)
Washington also played on Monday night—which was Columbus/Indigenous People's Day, no less—and while Wahoo has drawn a lot of attention lately, the NFL franchise has long been the center of the debate surrounding how Native Americans are treated in the sports world.
At this point, if you have even a vague awareness of the NFL, you've heard the basic points of the controversy surrounding Washington's team name. The nickname is widely considered a racial slur and was chosen by the franchise's original owner, a notorious racist who only integrated the team in 1962—after seven years as the lone NFL team without black players—because the federal government threatened to no longer allow the franchise to use a D.C. stadium unless it desegregated.
There have been protests from activists and protestations from the franchise, which claims the name is intended to honor Native Americans. Owner Dan Snyder has often brought up that the name was apparently chosen to honor Washington's coach in 1933, William "Lone Star" Dietz, who claimed Native American roots but has since been accused by historians of fabricating that heritage. (An ESPN report showed there was even a trial in 1919 that alleged this fabrication allowed him to register as a "non-citizen Indian of the United States" and avoid getting drafted into WWI.) One of the recent bits of news was that Washington scored a big win—somehow—when a court decided in 2017 that you could trademark hate speech.
Anyway, these beats are pretty much known, and, yes, there are some areas where things get fuzzy, but the whole thing is just kind of stuck. That's because Snyder and the franchise and a pretty sizable portion of the Washington fan base has dug-in—the name is the name and there hasn't been a modicum of budge.
"We'll never change the name," Snyder point blank told USA Today five years back. "It's that simple. NEVER—you can use caps."
I guess my question, at this point is just... why?
I realize it's a fool's errand to try to make sense of Dan Snyder.
But... seriously... why?
What really changes if you change the name? The team history doesn't disappear. The wins and losses stay the same. The colors don't have to shift. Some fans will be upset—others, in a pretty liberal area, will celebrate—and you know what'll happen next? Probably a tweet from President Donald Trump. But, after that, all the fans tune-in Week 1 and cheer for the newly established Senators or Antelopes or whatever. Inertia is a funny thing. It can make a franchise decide to keep a name a lot of people don't like but it can also prevent fans from leaving.
And does anyone really care enough about a name to walk away from their team? Keep in mind these fans are so loyal they've stuck it out through Snyder's tenure that has produced just five seasons above .500 in nearly two decades.
This controversy is not going to blow over. At this point—despite all the bluster about preserving the team's history—the controversy over its name has become one of, if not the most culturally significant part of its history. Hell, the Washington Post article detailing Snyder's purchase of the team nearly two decades ago brought up that he promised not to change a name that "is offensive to Native Americans and other people."
Speaking of the Post, Washington's brass loves to champion a poll the paper commissioned that found nine in 10 Native Americans weren't offended by the team name. Set aside that countless Native American leaders have said otherwise—shouldn't it feel odd to celebrate a poll that found nearly 10 percent of a group of people think your team name is designed to belittle them?
It's just a damn team name. For God's sake, the league is full of dumb bird franchises—Eagles, Falcons, Ravens—names that are uninspired but, hey, they're also not the subject of allegations of racism.
If one in 10 Native Americans think your team name is racist, then you should just change the name. Your football team's nickname is not worth making a single person feel hated or lesser than. Full stop.
But things don't appear ready to change. Not any time soon, at least. There have been rumors that Wahoo was, in part, nudged out by MLB and its Commissioner Rob Manfred ahead of next year's All Star Game in Cleveland in an effort to improve optics. If you're waiting on NFL commish Roger Goodell to stand up to an owner on a moral issue, well, I'd grab a magazine.
Bottom line is, having a slur as the team name hasn't hurt the bottom line of Washington or the NFL. That shouldn't make any sense but if you take a good look around, yeah, it adds up. If that ever changes, maybe the name will.
But some Washington fans, and the franchise, and Snyder all have their heels dug in. This is a fight they're dying to have. I guess, again, my question is: Why?