'Why Would I Tell You?': Biden Declines to Give Away Strategy on Russia
President Joe Biden called a Fox News correspondent "silly" after he was asked to outline the potential U.S. response to Russia using chemical weapons in attacks.
The Biden administration has warned of Russian President Vladimir Putin potentially launching a chemical weapons attack in Ukraine. Biden has refused to go into detail about U.S. strategy should an attack occur, in order to avoid tipping off the Russian military.
During a press conference about the invasion of Ukraine, Fox News Correspondent Peter Doocy asked the president to explain.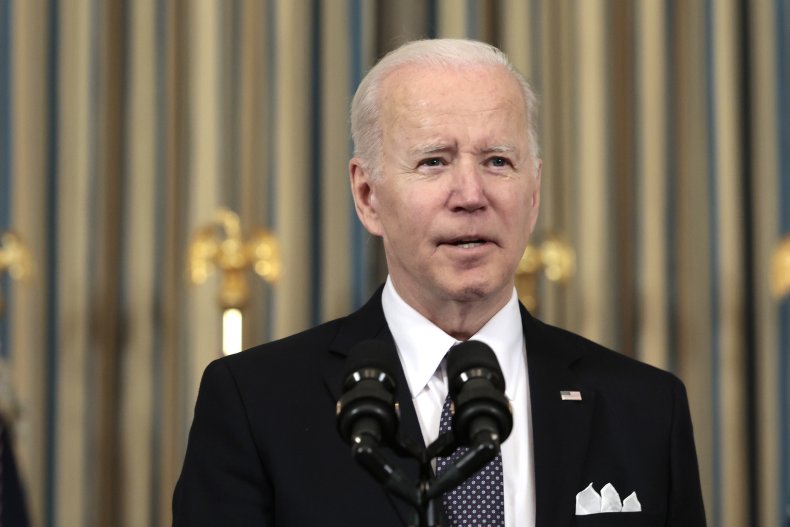 "When you said that chemical weapon use by Russia would trigger a response in kind," Doocy began.
Biden responded by saying Russia's actions would "trigger a significant response" from U.S. and NATO. After Doocy asked Biden to elaborate, the president declined.
"I'm not going to tell you," Biden said. "Why would I tell you? You gotta be silly."
Doocy made the argument that the world wants to know his response. The quick spat ended with Biden saying he wouldn't want to give Russian military details of the plan.
"The world wants to know a lot of things," Biden said. "I'm not telling them what the response would be, then Russia knows the response."
Biden has answered the same question vaguely in the past as well. Last week, when asked if chemical weapons by Putin would trigger a NATO response, the president said yes but didn't go into detail.
"We would respond if he [Putin] uses it," Biden said. "The nature of the response would depend on the nature of the use."
Experts have weighed in on how the Biden administration and the West may respond. Matthew Bunn, the James R. Schlesinger professor of the practice of energy, national security and foreign policy at Harvard University's John F. Kennedy School of Government, assed the threat of a chemical attack in Ukraine.
Bunn explained that chemical weapons have rarely been used in military attacks, but it has happened. He cited the most recent event in Syria, in 2019, where the Syrian government, with Russian support, used chemical weapons, leaving hundreds of thousands dead.
"I imagine that NATO and the Biden administration are actively, but privately, messaging various parties to try to deter this from happening," Bunn said.
"Russia would be totally isolated in the world if it used any of these weapons against civilians," he continued. "There were 35 countries that abstained on the UN General Assembly resolution condemning Russia's invasion, including some big ones like China and India. Virtually all countries would condemn Russia if they went this direction, and some which had refused to join in sanctions before might be convinced to do so."
Newsweek has reached out to the Biden administration for comment.