Why You Should Ditch Old Painkillers Safely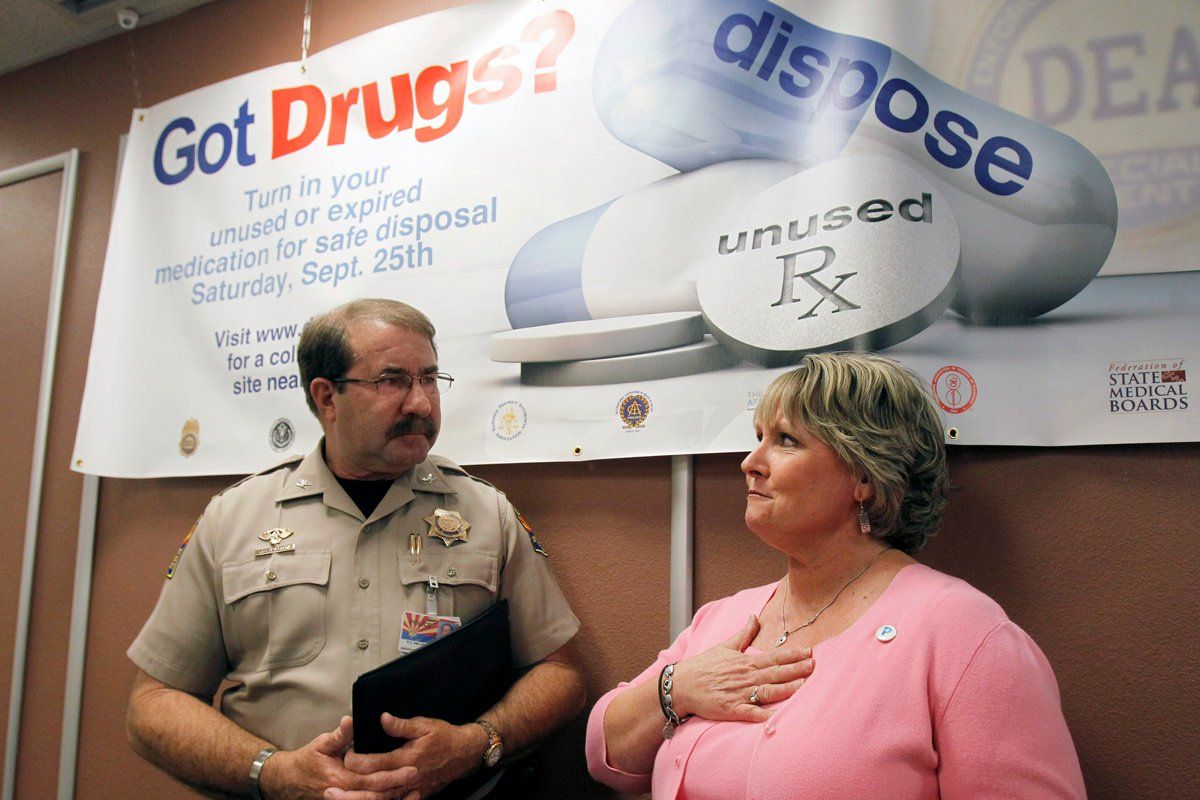 The numbers on prescription-drug abuse aren't getting any better. Stats released by the government last week show an increase in the percentage of Americans using prescription stimulants, sedatives, tranquilizers, and painkillers for "nonmedical reasons"—up from 2.5 percent in 2008 to 2.8 percent last year. That's 7 million people. Most worrisome: the biggest users are in the 18- to 25-year-old set, some of whom probably popped their first Vicodin in their early teens. "We're seeing a very large increase in the number of people going to the ER associated with pharmaceutical abuse, a significant increase in people going into treatment for pharmaceutical abuse, and a rise in the number of deaths associated with pharmaceutical abuse," says Gary Boggs, executive assistant for the Drug Enforcement Administration's Office of Diversion Control. "This isn't bad medicine. It's good medicine, but it's being used improperly."
Which is why the DEA is hosting its first National Take-Back Day on Saturday, Sept. 25. Rather than tossing them into the trash (someone could find them) or flushing them (they contaminate waterways), anybody who has unwanted, unused, or expired prescription drugs can dump them at some 3,800 designated sites around the country, including police stations, fire stations, and community centers. (Enter your ZIP code here to find a location near you.) Police will then escort the meds to facilities for incineration. The goal: to get drugs out of the family medicine cabinet and away from people who might abuse or sell them, especially teenagers. "People will go to great lengths to childproof their house, but as their kids get older they don't think about other hazards," says Boggs.
The DEA's program is modeled on Operation Take Back New Jersey, which was launched last year in a state that is home to many of the world's leading drugmakers. That effort reeled in 9,555 pounds of pharmaceuticals. One woman dumped a bottle of Percocet from 1967. Another told Special Agent Douglas Collier of the DEA's New Jersey division that she couldn't figure out why her daughter had suddenly started visiting her grandmother every day. Then the daughter OD'd, and the mother realized she was stealing Grandma's meds, says Collier.
Kids who wouldn't necessarily indulge in marijuana or cocaine will go after Percocet and OxyContin because those are perceived to be safer. Doctors prescribe them; plenty of adults take them responsibly for pain. But abusers are swallowing or crushing up high doses, and they're mixing the drugs with alcohol and other pills. That's a dangerous pursuit that the DEA now believes may be leading some adolescents down a pathway toward heroin. Why? Heroin is derived from opium, the same compound synthesized in some painkillers. It's a disturbing trend, says Collier, and "what we'd call the next generation of heroin addicts."
Millions of Americans who suffer from acute and chronic pain benefit from prescription pain medications. And plenty of adults are taking them. Last week Quest Diagnostics reported that prescription painkillers are on the rise in the workplace. Positive tests among American workers and job applicants increased 18 percent between 2008 and 2009, according to the company's annual Drug Testing Index. The index can't distinguish whether these drugs are actually being abused. But it did uncover a worrisome statistic: a two- to fourfold increase in positive test results for certain painkillers after workplace accidents, suggesting the possibility that the meds are a contributing factor in the mishaps, says Dr. Barry Sample, director of science and technology for Quest's employer-solutions division. "This raises the level of concern for employees as well as employers," he says.
Education about right and wrong use of these prescription meds is clearly needed. A new survey from the American Pain Foundation (APF) found that the majority of physicians agree that most recreational-opioid users get their drugs from a legitimate prescription—but 41 percent of those doctors don't take any steps to ward off the misuse and abuse of painkillers in their own homes. This week the APF unveiled a new Web-based program called PainSAFE in an effort to help educate both consumers and health-care providers about the safe use of prescription drugs. It's a lesson everyone needs to learn.
With Katie Maloney