Why Has Young Thug Been Arrested? Charges Against Atlanta Rapper Explained 
Hip-hop star Young Thug was arrested on Monday on charges including gang involvement and conspiracy to violate the Georgia criminal racketeering law, also known as RICO, according to police records. But what is the RICO Act?
The Atlanta rapper, whose real name is Jeffery Lamar Williams, was one of 28 people listed in a lengthy indictment that accuses the individuals of being members of the same criminal street gang—Young Slime Life (YSL). Other members face violent crime charges including murder and attempted armed robbery.
Young Thug was arrested at his home in Buckhead, an Atlanta neighborhood, and is currently being held at the Fulton County Jail.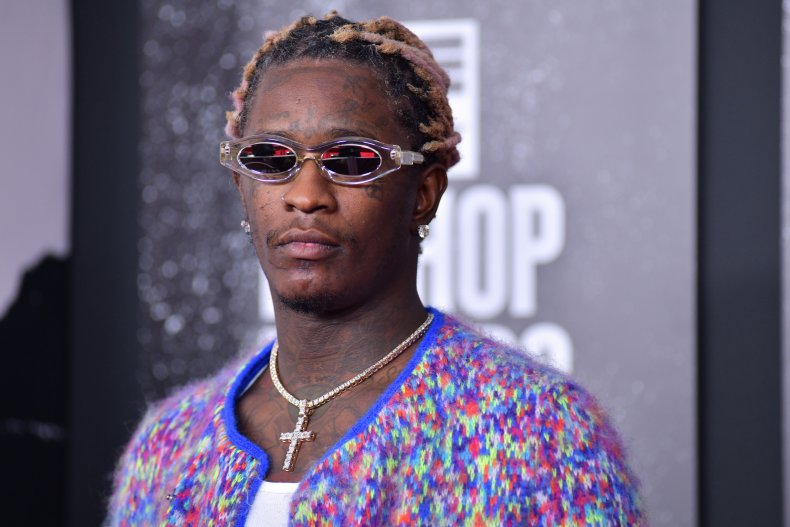 What Charges Does Young Thug Face?
The 88-page grand jury indictment filed in Fulton County Superior Court accuses the rapper of conspiracy to violate Georgia's Racketeer Influenced and Corrupt Organizations (RICO) Act, and criminal street gang activity.
Court papers allege that he co-founded YSL, a criminal street gang that prosecutors say began in the state in 2012 and has links to the national Bloods gang. Williams' label, YSL Records, was founded in 2016 and is also known as Young Stoner Life and Young Slime/Slatt Life.
According to the indictment, the RICO conspiracy took place between 2013 and this year, while the street gang activity count against the rapper was on or between May 12, 2018, and May 8 this year.
What Is Georgia's RICO Act?
Georgia's RICO Act was designed to combat traditional organized crime and includes several types of fraud, theft, and computer crimes that can be committed by both individuals and corporations.
To bring a case under the law, a defendant must have committed at least two predicate acts of conduct that are crimes chargeable by indictment under certain state or U.S. laws.
The RICO Act covers crimes including drug crimes; homicide; battery; arson; burglary; forgery; theft; robbery; human trafficking; bribery; kidnapping; vehicle hijacking; credit card fraud; and insurance fraud, among others.
Individuals charged under the RICO Act can face a jail sentence of up to 20 years, a fine, or both.
What Has Young Thug's Lawyer Said?
An attorney for Williams has denied all charges against his client.
"I'll tell you the response to any allegation; Mr. Williams committed no crime whatsoever and we will fight to my last drop of blood to clear him," his lawyer Brian Steel told WSB-TV.
The rapper has an initial court appearance on Tuesday at 11:30 a.m.
Newsweek has contacted Young Thug's attorney Steel for additional comment.