Catholic University Asks Judge to Throw Out Wiccan Professor's Lawsuit Alleging Gender, Religious Discrimination
A Catholic university has filed a motion to dismiss a discrimination lawsuit brought on by a professor who claimed she faced professional repercussions because she was a Wiccan and a woman.
In May, Pauline Hoffmann filed a lawsuit against St. Bonaventure University in New York, alleging that she was denied a promotion and pressured to resign after telling the school she was a Wiccan. On Friday, the university filed a motion to dismiss the suit on the basis that time barred Hoffmann from suing and she didn't properly argue her case.
Hoffmann had filed a complaint with the Equal Employment Opportunity Commission (EOCC) in February, but the commission closed the case, claiming it hadn't been filed within the required 300-day window. This, the university claimed, should be grounds for dismissal.
"The failure to file a timely charge with the EEOC operates as a bar to bringing an action in federal court," the motion to dismiss read.
When the EEOC closed the case, it informed Hoffman she had the right to sue if the lawsuit was filed within 90 days of receiving its notice. Tom Missel, chief communications officer at St. Bonaventure, told Newsweek it was not school policy to comment on a case involving personnel and legal matters.
St. Bonaventure was founded in 1858 with the interest of promoting Catholic-Franciscan education. Hoffman's employment began in 2006 and, in August 2011, she accepted the position of Interim Dean of the Russell J. Jandoli School of Journalism and Mass Communications.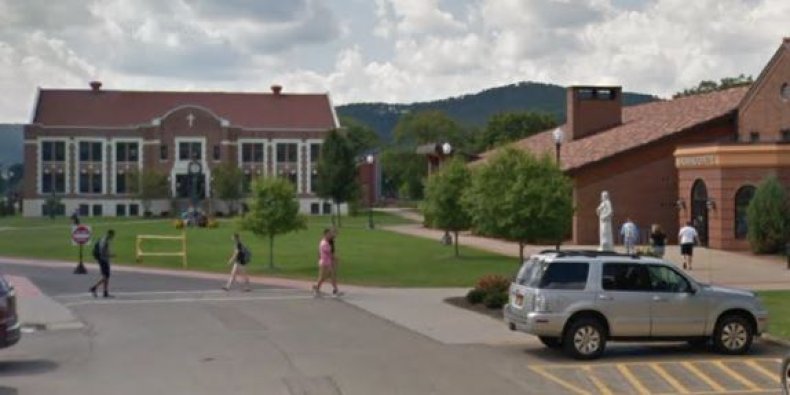 Shortly after her promotion, Hoffman sent an email to the vice president of communications that identified herself as a Wiccan. About eight months later, according to the lawsuit, then-Provost Mike Fisher asked her to sign a document vowing to uphold Catholic values.
Hoffman allegedly questioned if she would have to sign the document if she was Jewish and Fisher responded, "If you were Jewish, then I guess not." Fisher also allegedly told her that, if she wanted to move up at the school, she might want to be less open about being a witch.
"I took a big chance hiring you as a Wiccan," Sister Margret Carney, then-president of the university, told her, according to the lawsuit.
The same month Hoffman allegedly had to sign the document, she accepted the position of dean and was given a two-year contract. According to her suit, male deans had been given three year contracts. Hoffman was reappointed until her resignation in June 2017, after which she returned to her former position as an tenured associate professor and dean of graduate studies. Her resignation, the lawsuit said, caused her a reduction in pay.
Along with the claim that she was pressured to resign as dean, Hoffman's lawsuit alleged she was denied a promotion to provost, which would have resulted in a "significant increase" in pay.
The motion to dismiss, however, argued that her resignation and possible denied promotion occurred years after she disclosed that she was Wiccan. Therefore, the dismissal claimed, the inference that the events were linked to her sex or Wiccan beliefs could be ruled out.
While St. Bonaventure sought to have the lawsuit dismissed, Hoffman requested past lost wages and benefits and damages, as well as, medical costs she incurred as a result of the stress and anxiety she endured.