'Andy Was the Love of My Life. What Happened Will Haunt Me Forever'
I met the love of my life, Andy, on a dating website in 2002. The Commonwealth Games were being held in my hometown of Manchester, England and it was a really vibrant time in the city. He worked for the local police force while I had a job with an events company, and after chatting online we realized we were both working at the event, so we arranged to meet up.
We had a fabulous, very drunk, first date and halfway through I knew he thought I was a keeper. The feeling was entirely mutual. One date led to another, then another—it was a real whirlwind romance. I knew in my heart that I had met the man I was going to marry, though I obviously didn't tell him that straight away.
In January 2003, we flew to Jamaica for two weeks. It was the first of our many incredible holidays together and on our last night, he looked up at the stars from the beach and said: "Would you like to come back here to get married?" It definitely wasn't a typical proposal, but it was a statement of intent. Of course, I said yes. The following year we went back to Jamaica and got married on that beach with some of our closest friends and family.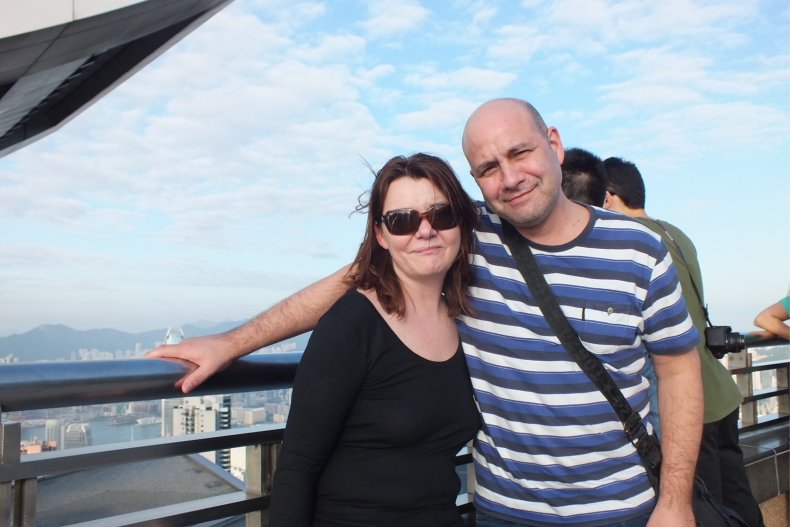 Andy really was my soulmate. He was the yin to my yang, my perfect balance. I'm an off-the-scale extrovert, but he really centered me and anchored me, which was just what I needed. When I feel safe and secure I flourish, and so began the happiest days of my life during my marriage to Andy.
For a long time, we were desperately trying for a baby. We had to have some medical help, but eventually, we welcomed the beauty that is my son, Finn, into the world.
After our son was born, Andy left the police and I set up an events business. Initially, he tried to help me out with the business, but Andy wasn't exactly entrepreneurial, so I was left in the awkward situation of potentially having to fire my own husband.
Eventually, we came to the decision that Andy would pen the novel he'd always wanted to write, while running the house and being a wonderful stay-at-home dad.
He really was the world's best dad; he did every school walk and cooked every meal. He gave me the freedom to run my business, which was all-consuming, and offered advice whenever I needed it.
Married life with Andy
Life was pretty much idyllic at that time. We were fortunate enough to have lots of fabulous, glamorous holidays together. We went to the Caribbean and Australia; Andy used to joke that we were ticking off our bucket list before we had to.
Everything was great until we came home from one particular trip to London in 2017. I could tell something wasn't quite right with Andy. He was a bit grumpy, which was rare, and just didn't seem like himself. He told me he had been having these chest pains, and my blood literally ran cold. I don't know how, but I knew this was something really significant.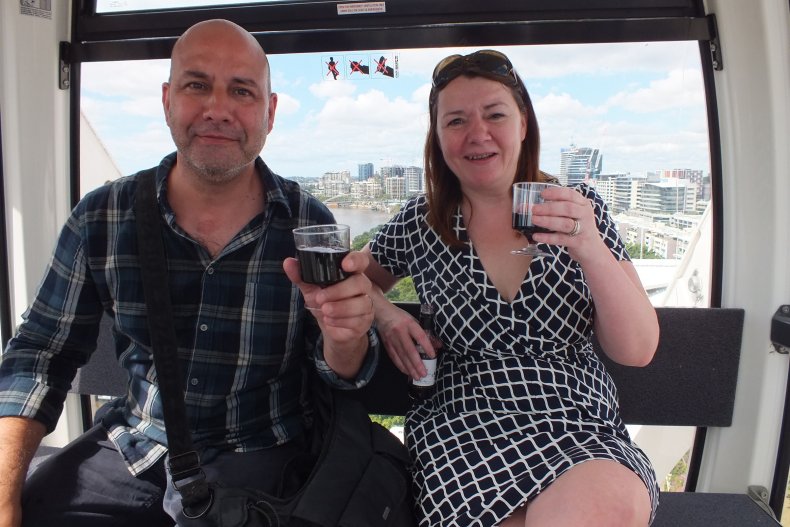 I asked whether he had gone to the doctor, and, of course, he hadn't. Like many men, he was reluctant to go and get himself examined, so the next morning I frogmarched him to the doctors.
Originally, doctors told him there was nothing to worry about; that his chest pains were being caused by stress. But I knew something wasn't right. Getting stressed just wasn't in Andy's nature. I thought he was the world's most laid-back man—which he needed to be married to me.
The pains went on for three days and we visited three different doctors on three separate occasions. On the first two he was told it was stress again, but on the third visit I snapped and demanded they run some tests. They reluctantly agreed to do an electrocardiogram (ECG), which is used to check your heart's rhythm.
Serious health problems
They initially monitored his heart at home, but as they were reading him the results of the ECG, they realized that he was having a heart attack at that very moment, so we were rushed to hospital in an ambulance. Within an hour he was up in bed, smiling, reassuring me that he was okay.
He stayed in hospital for three days and we thought we'd had a lucky escape. Shortly after he came home, he went upstairs for a sleep. When I eventually came up to bed he was snoring like a trooper, so I decided to sleep in our spare room.
At around 6.00 a.m. the following morning I heard this dreadful noise and went running into the bedroom. He was having another heart attack in the house. The stents doctors had put into his heart, to help improve blood supply, had failed and he was clearly dying. He was looking at me, pleadingly, in the eyes—it's an image that will haunt me forever.
I called the emergency services and they talked me through how to do CPR. I had to wait around 40 minutes for the paramedics. It was the most traumatic experience of my life. I still have a bit of PTSD to this day. I kept him alive, but his brain had become starved of oxygen and he suffered a catastrophic brain injury.
He was rushed to hospital and went into the intensive care unit (ICU). He spent two weeks in an induced coma and during that time I was taken to one side by a doctor who very bluntly, and thankfully, told me that there probably wasn't going to be a happy ending. My husband had suffered a terrible brain injury and would be severely disabled. It was utterly heartbreaking to process.
Eventually, doctors took him out of the induced coma and it was instantly clear that my beautiful soul of a husband was no more. He had lost all cognitive function. He didn't know who I was, he didn't know who he was, he didn't know where he was.
I wished he had passed quickly because I knew he was never getting better. I was stuck in this limbo; this living grief. I'd lost my husband, but he was still there physically in front of me.
We threw everything at his recovery—rehab, private care, the NHS did everything they could. I can't blame anybody, and I wouldn't want to. Andy was eventually moved into a very specialist nursing home that dealt only with people with brain injuries, so I was confident he was getting the very best of care.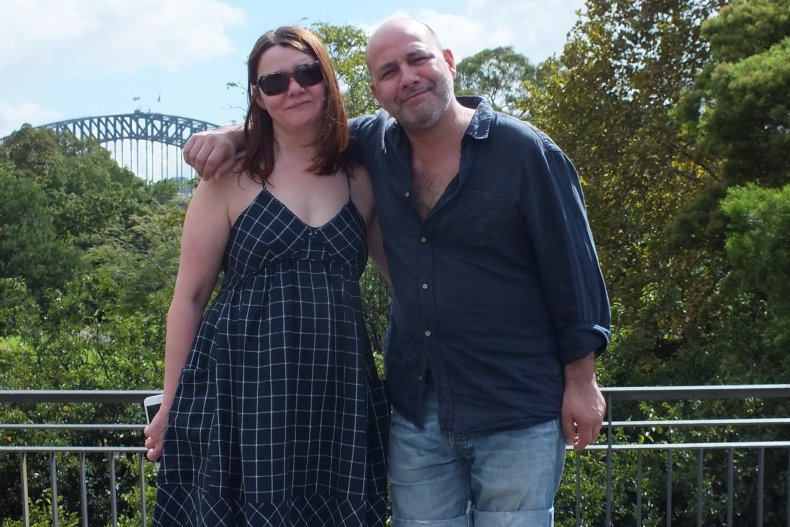 Going to visit him was heartbreaking because I could see the man I thought was my husband, but he was violent, aggressive, confused, and upset. I made the very difficult decision as a mother not to let Finn see his dad in that state. He was only around 10 years old and did not have the cognitive ability to make that choice for himself.
It was one of the hardest decisions of my life, but I know I made the right choice. Now, whenever Finn talks about his dad, it's with love and pride. He does not remember him during that dark period.
Three years were spent in utter limbo, with no idea when or how this was going to end. Then, in February 2020, COVID-19 started hitting the headlines. I was all over what was happening and I just knew that it was going to be the beginning of the end. Care homes were locked down, so I was no longer able to visit Andy, and shortly afterwards I got a call saying he had COVID-19 and was struggling to breathe.
Four days later, I was told he had passed away.
Coping with Andy's death
Naively, I thought I would feel a sense of relief, but actually it hit me like a train. It turns out that going through all of that pain while he was still alive didn't take me off the guest list for grief.
At the time, I was 49 years old and neither Andy nor I had sorted out our power of attorney or wills, so I was unable to access any of our savings as they were all in an ISA account belonging to Andy.
Thankfully, some very loving friends and family had organized a crowdfunding campaign when Andy initially fell ill, which helped in the short term, but I eventually racked up around £15,000 ($18,151) in legal bills trying to sort that mess out, all while I was going through the darkest period of my life.
I spent a fortune on counseling for both myself and Finn, without which I believe I would have really struggled, and through a charity called Cruse Bereavement Care, I was referred to an organization called Widowed and Young (WAY) which helps men and women aged 50 or under who have lost partners.
I started going to widow meetups, which I'm aware sound like a rather sad affair where we're all crying into our gin by the end of the night. And while there is some of that, I also discovered that widows know how to party.
I've had numerous fun weekends away, bonding time and have made some best friends for the rest of my life. I was absolutely blown away by the supportive nature of widows and widow groups.
At the same time, I was starting to lick my wounds a bit and felt that I might be too young to settle down. I thought I would tentatively try dating and decided to put myself back out there online.
Dating as a widow
My memories of internet dating were really tame, but it's like the Wild West out there now. Going on Tinder was a complete eye-opener for me. I was equally fascinated and horrified by the modern dating world.
I've had some fun dates, some disaster dates, a couple of short-term relationships, but nothing that will ever replace Andy. During the horror of online dating, I thought: "There has to be a better way than this."
Within the widow community, there's a really common phrase called "chapter two", which refers to your next long-term relationship or significant relationship. I'm a natural entrepreneur and started looking at the dating apps available to see whether there was anything specifically for widows.
While they did exist online, I felt they were targeted towards an older audience, and in my experience—the silver foxes advertised on the front page were not easy to find on the website.
I decided I would start my own dating app called Chapter 2, which welcomes everyone who has lost a life partner or significant other. I have managed to build a dream team of investors, suppliers, and partners, and I love being back in startup mode.
We're going from strength to strength and have over 1,800 members signed up and on the site right across the U.K.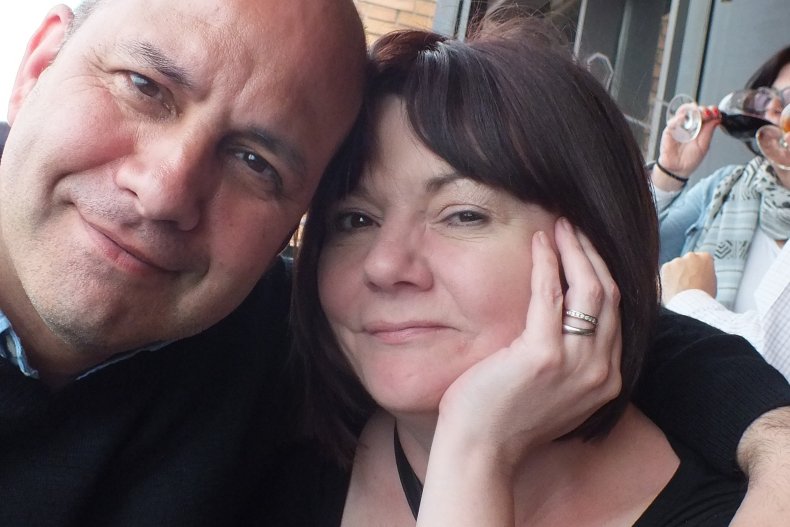 We stage regular meetups and the response from the widow community has been incredible. Everybody loves the idea and it means that users are uniquely placed to understand each other. Many people join us for the community aspect and friendship; there's the ability to meet people there just to talk or go for coffee.
I feel it's so hard for non-widows to understand what a widow has been through. For example, my house is full of photographs of Andy. My heart is full of memories of Andy, and that's a really tough thing to walk into.
I think with widows and widowers there's an emotional shorthand. I have found that the minute you know someone's lost someone, you become best friends for life in about ten minutes, because you've had this shared experience, and we're all here to help each other.
I already know of four success stories, which is so sweet. I often say that if I can help other people find some joy, then that helps me make sense of my loss.
I feel like I've finally found my reason for being put on the earth—to create a really valuable service for people who need it most, and to try and spread some joy, because we all deserve some joy in life.
Nicky Wake is an entrepreneur who lives in Greater Manchester, England. She is the founder and managing director of dating app Chapter 2. You can visit their website here: www.chapter2dating.app
All views expressed in this article are the author's own.
As told to Newsweek's My Turn associate editor, Monica Greep.
Do you have a unique experience or personal story to share? Email the My Turn team at myturn@newsweek.com