Widow of French Bus Driver Beaten Over Mask Request Calls for 'Exemplary Punishment'
The widow of a French bus driver beaten to death after asking passengers to wear face coverings called for "exemplary punishment" Saturday for the perpetrators.
Veronique Monguillot, widow of Philippe Monguillot, said she had told French Interior Minister Gerald Darmanin that the family was "destroyed" by the July 5 attack on her husband.
"We must bang a fist on the table, so this never happens again," Veronique Monguillot said. "It's barbaric, not normal. We must stop this massacre."
Darmanin visited the family in the southwestern city of Bayonne on Saturday. He had announced his visit the day before, seeming to echo the widow's plea for justice.
"This heinous and cowardly act must not go unpunished," Darmanin wrote on Twitter. "I'll be traveling to Bayonne tomorrow to make a point of safety in the city with state officials and meet with public transport drivers and unions."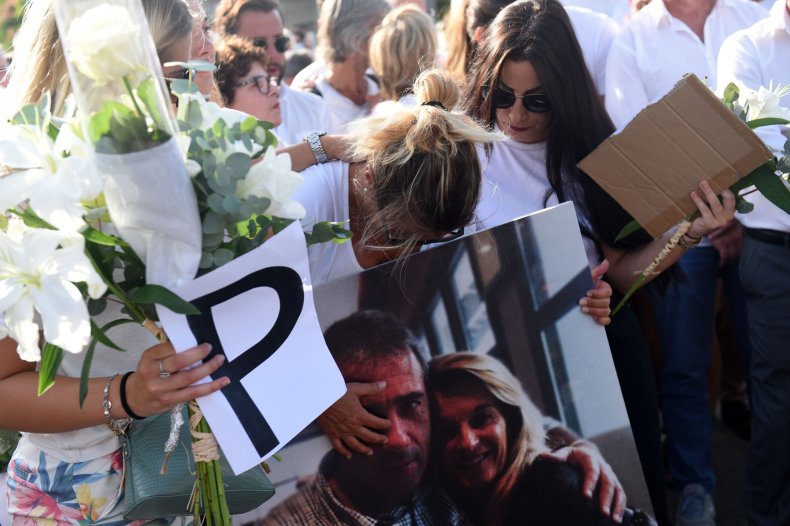 The attack against Philippe Monguillot occurred in Bayonne Sunday evening after the bus driver had reportedly asked three men to don face masks as he checked one of their tickets. Face coverings are mandatory in French public transportation due to the coronavirus pandemic.
The three men and one other person reportedly insulted Monguillot, pushing him off the bus and violently beating and kicking him in the head, according to the Bayonne public prosecutor's office.
Assistant prosecutor Marc Mariee said during a press conference Tuesday that the attack was "extremely violent" and requested that charges be filed.
Prosecutors have since charged two of the men with attempted murder and the two other men with non-assistance to a person in danger. Another man has been charged with attempting to hide a suspect, the prosecutor's office said.
Prosecutors have not publicly identified any of the suspects, but said that the two men charged with attempted murder are aged 22 to 23 and have police records.
Newsweek contacted the city of Bayonne for comment, but did not hear back in time for publication.
Monguillot, 59, died in a hospital Friday, his daughter Marie told Agence France-Presse.
"We decided to let him go. The doctors were in favor and we were as well," she said. Doctors had declared Philippe brain dead after the attack.
On Wednesday, the Monguillot family organized a march in the bus driver's honor, requesting that all attendees wear white.
"I will fight to the end, I have strength in me, I have almost no more tears. I'm angry and I'm going to go. I am not afraid, justice is with me," Veronique Monguillot said Wednesday. "The justice will help me to avenge my husband."
Employees at Keoilis, the transportation company Philippe Monguillot worked for, held a minute of silence Wednesday to honor their colleague, according to the Keoilis Twitter account.
The company has boosted security for its employees, deploying guards on some of its bus services in the area, according to CNN.