Widow of Sgt. La David Johnson Busts Fake Facebook Message Attacking Rep. Frederica Wilson
A post on Facebook which appeared to come from the widow of a soldier at the center of a controversy between President Donald Trump and Florida Representative Frederica Wilson is a fake.
Myeshia Johnson, the widow of Sgt. La David Johnson, confirmed to ABC News Sunday that she did not write a post appearing under her name criticizing Wilson.
The Florida lawmaker sparked anger from the president when she suggested he had told Johnson's widow that her husband "knew what he was getting into."
The Facebook post attibuted to Johnson's widow suggested the Democratic congresswoman had heard only part of a conversation between Trump and Johnson after her husband was killed in action in Niger, Africa, on October 4. "I'm getting sick and tired of this so called politician using my husband as a political platform," the post read, under the profile of what appeared to be Myeshia Johnson.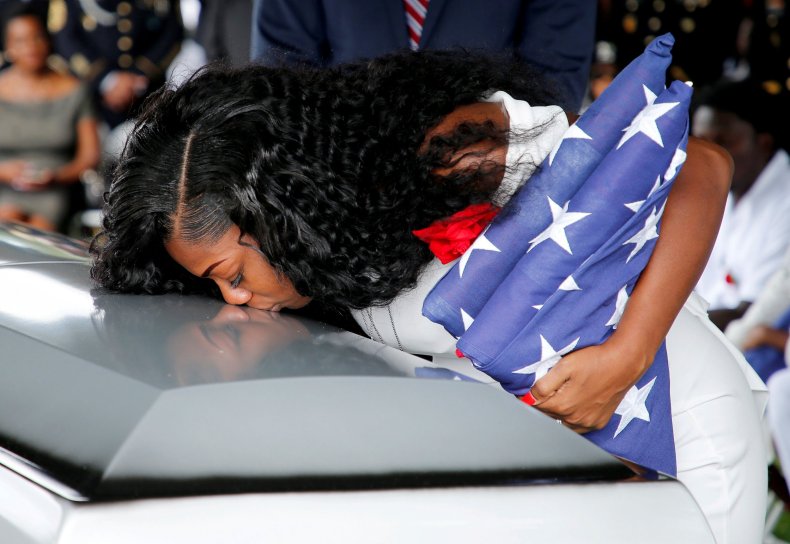 The post then gives a charitable account of what Trump said, counter to what Johnson's family and Wilson reported. The fake post circulated on hard-right conservative social media.
"Mrs. Johnson confirms to that she did not write this post. It is fake," wrote Michael Del Moro, a Good Morning America segment producer, on Twitter Sunday.
During her appearance Monday, Johnson spoke out about the fight that has erupted between Wilson and the president over her husband's death, after Wilson criticized Trump for how he handled a call to Johnson last Tuesday. The day before Wilson's comments, Trump incorrectly said President Barack Obama and other presidents didn't call the relatives of soldiers.
Wilson said that during the call, Trump told Johnson that her husband "knew what he signed up for."
Counter to Trump's denials last week, Johnson confirmed Wilson's account. "Whatever Ms. Wilson said was not fabricated. What she said was 100 percent correct," Johnson said of Trump's call. "The phone was on speakerphone. Why would we fabricate something like that?"
Johnson said she was "very upset and hurt" when she got off the phone with Trump.
Read more: Tom Hanks says Trump's comment to soldier's widow was "one of the biggest cock-ups"
Wilson overheard the call when she was traveling with Johnson's family, which was headed to the airport to collect Johnson's remains when Trump's call came in.
Trump kept referring to Johnson as "your guy" during the call, she said. "When he hung up, you know what [Myeshia] turned to me and said? She said he didn't even remember his name," Wilson said. Johnson confirmed this during her interview Monday.
Trump denied making the comments, and in an escalating war of words throughout the week accused Wilson of being "wacky" and "SECRETLY" listening to the phone call.
Wilson's account was confirmed by Cowanda Jones-Johnson, who had raised Sgt. Johnson from the age of 5, after his mother died. "President Trump did disrespect my son and my daughter and also me and my husband," Jones-Johnson told The Washington Post.
White House chief of staff Gen. John Kelly entered the controversy last Thursday, when he called Wilson "an empty barrel" making noise about nothing. Kelly said that he instructed Trump about what to say to grieving soldiers' families after his own son was killed in Afghanistan in 2010.
Wilson has demanded an apology from Kelly, calling him "Donald Trump's puppet."
The false Facebook post was exposed as a fraud by the website Snopes.com, which points out the time stamp on the post was 3:27 p.m. on Tuesday, October 17, when Trump's phone call came in at 4:45 p.m. The post also shows a square Facebook profile picture; updates made to the social media platform in August turned profile pictures round.