Widower of Joe Scarborough Staffer Writes Letter to Twitter Asking Them to Remove Trump's Tweets About Her Death
The widower of a former staffer for Joe Scarborough who has been referred to on Twitter by President Donald Trump has asked the social network to remove the president's tweets about her death.
"Please delete these tweets," Timothy Klausutis, the widower of Lori Klausutis, wrote to Twitter chief executive officer Jack Dorsey in an emailed letter obtained by The New York Times.
"I'm asking you to intervene in this instance because the President of the United States has taken something that does not belong him – the memory of my dead wife and perverted it for perceived political gain," Klausutis stated in the May 21 letter.
Klausutis was an aide to Scarborough when he was a member of Congress. She died in 2001 when she working at the then-Florida representative's office in Fort Walton Beach. According to the medical examiner's report, Lori Klausutis died from "blunt force trauma sustained in a fall," which was determined by the autopsy report to be an accident caused by complications from floppy mitral valve disease. Her husband stated in his letter that her condition was "undiagnosed."
The circumstances surrounding Lori Klausutis' death has been the subject of the president's tweets as he calls for an investigation into whether or not Joe Scarborough, the host of MSNBC's Morning Joe, had anything to do her death.
In his letter to Dorsey, Klausutis specifically cites two tweets from the president.
On May 4, the president stated that a "Florida Cold Case" should be brought up against Scarborough: "'Concast' should open up a long overdue Florida Cold Case against Psycho Joe Scarborough. I know him and Crazy [Mika Brzezinski] well, used them beautifully in the last Election, dumped them nicely, and will state on the record that he is 'nuts'. Besides, bad ratings! #OPENJOECOLDCASE"
On May 12, Trump reiterated calls for Scarborough to be investigated in a tweet in which he asks "did he get away with murder?"
"When will they open a Cold Case on the Psycho Joe Scarborough matter in Florida. Did he get away with murder? Some people think so. Why did he leave Congress so quietly and quickly? Isn't it obvious? What's happening now? A total nut job!," Trump's tweet read in part.
Klausutis wrote in his letter to Dorsey that the "constant barrage of falsehoods, half-truths, innuendo and conspiracy theories" surrounding his wife's death has made it difficult for him to move on with his life.
"These conspiracy theorists, including most recently the President of the United States, continue to spread their bile and misinformation on your platform disparaging the memory of my wife and our marriage," Kalausitis wrote. He asked that Dorsey delete the president's tweets, saying that they are a violation of the platform's rules and terms of service.
The president continued to tweet on the matter of Klausutis' death Tuesday, stating that his suggestion to open a "cold case" on Scarborough was not an "original thought" on his behalf:
"The opening of a Cold Case against Psycho Joe Scarborough was not a Donald Trump original thought, this has been going on for years, long before I joined the chorus. In 2016 when Joe & his wacky future ex-wife, Mika, would endlessly interview me, I would always be thinking about whether or not Joe could have done such a horrible thing? Maybe or maybe not, but I find Joe to be a total Nut Job, and I knew him well, far better than most. So many unanswered & obvious questions, but I won't bring them up now! Law enforcement eventually will?"
In a statement sent to multiple media outlets Tuesday, Twitter said it is are "deeply sorry about the pain these statements, and the attention they are drawing, are causing the family."
"We've been working to expand existing product features and policies so we can more effectively address things like this going forward, and we hope to have those changes in place shortly," Twitter stated.
Kayleigh McEnany, the White House press secretary, said Tuesday during a press conference that she did not know whether or not the president read the letter, adding "our hearts are with Lori's family at this time."
McEnany also referenced a 2003 phone interview between radio personality Don Imus and Scarborough in which Imus said, "I asked you why you were in Congress and you said you'd have sex with the intern and then you had to kill her," which drew a laugh from Scarborough.
"In fact 2003 on Don Imus' show, it was Don Imus and Joe Scarborough that joked about killing an intern – joked and laughed about it. So that was, I'm sure, pretty hurtful to Lori's family," McEnany said.
Newsweek reached out to the White House and Twitter for comment, but did not hear back in time for publication.
MSNBC declined to comment on McEnany's remarks.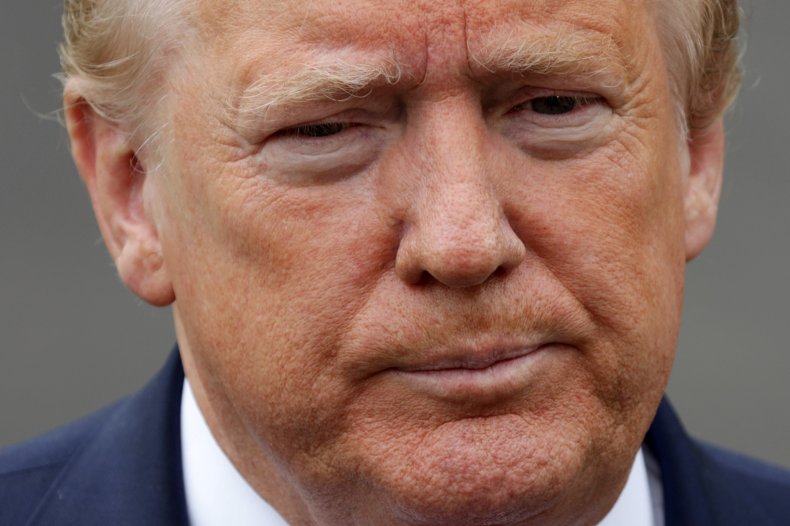 Correction: This story and headline has been updated to show that Lori Klausutis was an aide to Joe Scarborough.
Update (5/26/20, 1:00 p.m.): Updated to include statements by Twitter.
Update (5/26/20, 4:40 p.m.): Updated to include comments by the White House press secretary.