Wiesenthal Center Applauds Facebook on Hate-Speech Crackdown; Hits Apple for Encryption Fight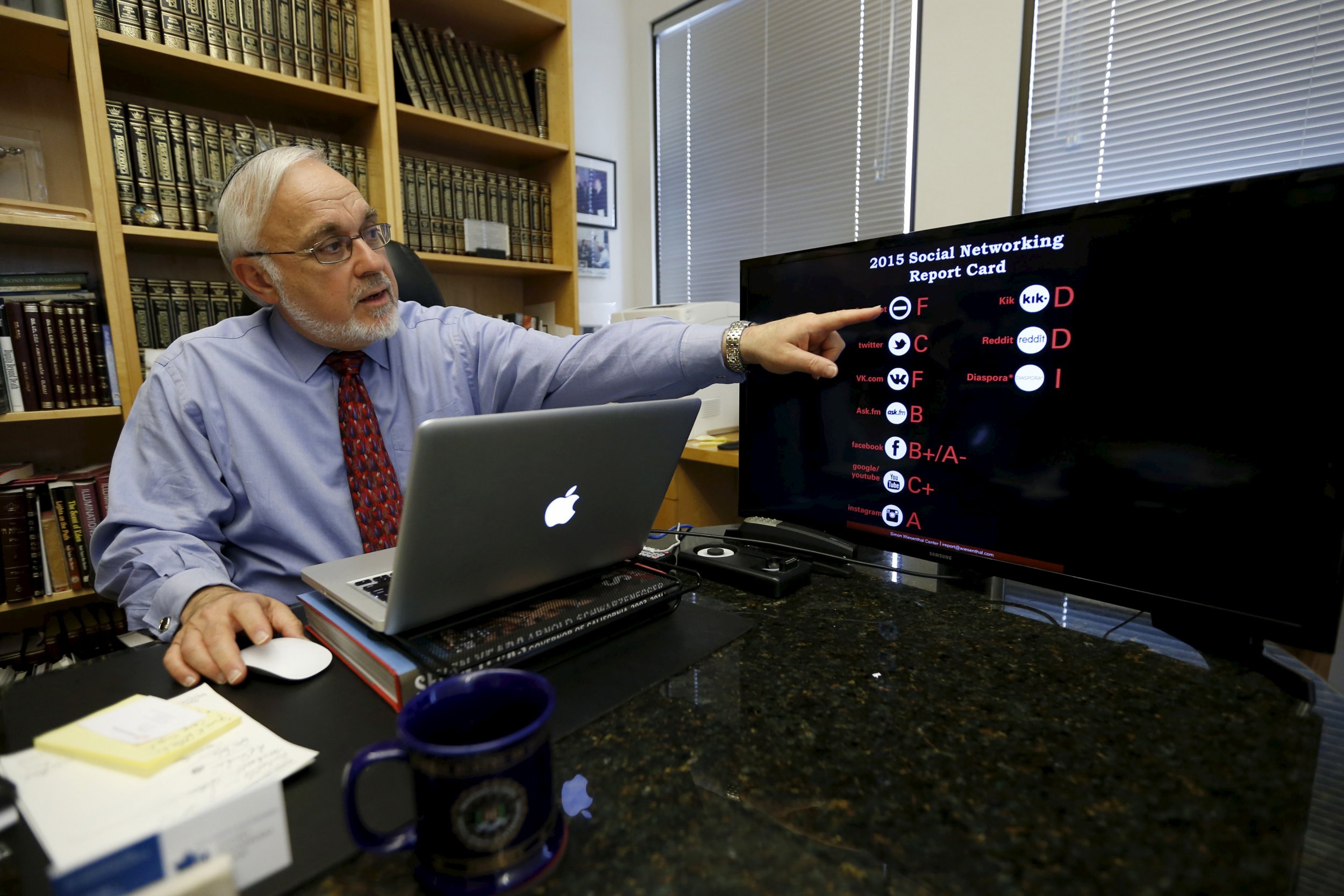 Facebook finished at the top of social media and messaging companies in fighting back digital terrorism and hate speech, according to an annual "report card" from the Simon Wiesenthal Center.
The Wiesenthal Center, a Los Angeles–based, Jewish-American nonprofit aimed at fostering tolerance and ending hate and terrorism, graded 15 companies on the basis of responsiveness and proactivity in shutting down contents and accounts that promote hatred or violence, says Rabbi Abraham Cooper, associate dean of the Wiesenthal Center.
Facebook finished with an A- and B- in cracking down on digital terrorism and hate speech accounts, respectively. Most of the other companies on the report card fell short. "We are using this as a wake-up call for these companies," Cooper tells Newsweek.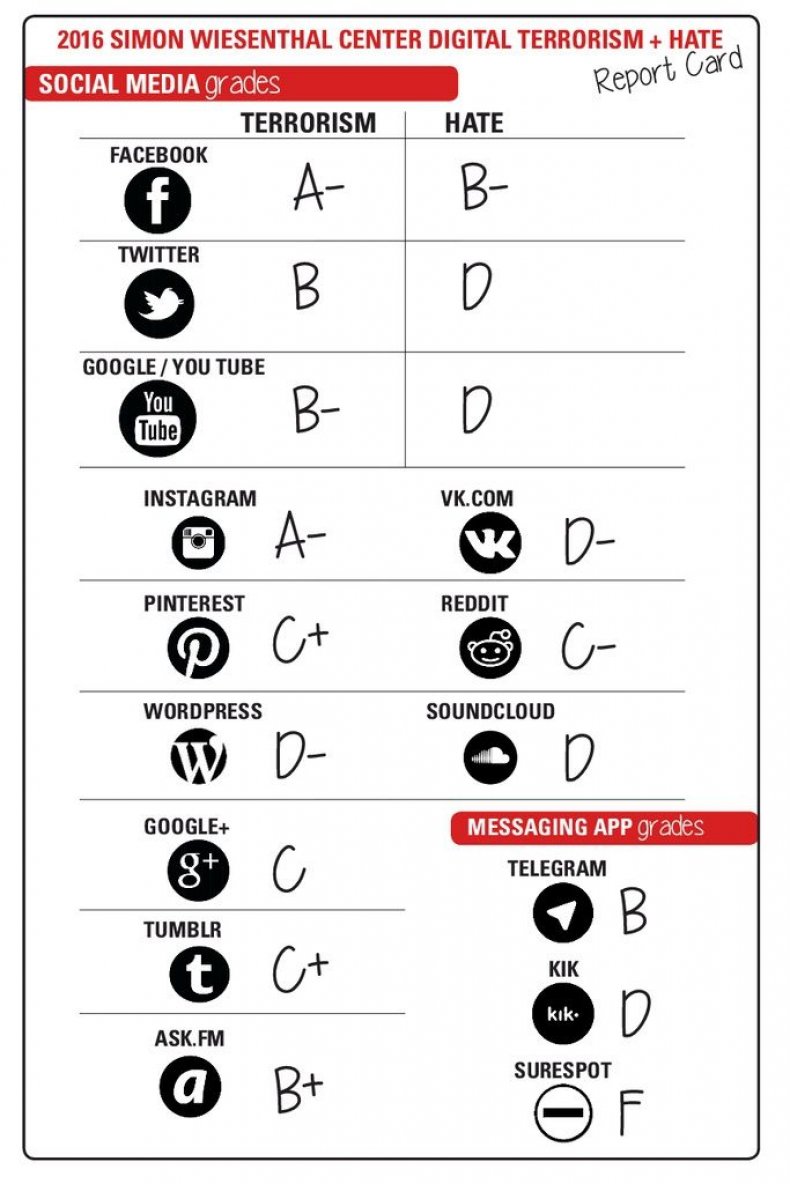 The Wiesenthal Center sends a report on terrorism yearly, but this year's research added a new concern: encryption. With Apple and the FBI engaged in a high-profile legal battle over opening the encrypted iPhone of San Bernardino, California, shooter Syed Rizwan Farook, the Wiesenthal Center is siding with the FBI and law enforcement over the fear that encryption will give terrorists an advantage.
"We're here to report that the bad guys like ISIS are instructing their people to encrypt everything," Cooper says. "[Apple CEO Tim] Cook is setting this up as an us vs. them situation. The best situation for us to collectively look at the issue. Do we really need to go to the Supreme Court about this?"
Cooper also believes that the concerns of greater government surveillance powers if the FBI gets into the phone were overblown, citing his decades-long experience in working with governments to fight Islamophobia, anti-Semitism and other forms of discrimination. "I don't see any big appetite [from the governments] to expand Big Brother powers," Cooper says. "But when tech companies don't cooperate, they have no choice. Then the terrorists really win."
Encrypted messaging apps, like Telegram and Kik, were included in this year's report card. Telegram, which has been reported as one favorite mode of communication for ISIS terrorists because of its robust end-to-end encryption, got a surprising B because the company actively removed contents and channels belonging to ISIS.
Kik, a similar messaging app with a looser encryption technology compared to Telegram, got a D. But the ignoble honor of receiving the lone F this year went to a lesser-known messaging app called Surespot.
Twitter, who made news last month for shutting down over 125,000 ISIS propaganda accounts, received a B. Three years ago, Twitter received an F in its anti-terrorism report card. Cooper credits the arrival of new CEO Jack Dorsey as a turning point. "Now that Jack's back, I think they finally are moving to the positive side of the ledger in the fight against terrorism," Cooper says.
But on the hate speech side of things, Twitter—much like Google and its subsidiary YouTube—was still lagging behind with a D grade. In a more detailed Powerpoint presentation on the report card, the Wiesenthal Center highlighted several accounts and hashtags on Twitter that promote anti-black, anti-Semitic and anti-Muslim sentiments without any crackdowns.
While the purpose of the report card is to urge the tech companies to take action against terrorism and hate, Cooper clarifies that they don't want the enforcements to happen at the expense of digital privacy. "We're not looking to be privacy-busters here" Cooper says.