Wife Applauded for Blasting Husband Gambling With His Health: 'Unforgivable'
The internet has sided with a mom who shared her frustration at her husband for not taking his health concerns seriously in a viral Mumsnet post.
Shared on the popular discussion site on Wednesday, user DouweEggbert told the story which has received more than 100 responses.
She said: "[My] husband was in the hospital for three days earlier this year with heart problems. Long story short, he's still under the consultant at the hospital for ongoing tests, etc. but he will not f***ing be bothered or organized enough to turn up for said tests.
"24-hour ECG? Didn't go. CT scan? Forgot. Phone consultation? Didn't answer the call. Second phone consultation? Was in a meeting."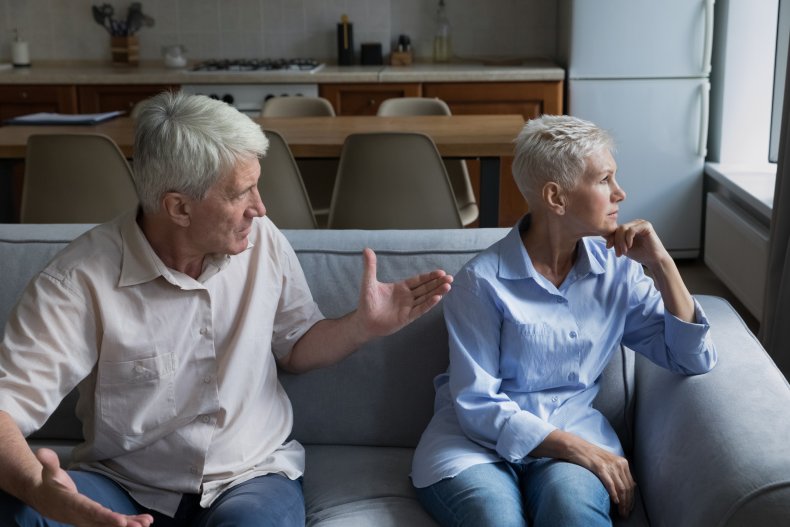 Overwhelmingly stressed with her husband's behavior, she took to the discussion forum for advice.
"I've spelled out numerous times that he's putting his health at risk, that I'm coming from a place of concern, that it's denying others an appointment, that he's putting his work before our daughter and I, but nothing seems to stick," she wrote.
The Centers for Disease Control and Prevention (CDC) reports that heart disease is one of the leading causes of death in the U.S., with one person dying every 36 seconds from cardiovascular disease.
The CDC notes that key risk factors for heart disease include high blood pressure, high bloody cholesterol, and smoking. But factors like diabetes, unhealthy diet, obesity, and excessive alcohol use can also put people at extra risk.
Data from the World Health Organization reported that in 2000, Ischaemic heart disease was the leading cause of death and it remains the top cause of death today, accounting for 8.9 million deaths in 2019 or 16 percent of total deaths worldwide.
The chart below, provided by Statista, shows the leading causes of death worldwide.
Users on Mumsnet headed to the comments to share their thoughts and offer some much-needed support to the concerned wife.
"What an idiot. And an irresponsible, inconsiderate one at that," wrote one user.
Another commenter said: "Get your wills in order. Make sure you have access to money etc. in case he drops dead. Is his life insurance up to date? Tell him you're doing this."
"I'd be disgusted and furious in equal measure," wrote another commenter. "How dare he be so cavalier with his health?"
"It's his body, his choice. But taking away an appointment someone else could have used is unforgivable. I'd be livid," said one Mumsnet user.
However, other commenters pointed out that the husband may be more concerned about the results that he is letting on. "Is he scared of the results and therefore avoiding the subject altogether?" asked one commenter.
"His approach is c***, but his behavior presents as paralyzed with anxiety over it," said another Mumsnet user. "People with anxiety often don't behave in a way that elicits sympathy. I'd have another bash at not being utterly p***ed off with him and broach the matter of his anxiety."
After receiving advice and comments from users online, the poster updated with her next course of action: "I'm going to take advice and bring the subject up again gently (having gritted my teeth earlier) to see if I can get him to open up a little more.
"If not, I'm going to pull wife rank, bundle him into the car and drive him to future appointments. I might even wheel him in on our daughter's tiny scooter if he puts up a fight."
If you have a similar family dilemma, let us know via life@newsweek.com. We can ask experts for advice, and your story could be featured on Newsweek.