Wife of Drug Kingpin El Chapo Sentenced to 3 Years Behind Bars for Drug Trafficking
The wife of notorious drug kingpin El Chapo was sentenced to three years in prison on charges of drug trafficking and money laundering, the U.S. Department of Justice (DOJ) said Tuesday.
Emma Coronel Aispuro, 32, pleaded guilty on June 10 to international drug trafficking charges as well as a violation of the Foreign Narcotics Kingpin Designation Act. This act, passed in 2000, works to impose sanctions on drug cartels in order to make it harder for them to funnel drugs through the American market.
In addition to the 36 months in prison, Aispuro, a dual U.S.-Mexican citizen, will also face four years of supervised release upon the end of her stint behind bars. Beyond this, a federal judge also ordered her to forfeit $1,499,970, which prosecutors claimed as restitution for Aispuro's drug trafficking.
As the wife of Joaquín Guzman, better known by his nickname El Chapo, Aispuro was considered the closest confidante and co-conspirator to perhaps the most infamous drug lord of the 21st century.
El Chapo led the Sinaloa Cartel off and on from the mid-1990s until his capture in 2016. Considered to be one of the most powerful criminal syndicates in the world by the international community, the Sinaloa Cartel flourished under El Chapo's leadership, and the Congressional Research Service estimated the group's profits at $3 billion in 2012.
The Washington Post has estimated that El Chapo had trafficked more drugs into the U.S. than anyone else in American history.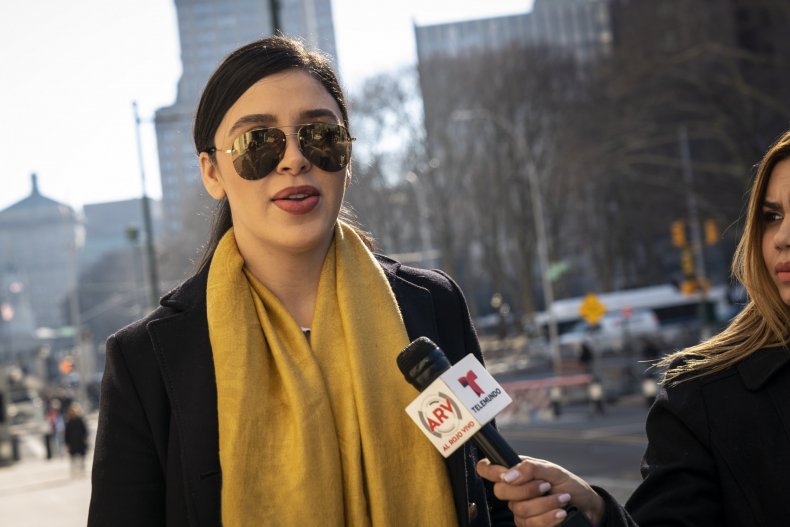 DOJ records named Aispuro as a major player in the Sinaloa Cartel's ranks, and she reportedly "played a critical role in facilitating [El Chapo's] escape from a Mexican prison," though he was eventually captured again and sentenced to life behind bars.
To assist in this escape, Aispuro reportedly included provisions such as GPS monitors and the coordinated movement of drugs to help pay for the escape plan.
During El Chapo's incarceration in Mexico, Aispuro would reportedly also assist him in relaying messages back and forth between outside members of the cartel. She was also planning meetings between high-ranking Sinaloa officials, according to the DOJ.
Her most influential activity, however, occurred when she was partnered with her husband El Chapo. While the kingpin led the Sinaloa Cartel, Aispuro allegedly assisted in trafficking massive amounts of illicit drugs into the U.S.
This includes at least "five kilograms or more of cocaine, one kilogram or more of heroin, 500 grams or more of methamphetamine, and 1,000 kilograms or more of marijuana," along with conspiring to launder the money made from the sale of these drugs.
The DOJ investigation was assisted by members of the Federal Bureau of Investigation (FBI) and Drug Enforcement Agency (DEA), along with a number of other federal entities.
DOJ records did not state where Aispuro will serve her sentence, but it is likely to be a high-security facility given her ties to the cartel. Her husband El Chapo is currently serving his life sentence at Colorado's ADX Florence, the U.S.'s federal supermax facility.
Newsweek reached out to the DOJ for comment.