Who is Malcolm Young's Wife, Linda? Partner of AC/DC Rocker Remains Silent
Malcolm Young's wife, Linda, did not immediately issue an individual statement after the AC/DC rocker died on Saturday. He was 64 years old. Young had been battling dementia for three years and was replaced by his nephew, Stevie Young, in the 2015 AC/DC world tour. His illness reportedly contributed to his death.
Linda and the rest of his family were at his bedside when he died at home, a Saturday statement from the band said. Young and Linda were married for nearly four decades after reportedly tying the knot in 1979. Further information about Linda and their relationship was not immediately known.
"Today it is with deep heartfelt sadness that AC/DC has to announce the passing of Malcolm Young," AC/DC wrote in their Facebook post. "Malcolm, along with Angus, was the founder and creator of AC/DC. With enormous dedication and commitment he was the driving force behind the band. As a guitarist, songwriter and visionary he was a perfectionist and a unique man. He always stuck to his guns and did and said exactly what he wanted. He took great pride in all that he endeavored. His loyalty to the fans was unsurpassed."
The message garnered more than 380,000 likes and hundreds of thousands of shares. In the nearly 50,000 comments, fans mourned the famous guitarist, who co-wrote all of AC/DC's hit songs.
Newsweek subscription offers >
Young co-founded the band with his brother Angus in 1973. Angus issued a separate statement of his own.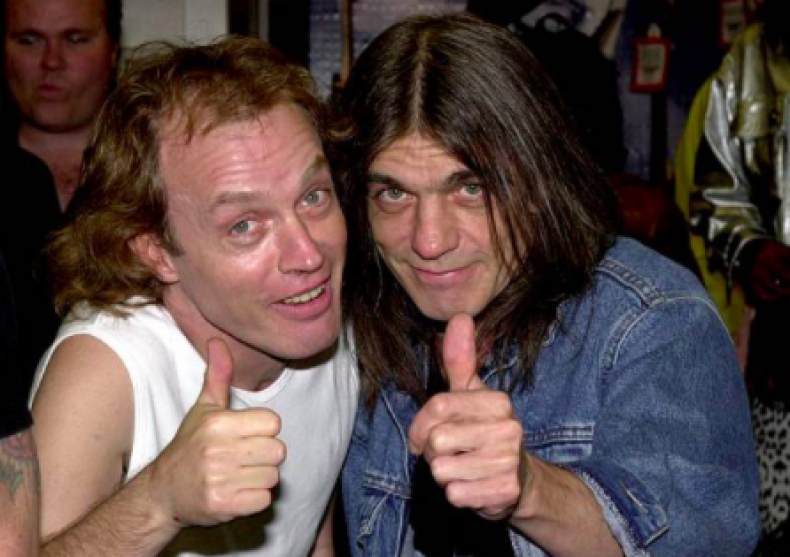 "As his brother it is hard to express in words what he has meant to me during my life, the bond we had was unique and very special. He leaves behind an enormous legacy that will live on forever. Malcolm, job well done," he said, according to Rolling Stone.
The rock community mourned Young's passing, with Slash from Guns N' Roses saying the AC/DC star was one of the best rhythm guitarists.
Newsweek subscription offers >
"He was a fantastic songwriter and he had a great work ethic too," Slash told Rolling Stone on Saturday. "I toured with AC/DC on their 'Stiff Upper Lip' tour. I found Malcolm to be a really cool, down to earth fellow. The entire rock n roll community is heartbroken by his passing."
In 2013, the Rock & Roll Hall of Fame inducted AC/DC. "In the process, AC/DC have carved out a niche somewhere between hard rock and heavy metal that's been an inspiration to aspiring musicians—and given us crank-up-the-volume radio staples 'Back In Black,' 'Highway to Hell' and 'You Shook Me All Night Long,'" the organization wrote on their website.
His two children, Ross and Cara, and three grandchildren survive him.
Follow me on Twitter @mariamzzarella
Who is Malcolm Young's Wife, Linda? Partner of AC/DC Rocker Remains Silent | Culture