Wife of Red Sox Legend Jason Varitek Says Yankees Fan Spit on 9-Year-Old Daughter
The wife of former Boston Red Sox catcher Jason Varitek alleged that the couple's 9-year-old daughter was spit on by a New York Yankees fan.
In a series of tweets on Saturday, Catherine Varitek described the situation as "scary" and called out the behavior as "straight out filth and vile."
Varitek said her daughter was wearing a Varitek jersey and was walking to the car at Yankee Stadium when the fan allegedly spit on the child. The Red Sox were in New York playing the Yankees for a four-game series that was slated to begin last Thursday.
Varitek urged Red Sox fans to set examples of better behavior.
"Baseball banter should be fun, not harmful and offensive," Varitek tweeted. "#BeSafe #BeKind"
She also noted that children should not be involved in sports rivalries.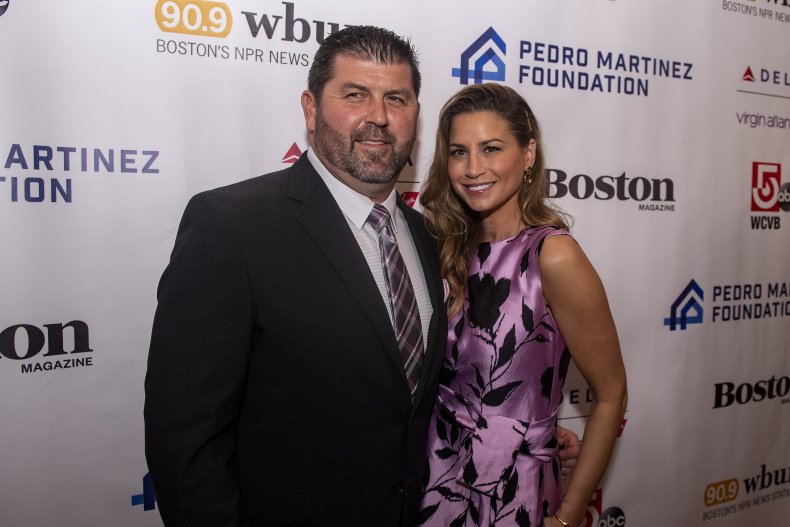 "Kids are off limits," Varitek wrote. "End of story."Her daughter is doing well, and her family is grateful for an outpouring of support she received after tweeting about the incident.
Her husband Jason Varitek played for the Red Sox from 1997 to 2011. During his playing career in Boston, Varitek was a three-time All-Star and was part of the team's two World Series championships in 2004 and 2007. Now retired as a player, he currently works as a game planning coordinator for the Red Sox, according to the team's website.
Many fans took to social media to show support for the Varitek family following the alleged incident.
"I've been part of the Red Sox/Yankee rivalry for decades," one account @NYRBFan responded. "Families, ESPECIALLY children, should be out of bounds."
Other fans expressed shock at the described behavior.
"The lack of basic decency in the simplest moments is truly alarming," @GeoffCoons, tweeted. "What kind of person does that?"
"Trash talk can be fun. When you go after people's families that's unacceptable," @RyanArchambault wrote.
The incident is the second in recent days involving Yankee fans. A fan threw a baseball at Boston Red Sox left fielder Alex Verdugo Saturday night, hitting him in the back, ESPN reported. Verdugo said he threw a ball to a fan in the crowd, but a Yankees fan allegedly intercepted it and threw the ball back onto the field and hit the player.
The incident prompted Red Sox manager Alex Cora to pull his players from the field during the sixth inning of the game.
The fan reportedly has since been banned from all Major League Baseball parks for life, according to ESPN.
Earlier, the first game between the Red Sox and the Yankees, scheduled for last Thursday, was postponed after a number of Yankee players tested positive for the coronavirus.
Calls to both the Yankees and the Red Sox were not immediately returned Tuesday morning.