Sean Parnell, a Republican political candidate endorsed by former President Donald Trump, has been accused by his estranged wife, Laurie Parnell, of choking her, calling her a "whore" and hitting their kids. Sean Parnell has denied the accusations.
Laurie Parnell made her allegations while testifying under oath on Monday in a divorce and custody proceeding in Butler County court. She was not cross-examined during her testimony.
Among her accusations, she said that Sean Parnell called her a "whore" and a "piece of shit" while pinning her down, The Philadelphia Inquirer reported.
"He tried to choke me out on a couch and I literally had to bite him [to get free]," she said in court. "He was strangling me."
She alleged that after a Thanksgiving trip, he forced her to exit their vehicle on a highway and told her to "go get an abortion." The statement is at odds with the anti-abortion statements he has made during his political campaign.
She also accused her husband of physically abusing their children. She said he once slapped one of their kids hard enough to leave welts under the child's t-shirt. She also said he once punched a closet door so hard that it swung into their child's face, leaving a bruise. He told the child that the assault was their fault, his wife said.
Sean Parnell denied the allegations in a statement released by his campaign.
"We anxiously await the opportunity to refute these hurtful, baseless allegations," the statement said. "Let me emphatically state: I have never raised a hand in anger towards my wife or any of our three children."
"What happened today in court was not justice, nor did it have any basis in fact or truth," the statement continued. "Next week, I'll have an opportunity to present the truth to the court and I look forward to that opportunity."
The Parnells have been living separately for at least three years, WTAE reported. The couple currently share joint custody of their three school-aged children. Laurie Parnell is seeking full custody.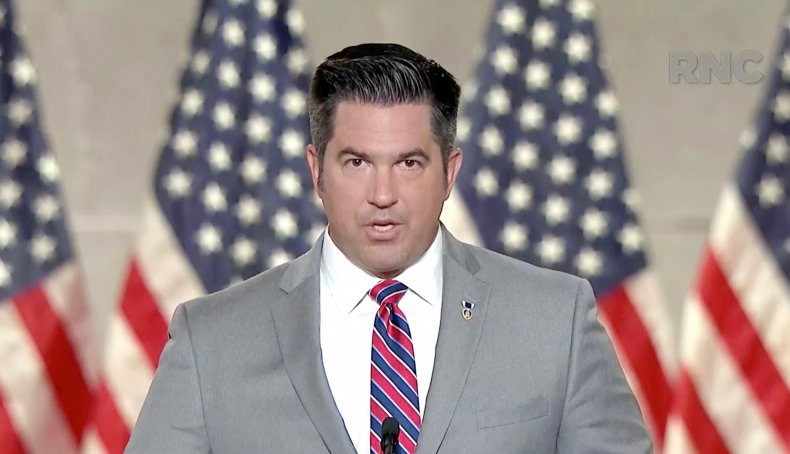 Laurie Parnell said that Sean Parnell suffered from post-traumatic stress disorder (PTSD) after heavy combat during his military service in Afghanistan. He received two Bronze Stars and a Purple Heart for his service, and has publicly spoken about veteran struggles with PTSD since.
"We were all walking on eggshells the minute he walked back into the house," Laurie Parnell said of her husband's temper in their former home. "We were petrified."
Trump endorsed Sean Parnell in September as his preferred candidate amongst the 12 running in Pennsylvania's Republican Senate primary.
Trump wrote that Parnell "has my Complete and Total Endorsement!" adding, "[he will] make Pennsylvania very proud and will fight for Election Integrity, Strong Borders, our Second Amendment, Energy Jobs, and so much more."
Parnell is not the only Trump-endorsed candidate facing accusations of domestic violence. The first is former NFL great Herschel Walker, who is running for Georgia's seat in the U.S. Senate.
Walker's ex-wife, Cindy Grossman, accused him of domestic violence.
Grossman filed for divorce from Walker in 2001, citing Walker's "physically abusive and extremely threatening behavior," the Associated Press reported. Grossman has also said that Walker once threatened to kill her with a gun and issued death threats against her sister and her sister's boyfriend.