Wife's 'Petty Revenge' After Groom's Ex Turned Up at Wedding Praised
A wife's "petty revenge" on her husband's ex-partner at their wedding has been widely praised online.
Many couples need to delicately balance the presence of an ex at their nuptials, particularly when there are children involved.
But Reddit user internetdramalobster explained in a post to the r/petty subreddit that she managed to get one over her husband's ex-partner.
The Reddit user explained she and her husband had a micro wedding with about 10 people and that they had decided to invite his ex-partner in case she would like to see her child dressed up and to emphasize there is a good co-parenting relationship.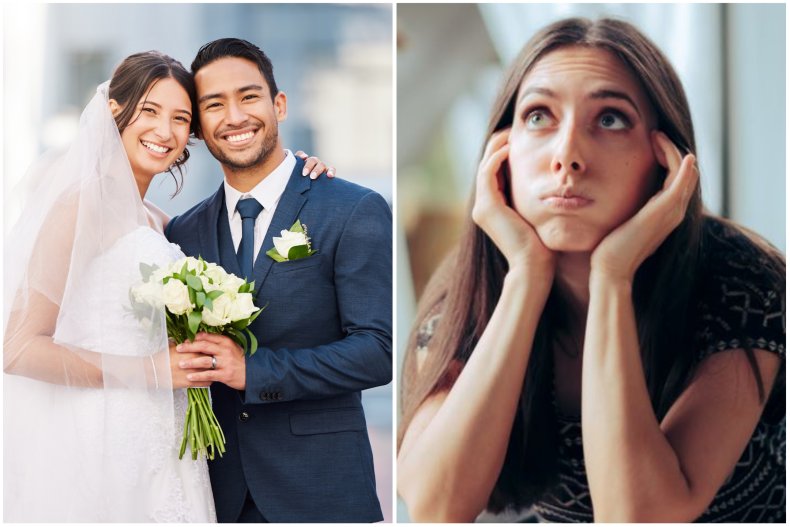 But before they had a chance to send her an invitation, the former partner informed her ex that she would be at the wedding and asked when and where it was.
"He was a little taken aback but as we were planning on inviting her anyway he just told her," Internetdramalobster said.
She continued: "On the day, she showed up to our morning ceremony wearing the shortest dress I've ever seen, over stockings and suspenders (the suspenders could be seen for a good 6 inches before the bottom of the dress), skyscraper heels, nightclub makeup, and costume jewelry. My father actually pulled me aside to ask 'who hired a stripper?'
"I found out afterward from mutual friends that she had texted all of them asking when they were getting there—because she had invited herself we hadn't thought to let her know it was such a small ceremony—and when they let her know it was family only and the reception was completely separate she began to panic a little.
"And I had the best petty revenge. I asked everyone to be extra nice to her. Every time she tried to sneak away someone would engage her in conversation. She was extremely uncomfortable and ended up sitting down with her coat covering her. The wedding went off without a hitch."
Rima Barakeh, wedding expert at Hitched.co.uk told Newsweek that getting the dress code wrong can lead to uncomfortable situations.
She said: "Getting the dress code for an event wrong is never a great feeling—we've all been there and it happens more often than people think.
"Though it seems this particular guest chose a risqué outfit on purpose, more often than not, missing the mark on a dress code is an accidental oversight—one that can absolutely be avoided with a bit of investigation and forward planning."
Online Reaction
Since being shared on Sunday, the post has attracted more than 13,300 upvotes.
The overwhelming majority of people who commented on the post were curious about why the woman wore the outfit and praised how the situation played out.
Reddit user OKIntroduction5150 said: "It's weird that she wasn't uncomfortable until she found out it was a small wedding. I'm so curious what it was she thought was going to happen."
Dragoness42 added: "My guess was she didn't care what kind of drama she started, just that she created a spectacle to ruin the wedding. It's a lot harder to create a spectacle in a small group than in a large one. Thus, the switchover from drama to embarrassment."
Ok-Combination-4950 commented: "I've never seen a wedding where that outfit would be appropriate. Not judging if someone would have that as a dress code, can imagine that the wedding would be super fun."
U81b4i posted: "She wanted to draw all of the male attention to her. Potentially making the husband feel jealous or the wife to feel less than adequate. Really was a perfect setup for what played out."
What To Wear To A Wedding
Barakeh told Newsweek there are several things people can do to make sure they don't stand out in the wrong way at a wedding.
She said: "As a guest, I'd highly recommend asking around if you're not sure whether or not something is appropriate to wear. I wouldn't bother the wedding couple or event host themselves as they will be busy planning, but you could sense-check your potential outfit with people close to them or friends who are also attending the event.
"If the dress code for an event is unclear, imagine yourself looking back at pictures of you at this wedding in years to come. Is the outfit you have in mind something you'd look back on and like? Would you feel comfortable dancing with the bride's grandparents or the couple's young children?
"As a couple planning a wedding or event, if you're preempting some questionable fashion moments at your upcoming do, add a dress code section to your wedding website or invitation.
"It won't guarantee you a crowd of appropriately dressed guests, but it can certainly help eliminate any accidental fashion faux pas. It's also worth noting that some outfit mishaps are genuinely accidental oversights, so a negative or angry reaction shouldn't be your go-to. Wedding photographers are brilliant at reading the room so, chances are, they've spotted the awkward outfit, too, and will angle their lens away from particular guests."
She added: "Ultimately, for couples planning weddings and milestone events, it's almost impossible to ensure all of your guests will dress accordingly, but the way this newlywed dealt with the situation she was faced with is pretty admirable and, really, all you can do. Smile, enjoy your event, and take pleasure knowing that, if done deliberately, what someone wears to your wedding says everything about them and very little about you."
Average Wedding Size
According to The Knot, the average wedding list in the U.S. was made up of 117 guests in 2022. It also classified a small wedding as being 50 guests.
The Knot added: "Gen X couples invite an average of 89 guests to their wedding, but that number grows as the age of the couple decreases. Millennials tend to invite 116 guests and Gen Z typically has the largest guest lists with 135 attendees, on average."
Newsweek has contacted internetdramalobster for comment.
Has a wedding come between your relationship with a loved one? Let us know via life@newsweek.com. We can ask experts for advice, and your story could be featured on Newsweek.