Wife's Response To Husband's 'Cheap' Gift For Her 40th Birthday Applauded
A husband has been slammed online after he put in minimal effort for his wife's 40th birthday.
In a viral post shared on the U.K.-based discussion website Mumsnet, user getissuesgotissues explained her husband was "rubbish" at buying Christmas and birthday presents for her.
She added that his excuses ranged from "you don't give me a wish list" to seemingly admitting that "I'm just rubbish."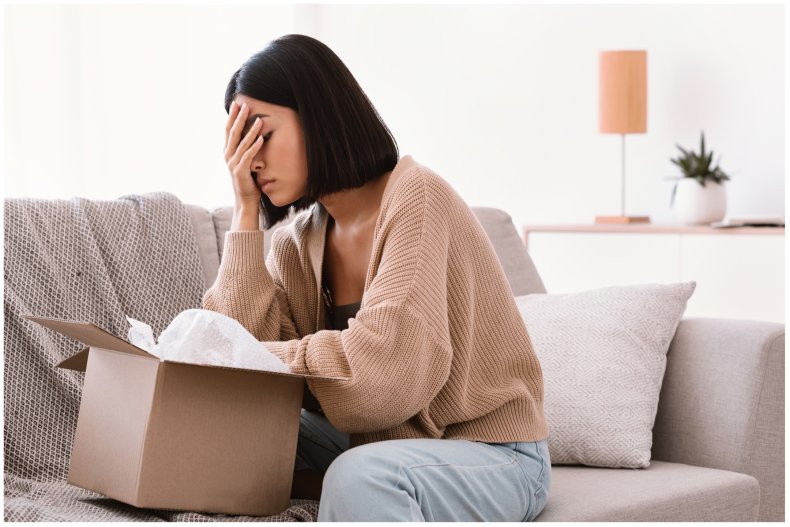 On average, Americans are generous when it comes to spending money for their partner on special occasions. A survey by LendingTree, the online lending marketplace, this year found American couples spent on average between $175 and $210 on Valentine's Day.
The Mumsnet user said that for her husband's birthday the family went on a vacation and that she bought a cake and gifts for him. When her own birthday came around, the user claimed she was given a "cheap" unwrapped gift and a card.
Her husband once again disappointed her when it came around to her 40th birthday. Her post read: "No cake, a few decorations up from my decoration box. I suspected this might happen so bought myself something for the dc [dear children] to give me and a cake (sad, I know, but it was my 40th).
"He went about with a face like thunder the whole day, and started an argument with our eldest over lighting the candles on my cake, which I then had to do on my own with dc (double sad).
"Oh, also I was five months pregnant and spent the day feeling pretty gutted because of the atmosphere and lack of effort."
The woman said she would no longer make "a decent effort" and questioned whether she should just "give him a pair of pants" to send a message to him.
Dating and relationship expert Stephanie Mintz told Newsweek the Mumsnet user faced a dilemma.
She said: "With the woman who asked the question, she is struggling on both sides, the giving and receiving end. With the resentment built up, she is thinking of changing who she is which results in her not giving her partner what he wants.
"This can result in her having feelings of guilt as well as not being genuine, and also it can cause frustration, disappointment, and maybe anger for her partner.
"This is a lose, lose result. Being true to herself and doing what she feels she will feel the best about in the end, which is also what will feel good to her partner, would be my recommendation.
"Then at a later time, it is important for her to initiate a 'Productive Communication' around this topic so they can be prepared for upcoming special occasions."
Since being posted on November 9, the post has attracted 143 responses with the vast majority slamming the husband's behavior and calling for him to be taught a lesson.
Mumsnet user frazzledasarock said: "I'd plan a day out and leave with the kids. Tell him you're just a bit rubbish at birthdays and you didn't think he wanted anything."
Maray1967 said: "Just copy what he did for you."
While yellowstickerbargain said: "I'd do the minimum and say that you assumed that's what he wanted as it's what he does on your birthday."
Have you noticed any red flags that made you end a relationship? Let us know via life@newsweek.com. We can ask experts for advice, and your story could be featured on Newsweek.