WiFi Network Named 'Toilet Cam' Sparks Conversation Online: 'Hilarious'
A viral post on Reddit's popular forum r/oddlyterrifying has sparked a conversation about network names online.
Shared on Thursday by Robin—who uses the Reddit handle Unitlizard—the post, which now has more than 10,000 upvotes, shows a picture of a WiFi connection menu and has the caption: "I work for a popular holiday company and found this when trying to connect to WiFi."
The picture includes several censored WiFi networks and one left clear to read that said: "Toilet Cam," a locked network, Reddit users flooded to the comments to talk about the strangest network names they have seen and even used.
"I used to name my WiFi hotspot on my phone really whacky s*** like this," wrote one user, while another said that the name of the network on the poster's image was "probably just a joke."
Robin told Newsweek: "When I saw the WiFi I thought it was strange at first but then thought, well what if it's real? I asked some of my friends on Discord about it and they convinced me to share it."
Local data networks, or WLAN—which stands for wireless local area network—refers to a wireless network that can transfer data at high speeds. WiFi stands for wireless fidelity, which is actually a trademark name used for products that belong to a category of WLAN devices. Devices branded with the WiFi trademark meet a certain standard and since its introduction in 1997, WiFi has become a term synonymous with this standard.
In 1999, WiFi was first introduced for home use and has since grown to be the most common form of internet connectivity in homes, businesses, and public spaces.
Since people have had access to their own networks—and as a result the ability to name them—people have made jokes with their network names. Every network must have a name, also known as Service Set Identifiers or SSIDs, and these names are visible to WiFi-enabled devices to help you see nearby networks you may wish to connect to. Famous examples of joke network names include: "Drop it like it's hotspot," and "That's what she SSID."
Redditors all agreed that the poster's concerning discovery was definitely part of the widespread network naming joke. One commenter said: "My WiFi networks name is Mobile Police Surveillance Unit. In the hope that it freaks the hell out of the dealers where I live," while another user wrote: "This just gave me an idea."
One Redditor even admitted that their network had the same name as in the viral post: "My wifi SSID has been named this for over a year. I think it's hilarious."
"The response has been overwhelmingly surprising," said Robin. "I thought it would just get buried but then I kept getting notifications all day with comments. It was an interesting few days to say the least."
Comedy network names aren't always appreciated. In 2017, a WiFi network nickname that read "bomb on board" caused an emergency on a Turkish Airlines flight that was forced to make an emergency landing as a result.
Similarly, in 2018 a Planet Fitness in Michigan evacuated after a WiFi network named "remote detonator" expressed concern.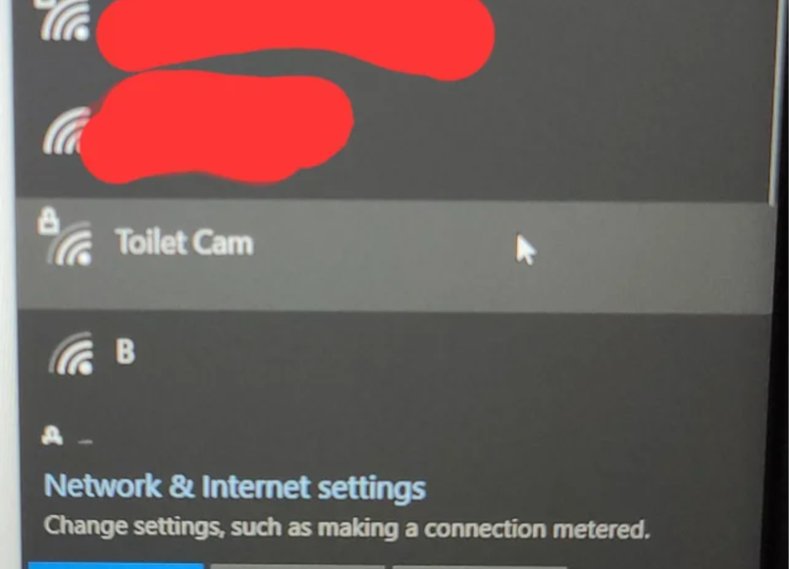 UPDATE 04/11/22 at 9:00 a.m. ET: This article was updated with a new image.