Wikileaks' Assange 'Super Happy' Over DNC Leaks Fallout, Working on Trump Hack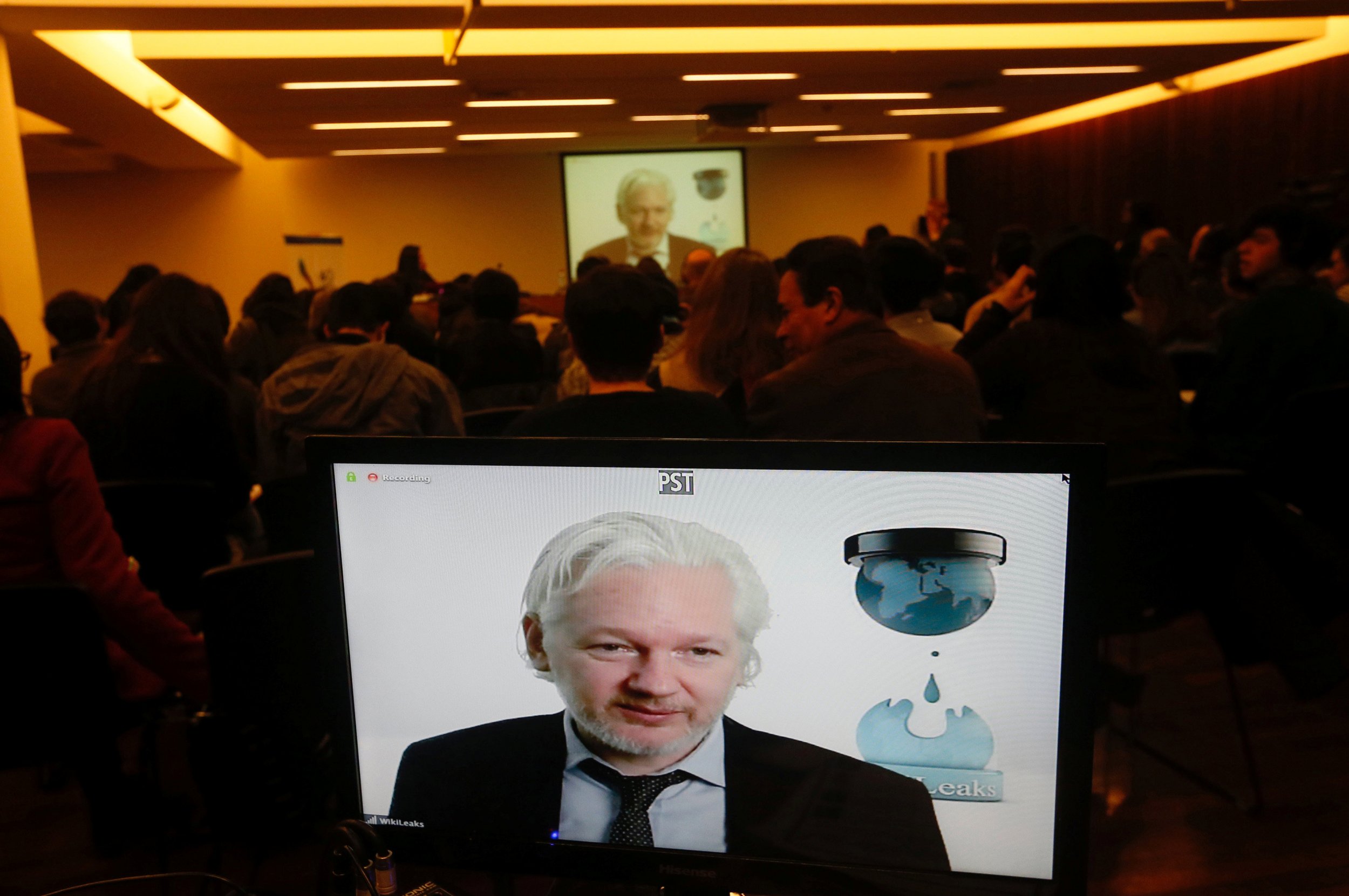 Wikileaks founder and fugitive Julian Assange expressed delight at the fallout from the recent leak of Democratic National Committee (DNC) emails and tried to deflect criticism of his methods during an appearance Friday on Real Time With Bill Maher.
Assange, who remains in open hiding at the Ecuadorean embassy in London, said the release of nearly 20,000 DNC emails last month was "great fun." The document dump on Wikileaks, a whistleblower website, showed party officials discussing ways to hurt the Bernie Sanders presidential campaign, including conversations on whether the Vermont senator's Jewish faith should be publically questioned. The immediate fallout claimed several resignations at the DNC, including chair Debbie Wasserman Schultz, who was absent from the Democratic National Convention.
"I'm super happy with how that's gone. We've had four people in the DNC resign...that shows a kind of instant accountability," Assange said, rejecting criticism from host Maher that there "was no smoking gun" proving a DNC conspiracy against Sanders. "This is the DNC demonizing in a covert manner, through its chain of command, to the press and its favorite press contacts, a Democrat," Assange said.
Russian intelligence has been rumored to be the source of the hack that delivered the 20,000-plus DNC emails to Wikileaks, although the link between Vladimir Putin's government and the Assange organization is far from proven. But the specter of Russian involvement has revived criticisms of Assange from even those inclined to hail him as a hero of transparency rather than revile him as a criminal, such as HBO's Maher, who said he supports the idea of Assange being awarded the Nobel Prize. But Maher challenged him on the source of the hack as well as his deflection of any responsibility for hurting Hillary Clinton in favor of Donald Trump.
"Obviously we know these came from Russia, and we also know you do not like Hillary Clinton, as does not Vladimir Putin. So it looks like you are working with a bad actor, Russia, to put your thumb on the scale and basically fuck with the one person who stands in the way of us being ruled by Donald Trump," Maher said to loud applause.
Assange didn't directly address the Russia allegation and said the Democratic Party is ultimately to blame. "What there is is a conflation between our publication and an extensive variety of hacks of the DNC...over the past two years, possibly by state actors," he said. "The source is the Democratic Party."
Assange also has faced criticism from National Security Agency leaker Edward Snowden, who remains in Russia after fleeing the United States. "Democratizing information has never been more vital, and Wikileaks has helped. But their hostility to even modest curation is a mistake," he said in a tweet, in reference to Wikileaks' disinterest in editing any of their leaked documents, even those that reveal sensitive information such as Social Security numbers of private citizens.
"He doesn't really know the definition on curation. Curation is not censorship of the ruling political parties' cash flows," Assange told Maher. "Edward Snowden hasn't published anything in three years. He did one thing. It was a very important thing, and it was in fact so important that I and this organization saved his ass by rescuing him from Hong Kong, getting him asylum, making 23 asylum applications and setting up his defense fund.
"I know Edward is trying to get a pardon at the end of the Obama presidency, so he's playing that game," Assange said.
Maher also asked Assange if Wikileaks could set its sights on Trump, perhaps by hacking his tax returns, which he's refused to make public.
"We're working on it," Assange said.