Wikileaks Denies Ties to Roger Stone, Says Mueller Indictment Shows Nothing but 'Braggadocio'
Hours after Donald Trump associate Roger Stone was indicted for lying to congress about his communications with the transparency organization Wikileaks, the organization disavowed its ties to the longtime Republican political operative and argued that the indictment was proof that there was no "back channel" between it and the Trump campaign.
"The document reflects existing reporting on Stone, [Jerome] Corsi & [Randy] Credico's attempts at braggadocio in response to WikiLeaks' announcements. New evidence of no 'back channel' with WikiLeaks," the organization tweeted about the indictment on Friday.
Around the same time, a Twitter account that defends Wikileaks founder Julian Assange, who has been holed up in the Ecuadorian embassy in London since 2012 to avoid facing charges in the U.S. for the publication of classified information, also tweeted the claim that Wikileaks was exonerated by the indictment.
"Roger Stone indictment proves what @WikiLeaks has always said. Stone ran around trying to claim a 'back channel' to draw attention to himself. Here Stone is indicted for trying to push @credicorandy into falsely claiming a back-channel to WikiLeaks—by threatening his dog," the account Defend Assange Campaign wrote.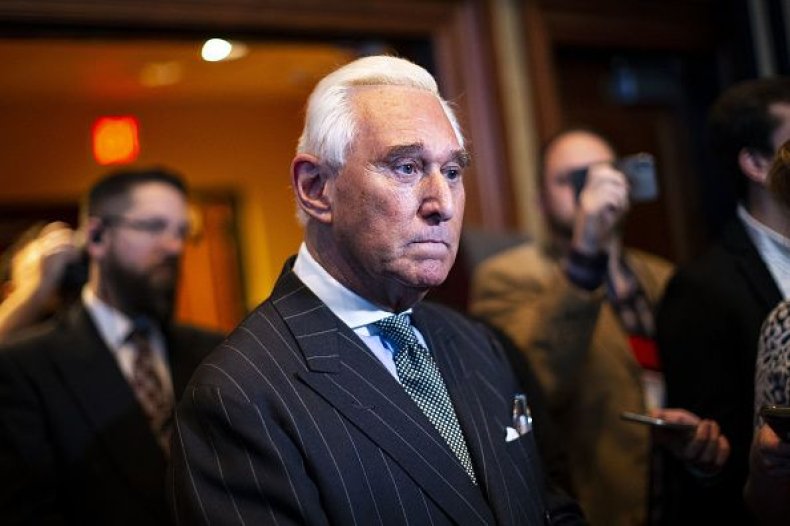 The indictment, released as Stone was arrested early Friday morning, alleged that Stone had contacted Wikileaks at the behest of a Senior Trump campaign official to find out when it would release information stolen by Russian hackers that would be damaging to the presidential campaign of then-candidate Hillary Clinton.
The indictment also claims that Stone enlisted the support of Person 1, a political commentator who worked with an online media publication, and Person 2, a radio host who had known Stone for more than a decade. Person 1 is believed to be Jerome Corsi, a political commentator and conspiracy theorist, while Person 2 is believed to be Randy Credico, a comedian and political radio host.
In August 2016, Credico had Wikileaks founder Assange on his radio show. The indictment claims that Credico was in frequent contact with Assange around that time and had discussed with Stone his conversations with the Wikileaks founder. Credico also mentioned the fact that the media was trying to create the appearance that Assange and Stone were "in cahoots," according to the indictment. Credico also visited Assange in the Ecuadorian Embassy in London and sent a photograph of himself in front of the building to Stone.
Then, a year later, Credico urged Stone to be honest with FBI investigators and tell them there was no back channel with Wikileaks, despite the fact that Stone had publicly said there was.
"I'm not talking to the FBI and if your [sic] smart you won't either," Stone responded.
Wikileaks did not immediately respond to requests for comment from Newsweek about its connections to associates of President Donald Trump. The Mueller investigation is looking into whether members of the Trump campaign colluded with the Russian government to influence the outcome of the 2016 president election.