WikiLeaks Founder Julian Assange To Remain Inside Embassy Following Official U.N. Ruling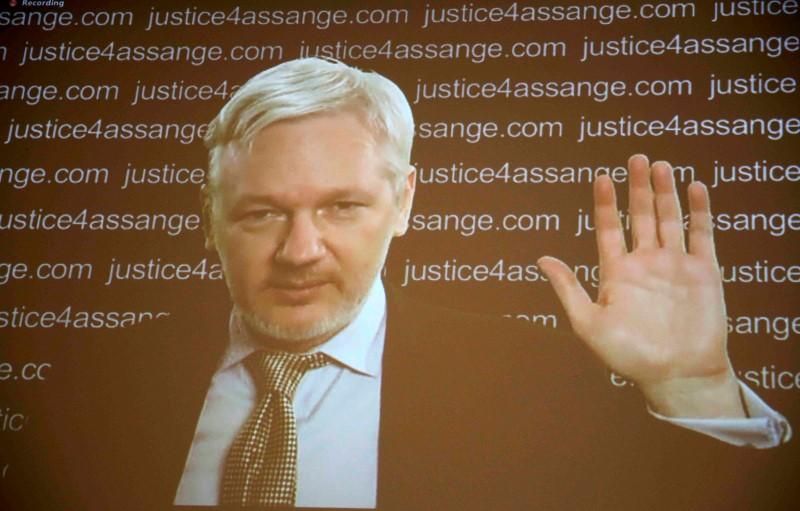 Updated | WikiLeaks founder Julian Assange is set to remain indefinitely at London's Ecuadorian embassy after the U.K. Foreign Secretary dismissed a United Nations ruling calling for him to be "freed" immediately.
Phillip Hammond called the ruling that Assange has been arbitrarily detained as "ridiculous" and accused the Australian of evading justice. Assange said in a video statement from the embassy on Friday that the U.N. decision was a "vindication", adding: "The lawfulness of my detention is now a matter of settled law."
Assange will not leave the embassy until he is guaranteed not to be arrested by U.K. police upon exiting, Gavin Macfadyen, director of the Centre for Investigative Journalism and close friend and supporter of the WikiLeaks founder, tells Newsweek.
A U.N. panel on Friday officially ruled that Assange has been unlawfully detained at the embassy. He first sought asylum there in 2012 to avoid extradition to Sweden where he is wanted for questioning over sex allegations, which he denies. The Australian national and his supporters claim the accusations are part of a wider conspiracy to force his extradition to the U.S. in order to face charges over leaking secret government documents through WikiLeaks.
In the complaint submitted to the U.N., Assange's legal team said he had "no access to fresh air or sunlight, his communications are restricted and often interfered with, he does not have access to adequate medical facilities, [and] he is subjected to a continuous and pervasive form of round-the-clock surveillance."
The decision by the U.N. Working Group on Arbitrary Detention is not legally binding in the U.K. and the Foreign Office has said the country is still legally obliged to extradite Assange to Sweden.
The British police has said that the European arrest warrant issued against Assange by Stockholm's District Court will be enforced, stating: "If he leaves the embassy we will make every effort to arrest him."
Swedish prosecutors have said the U.N. ruling will have no formal impact on the ongoing investigation against Assange.
Assange said on Thursday that if the ruling were to go against him then he would hand himself over to police. In the event of a positive ruling, he said he expected the immediate return of his passport and a guarantee that he did not risk arrest if he left the embassy.
One of Assange's lawyers, Melinda Taylor, told Newsweek prior to the ruling that in the event of the U.N. finding in favor of Assange, then both the U.K. and Sweden should allow him to exercise his right to personal liberty.
"Both states have ratified the International Covenant on Civil and Political Rights and should welcome the clarity and directives provided by the Working Group as concerns the implementation of their obligations towards Mr. Assange in this matter."