What's Going on with Julian Assange? Extradition Hearing of WikiLeaks Founder Due to Start in February
The extradition hearing of WikiLeaks founder Julian Assange will now be split into two parts and is not expected to conclude until around June this year.
The decision was made during a court session yesterday at the Westminster Magistrates' Court in London by Judge Vanessa Baraitser, after both sides said they needed more time to gather evidence and prepare arguments, Reuters reported. Assange appeared via video-link.
The Australian leaker, 48, has been held inside the maximum security HM Prison Belmarsh in south-east London since his arrest in April last year.
The extradition hearing will now start on February 24 at London's Woolwich Crown Court and will go on for about a week. Proceedings will pick up again on May 18 and last for another three weeks.
The initial session will reportedly discuss claims that the prosecution has been politically motivated.
"The case will now go on for much longer than we thought," WikiLeaks editor Kristinn Hrafnsson, 57, said outside court Thursday, surrounded by banners and supporters of the organization.
"We have learned from submissions and affidavits presented by the United States to this court that they do not consider foreign nationals to have first amendment protection," he added.
"Let that sink in for a second. At the same time the U.S. government is chasing journalists all over the world, they claim they have extraterritorial reach. They have decided that all foreign journalists have no protection... this is not about Julian Assange. It's about press freedom."
Inside the court room at yesterday's hearing, Assange's legal representative, Edward Fitzgerald QC, complained that communications with his client have been limited by the prison service.
"We've had great difficulties in getting into Belmarsh to take instructions from Mr. Assange and to discuss the evidence with him,' he said. "We simply cannot get in as we require."
It was confirmed in May last year the U.S. Department of Justice would pursue 18 charges linked to what it called "one of the largest compromises of classified information in the history of the United States." A superseding indictment alleged Assange conspired with Chelsea Manning in "unlawfully obtaining and disclosing classified documents related to the national defense."
The charges may result in decades in prison. WikiLeaks said in an email yesterday that Assange faces "175 years prison for publishing truthful and accurate information in the public interest."
Assange was granted asylum by Ecuador in 2012 and remained in its London embassy for seven years, fighting allegations of sexual assault from Sweden which have since been dropped. He was dragged from the building in April last year as his protection was revoked.
The next month, Assange was sentenced to 50 weeks in prison for breaching bail conditions back in 2012—a ruling described as "shocking" and "vindictive" by WikiLeaks' Twitter account.
WikiLeaks made both friends and enemies over the years by publishing documents from the U.S government and became a fixture in the 2016 U.S. presidential election after releasing troves of files and emails from the Democratic Party, some allegedly stolen by Russia-aligned hackers.
The U.S. noted that WikiLeaks obtained and published reports about the wars in Afghanistan and Iraq, alongside Guantanamo Bay detainee briefs and Department of State cables.
In June last year, Massimo Moratti, Amnesty International's Deputy Director for Europe, called on the British government to fight back against the extradition request.
"The U.K. must abide by its obligations under international law that forbid the transfer of individuals to another country where they would face serious human rights violations," he said.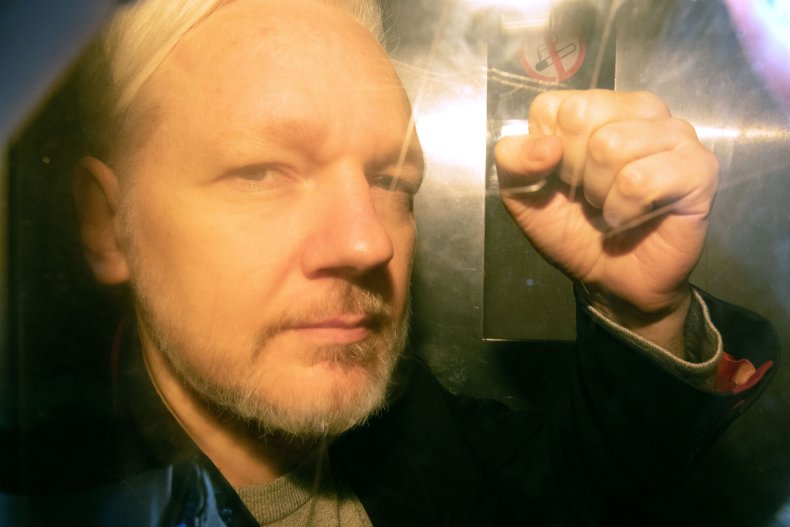 Roughly five months later, an open letter was sent to the U.K. Home Secretary from a collective dubbed "Doctors For Assange." It expressed concerns about Assange's physical and mental health and suggested the WikiLeaks founder would not be fit to stand trial next month.
The letter, posted to Medium, said: "Any medical treatment indicated should be administered in a properly equipped and expertly staffed university teaching hospital. Were such urgent assessment and treatment not to take place, we have real concerns, on the evidence currently available, that Mr. Assange could die in prison. The medical situation is thereby urgent. There is no time to lose."
In response, the U.K. Home Office said it rejected any suggestion of mistreatment and said that it was "committed to upholding the rule of law, and ensuring that no one is ever above it."