WikiLeaks: Julian Assange Steps Down as Editor After Being Silenced by Ecuador
WikiLeaks has announced that Julian Assange will step down from his position as editor-in-chief of the whistleblowing platform—but will retain the title of publisher.
Assange, 47, has been silent since his internet was cut off in March at the Ecuadorean Embassy in London, where he has lived under political asylum since 2012. It was not immediately clear what consequences the change in title would mean for the organization.
He will be replaced by former spokesman Kristinn Hrafnsson, WikiLeaks said Wednesday via its Twitter profile. The Associated Press reported today that Ecuadorean officials are now working with Britain to find a "legal solution" to evict Assange from the London base.
"Being five or six years in an embassy already violates his human rights," said President Lenin Moreno. "But his presence in the embassy is also a problem." Assange, who launched the leak-hosting platform back in 2006, entered the nation's embassy amid sexual assault allegations.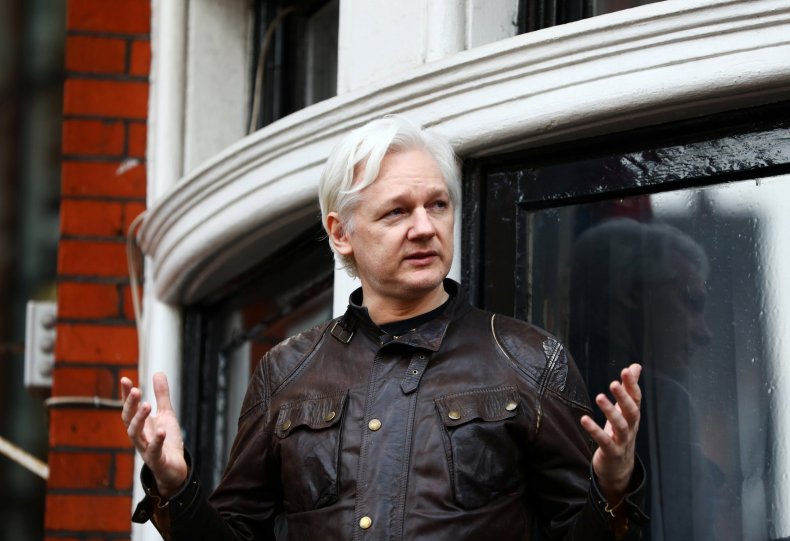 WikiLeaks said Wednesday: "Due to the extraordinary circumstances where Julian Assange, the founder of WikiLeaks, has been held incommunicado for six months while arbitrarily detained in the Ecuador embassy, Mr. Assange has appointed Kristinn Hrafnsson Editor in Chief.
"Mr. Assange will continue to be the publisher of WikiLeaks. Hrafnsson is an Icelandic investigative journalist selected in 2010 as Icelandic journalist of the year for his role in the Collateral Murder publishing collaboration with WikiLeaks. That same year, he became spokesperson and kept that post until 2016. Since then he has overseen certain legal projects."
"Collateral Murder" was the title given to military footage leaked by the platform back in 2010. The release—which made headlines around the world—showed a 2007 attack by U.S. Apache helicopters that resulted in the death of a dozen people, including two Reuters news staffers.
In a brief statement, Hrafnsson commented: "I condemn the treatment of Julian Assange that leads to my new role, but I welcome the responsibility to secure the continuation of the important work based on WikiLeaks ideals." It remains unclear if the change in role will be permanent.
It has been reported that Hrafnsson first met Assange in 2009. He took on the role as a press representative in 2010. Described as "a senior lieutenant," Hrafnsson was "the only person other than Assange authorized to receive sensitive information on WikiLeaks' behalf," according to the AP.
Assange has remained in the embassy due to fears that he is at risk of extradition to the U.S. to face legal ramifications due to his platform's publishing. In 2016, WikiLeaks published emails pilfered from the Democratic National Committee and Hillary Clinton aide John Podesta. Assange denied his source had ties to Russia, as alleged by the U.S. intelligence community.