WikiLeaks Reveals U.S. Efforts to Change Egypt's Military Strategy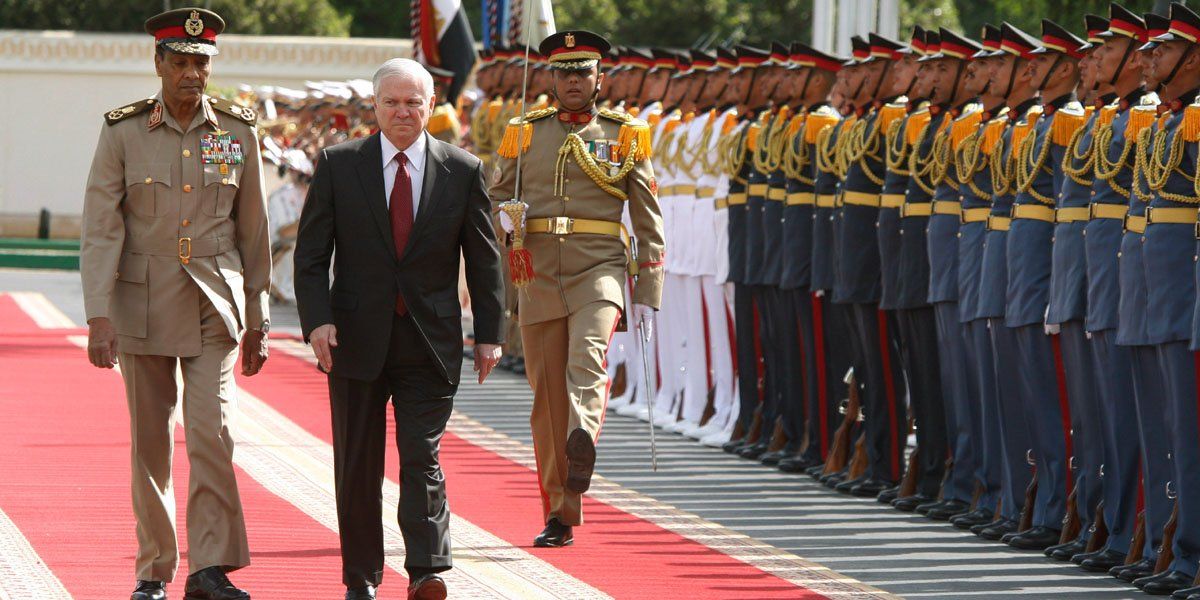 Recently leaked diplomatic cables reveal that America's staunchest Arab ally—and the recipient of the second-largest American military-aid package—is tenaciously resisting U.S. pleas to reform its military mission to meet 21st-century threats. Instead, Egypt, a waning regional power, insists on procuring additional conventional weapons more suitable for last century's battles.
WikiLeaks' release of multiple American cables shows repeated requests for the Egyptian military to modernize to reflect new regional and transnational realities, including the need to defeat Iranian-funded militant groups; combat piracy; cooperate on peacekeeping missions; train Iraqi troops, and stem illegal migration. "Egypt's aging leadership, however, has resisted our efforts and remains satisfied with continuing to do what they have done for years: train for force-on-force warfare with a premium on ground forces and armor," reads a December 2008 cable from U.S. Ambassador Margaret Scobey to Gen. David Patraeus. That message was echoed in a February 2010 cable.
Egypt's intransigence complicates relations with the U.S., and could create a stumbling block for future cooperation on American policy in the Middle East, especially if Congress uses it as an excuse to cut military aid, something the cables say Egypt considers "untouchable."
"The more Egyptian military cooperation can be viewed as backstopping U.S. military requirements in the region, the easier it is to defend the Egyptian assistance program on the Hill," Scobey wrote in the December 2008 cable. The last decade has seen repeated attempts by Congress, as recently as 2008, to cut military funding to Egypt or channel the money as economic aid. Those efforts ultimately have been blocked by frantic last-minute pressure from the Bush and Obama administrations.
But with Egypt's power projected inward at a restive population, American officials continue to grapple with a clumsy military that's ill prepared for modern challenges in an increasingly volatile region. "The cables reveal a military deeply reluctant to take part in regional counterterrorism efforts, and the focus on weapons necessary for desert battle is a reflection of that," says Steven Cook, a senior fellow at the Council on Foreign Relations who studies the Egyptian armed forces. "The Egyptian military is not good at or interested in, quite frankly, projecting power. It is there to ensure the survival of the regime and protect the country's borders."
Domestic stability in Egypt is tenuous at best. Ailing octogenarian president Hosni Mubarak has ruled Egypt for almost three decades. And there's no clear successor in the wings, even as threats to his stranglehold on power accumulate on all sides. Faced with a popular Islamist opposition, rising food prices, economic discontent, a potential water crisis as countries fight over Nile river rights, and the possibility of a refugee overflow stemming from Sudan's upcoming referendum, Egypt is hedging its bets by investing in tanks and fighter jets.
"Egypt because of its regional position cannot ignore sources of instability in the region," says Maj. Gen. Mohamed Kadry Said, a military adviser with the government-funded Al Ahram Center think tank. "We cannot ignore the big picture. You need aircraft, you need modern ships; you need missiles." Said cites Egypt's security priorities as the Arab-Israeli conflict, Iran, and Egypt's land border with Sudan.
For its part, the Egyptian government makes no apologies about the disagreement with Washington over military objectives. "Egypt sets the priorities for itself; [we] do not wait for any other party to set for us our own priorities," Foreign Ministry spokesman Hossam Zaki told NEWSWEEK. But Alex Vatanka, senior Middle East analyst at IHS Jane's and managing editor of Jane's Islamic Affairs Analyst newsletter, says that if Egypt were not preoccupied with internal problems, it could be a more valuable partner in the war on terrorism.
Egypt fought its own long battle against Islamic insurgents in the 1990s. It finally crushed them after the Luxor massacre in 1997, in which 62 civilians were killed by Islamic militants at one of the tourist city's best-known sites—the Temple of Queen Hatshepsut. The influence of Egyptians in global terrorist networks is well known—Egyptian national Ayman al-Zawahri is Osama bin Laden's righthand man. Some say Egypt could be more effective in reining in its own citizens. "They could bring a lot to the table to help on all sorts of fronts, in terms of knowledge about these groups, intelligence, and so forth," Vatanka says. "Egypt doesn't have that kind of economic muscle nor does it have the capacity right now politically to commit to sort of a role of a regional Arab leader that in tandem with the United States can fight terrorism. … They're consumed by their own internal worries."
American officials acknowledge that there has been some degree of cooperation when it comes to intelligence. "Egypt is a steadfast ally in the GWOT [global war on terror], and we maintain close cooperation on a broad range of counter-terrorism and law enforcement issues. We have a long-standing and productive relationship," Scobey wrote in the December 2008 cable. She also noted in the 2010 cable that Egypt's construction of a subterranean wall at its land border with the Gaza Strip is a step in the right direction as far as combating the flow of arms to the militant group Hamas. But without military prowess reoriented to counter asymmetrical threats, the cables say, that simply is not enough.
Meanwhile, Israel remains worried about Egypt's current appetite for weapons. A July 2009 cable from Tel Aviv paraphrased political military chief Amos Gilad as saying "the Egyptian military led by Defense Minister [Mohamed] Tantawi continues to train and exercise as if 'Israel was its only enemy.' He added that … [Egypt's] peace with Israel 'is too thin, too superficial.' "
But despite American frustrations, Washington has to tread lightly with a government whose cooperation it needs to project U.S. power in the region, and to maintain access to the Suez Canal. "We would not like to contemplate complications for U.S. regional interests should the U.S.-Egyptian bond be seriously weakened," read a December 2008 cable from Scobey. The U.S. is reluctant to weaken Mubarak's government if the alternative is a less-friendly regime. At the very least, the more than $30 billion in American military aid since 1980 has bought America peace between Egypt and Israel after the two countries fought five brutal wars. But that's probably about it.