Alabama Cops Chase, Shoot Wild Boar 'Going After People'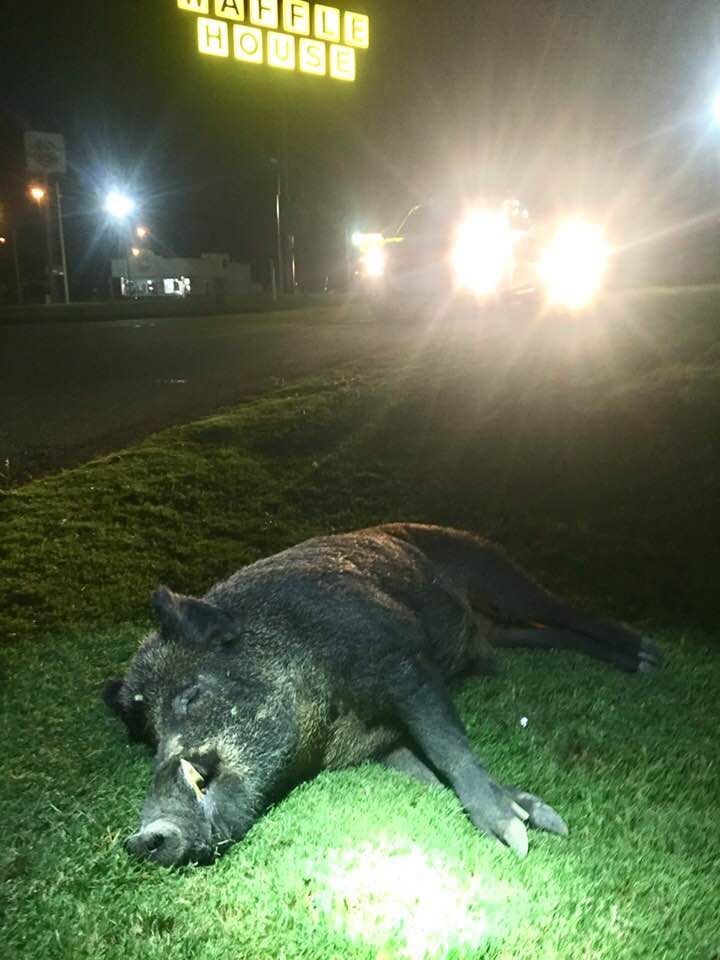 Petrol pumpers in Alabama got a dose of early-morning mayhem when a wild boar charged the premises.
"It was running wild," Rose, a Hardee's restaurant manager, told Newsweek of the feral animal stirring up fears in folks who were attempting to gas up at two different pumping stations just off Highway 67 near Garth Road in Priceville, Alabama. "It was chasing people, and it was big."
The 59-year-old manager said she arrived at the fast-food eatery at around 3 a.m. on Monday just as police officers from two jurisdictions attempted to corral it.
"I pulled into the parking lot and got into the door, and I was looking right at it," she said of the 350-pound beast that had now fled from the Mapco gas station and was hoofing straight toward her Hardee's parking lot.
Thirty minutes passed, and the hog managed to elude capture.
"The police was running after it, and it was going every which way," she said, chuckling. "It was running wild."
Rose saw one cop giving chase of the porky perpetrator on foot while an animal control officer trailed in a truck.
"One guy was trying to keep the pig from going into the street and chasing after any more people," she said.
As Rose gave up watching the hog's wild antics outside, she returned to work but was quickly jarred.
"I heard 'Pow!' and I figured they tranquilized it," said Rose. "But no. They had shot him."
Police, in fact, put down the wild boar, they reported.
Nathan Baba was a witness who was pitstopping at Hardee's after journeying all night from Louisville, Kentucky. He posted on Facebook the aftermath.
It started with Baba ordering none other than a "pork chop and gravy biscuit" breakfast and paying for it at the drive-through window. "I see a police officer and a guy from animal control huffing and puffing like they just finished the 10K," he said.
That's when he saw the squealing target: "this super-sized wild pork chop… piled up on the pavement below them."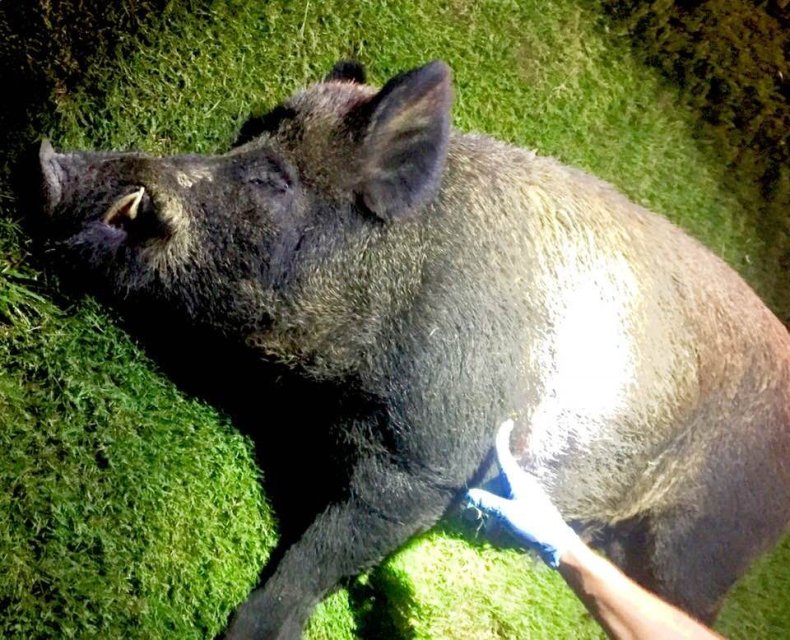 Baba added that he turned around and beelined over to where a police officer had taken a "safe, clear shot away from the public to take this beast down."
The reason the police resorted to shooting the wild boar was to "keep it from causing any more damage," police told The Birmingham News.
"It was an aggressive, wild boar," Priceville Acting Police Chief Rick Williams added.
Afterward, Baba was asked by animal control staffers and cops if he would help them move the carcass "out of the parking lot and into the ditch" so that they could extricate it later. He agreed to barter his muscle in return for snapping some memorable pictures.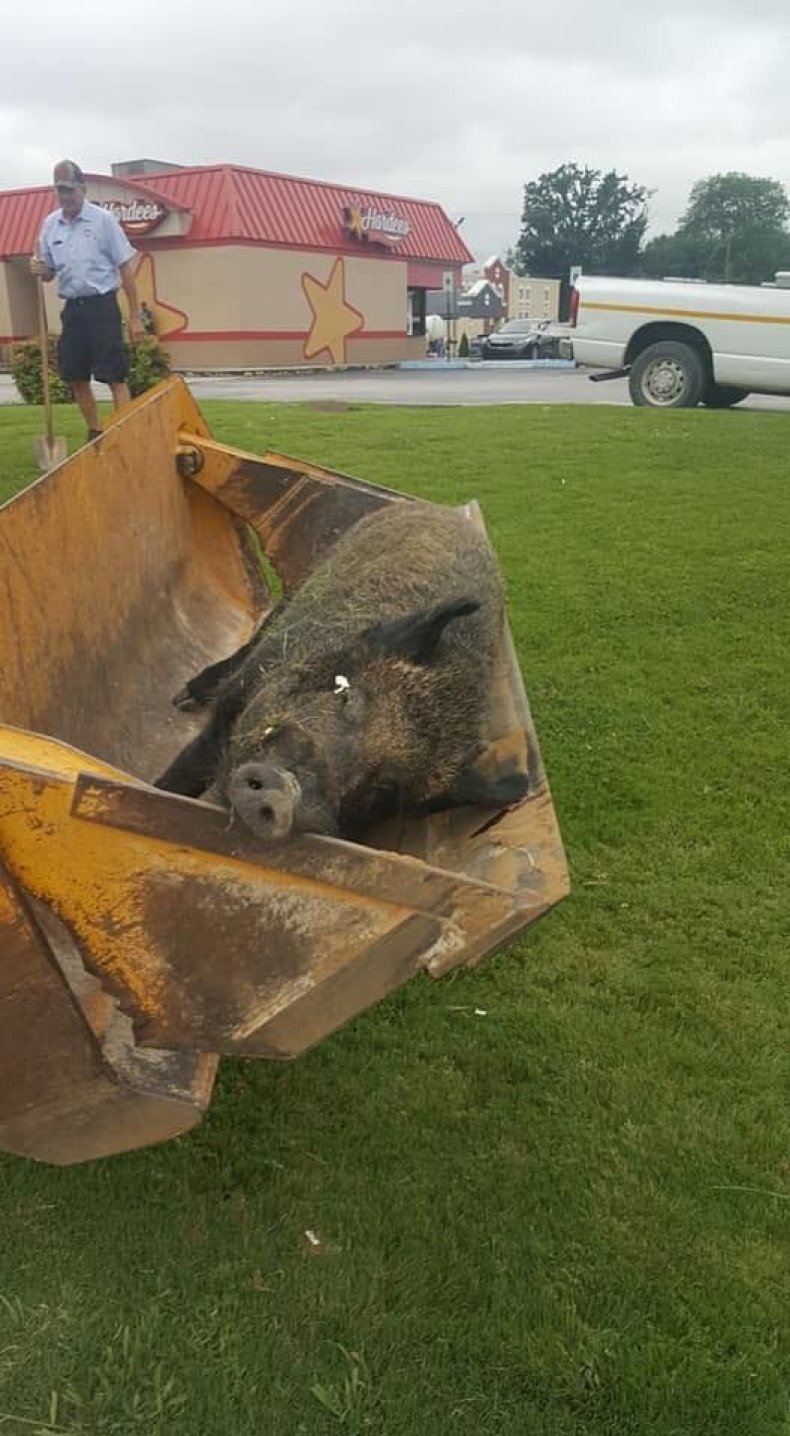 Meanwhile, in all of Rose's nine years working at the eatery, she had never had a brush with a wild boar.
"This is the first time I've seen any kind of wild animal like this," she said.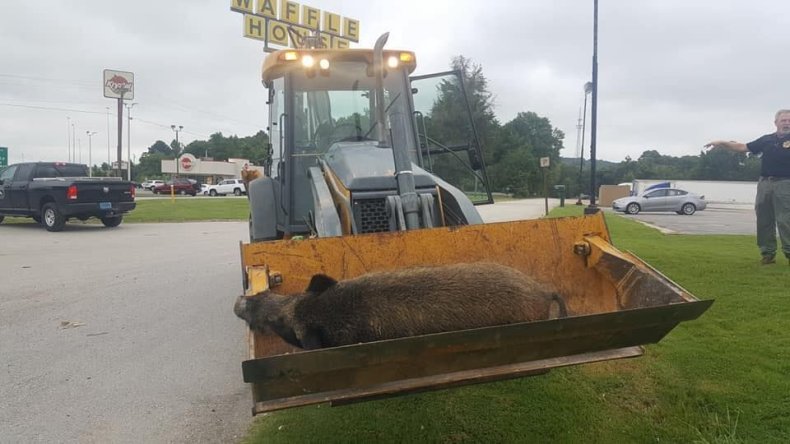 As for the boar's demise, Rose said that the police were in the right.
"I think that they did what the hell they needed to do," she said, reflecting on the animal getting scooped up by a frontend loader and hauled away hours afterward. "It was a big old pig and it was really going after people."