Like many wild animals, boars will stop at almost nothing in order to feed themselves and their offspring, even if it means coming into conflict with humans.
In Italy, one woman was forced to sacrifice the fruits of a shopping expedition to a team boars when its members surrounded her in the parking lot of the supermarket. One or more bystanders filmed the encounter. The resulting video eventually made its way to the Italian Association for Rural Culture's (ACR) official Facebook page.
"These animals can't be allowed to walk around the city streets without anyone doing anything. We demand that an effective containment plan be activated immediately for the welfare of all citizens," a Facebook translation of the caption of the ACR post reads in part.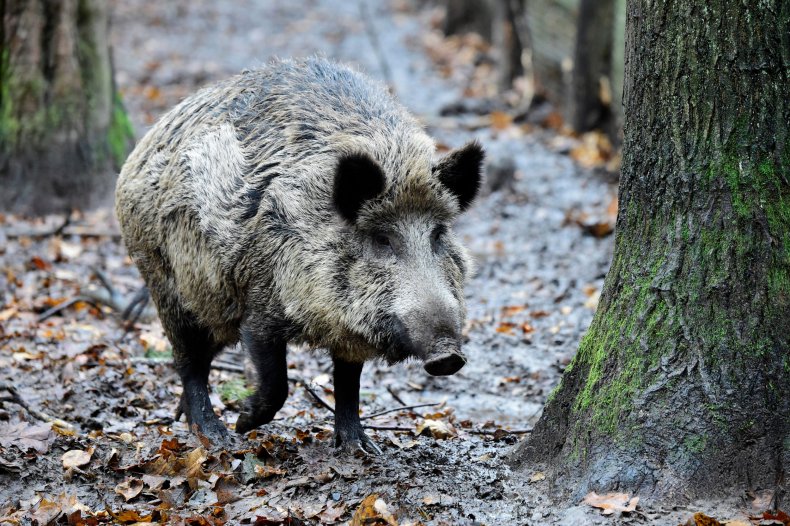 In the 48-second clip, the woman, who has blonde hair and wears a pale T-shirt, can be seen walking through a parking lot with a herd of boars, including multiple adults and piglets, hot on her tail. They can be heard squealing as they pursue her behind a car and out of sight of the camera. Several of the adults were females, according to the ACR post.
When the woman comes back into view, her shopping bags are lying on the ground and the boars are gorging themselves on the contents happily. Some of the adults even run off with the choicest items clamped between their teeth to dine in private.
"I don't believe my eyes," the person filming said, according to The Guardian.
The incident took place in Le Rughe, which the National Post describes as a town of a few thousand people located in the province of Rome. Like many others in Italy, the town has been plagued by boars in recent years.
More than two million of the animals roam Italy, according to The Guardian, making them a common sight in the suburbs. But their presence and prevalence have been met with anger by some. Farmers contend that the tusked beasts, which, per Wanted in Rome, can weigh more than 300 pounds, should be culled to preventing them from destroying crops, causing car accidents, and even attacking people.
In this case, their calls for change seem to have been heard. Earlier today, the ACR posted that police officers "with a passion for hunting" have agreed to address the situation, quoting "Corps Commander" Gianluca Giurato as saying that, "Officers may put down...the ungulates."