Wild Buck Trapped in Classroom After Breaking Into Elementary School
A Tennessee elementary school had an unexpected visitor when a wild white-tailed deer managed to find its way into a classroom early Tuesday morning.
Kaleb Stratton, an officer with the Tennessee Wildlife Resources Agency helped corral the buck, estimated to be between 2.5 and 3.5 years old, out of Westside Elementary School in Springfield.
"Surprise student at Westside Elementary in Springfield this morning," a Facebook post published to Tennessee Wildlife Resources Agency's page read. "Today teachers are teaching the 4 R's at Westside. Reading, Righting, Rithmetic, and Rut!"
Stratton told Newsweek he responded to the incident just as the children were making their way to school, but no one was in the classroom. Because it is currently mating season, it would have been a dangerous situation had there been people in the room.
According to the Tennessee Wildlife Resources Agency, the white-tailed deer is one of Tennessee's most hunted animals. They may be found in a number of different environments but they typically prefer wooded areas during the day. Peak rutting season is in November, but it may begin in September and last through February.
"During the rutting, or mating, season, bucks will fight each other using their antlers," the Tennessee Wildlife Resources Agency's website stated.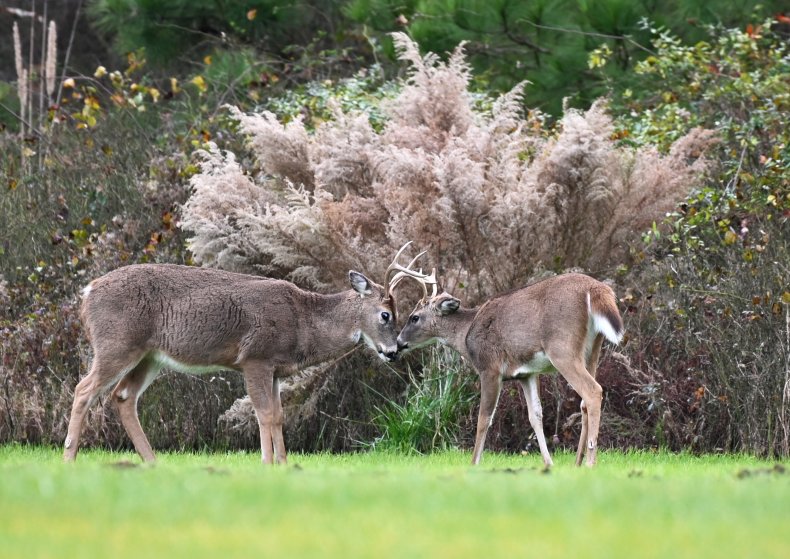 Stratton explained that he believes the deer possibly saw his reflection in a glass emergency door and pushed his way through. The glass, he said, may have turned like a revolving door and trapped the deer inside the room.
When he went into the classroom, Stratton said he found that the deer was scared.
"A lot of people might think he was being aggressive but that was him being scared," he said. "He didn't want me in there."
Although Stratton said he could have tranquilized the deer and removed him from the premises, he was able to lead the buck to the door and coax him outside. From start to finish, the removal took about 15 minutes.
Tables and chairs were flipped over, and the children needed to find a new place to learn for the day while the classroom underwent an extensive deep clean.
Stratton also noted that the deer did not need to be relocated because there were some small, wooded areas nearby. He said most deer typically live within a mile and a half from where they were born.
Although deer are typically seen as skittish and don't approach people, rutting season has a major impact on many bucks.
"Their normal alertness goes down because they're focused on mating," Stratton explained.
The Charlotte Observer reported that the deer was not injured. Although the buck was missing his right antler, Stratton said it was likely already missing before he got into the classroom.