'Wild Mountain Thyme' Is John Patrick Shanley's Valentine to Ireland
John Patrick Shanley loves Ireland. This is evident in every frame, word and musical note in his charming new gem of romance, Wild Mountain Thyme, which is adapted from Shanley's Broadway play, Outside Mullingar.
Wild Mountain Thyme is a fairy tale. No doubt about it. From the open line—"Once upon a time"—you know you are safe and in good hands, the hands of director and screenwriter Shanley. He wrote the screenplay to Moonstruck, the classic 1987 Italian-American romance starring Cher and Nicolas Cage. And this is no Grimm fairy tale, nor a grim one. It is a valentine to the land of Shanley's forebears, its language, its people and their stories. It has love interest, an inheritance, some family squabbles and just a touch of blarney to sweeten the pot.
The elevator pitch to Wild Mountain Thyme was probably something like "it's Moonstruck in Ireland." It is a pitch that Shanley likes. "I was in the same frame of mind when I wrote both of them," he told Newsweek. Where Moonstruck drew on Shanley's experiences growing up in an Italian-American neighborhood in the Bronx. New York, Wild Mountain Thyme goes back even further, to his family's roots in Ireland.
When he was in his 40s, Shanley brought his father to Ireland and "fell violently in love with the place." He loved the language, the stories and most of all the people.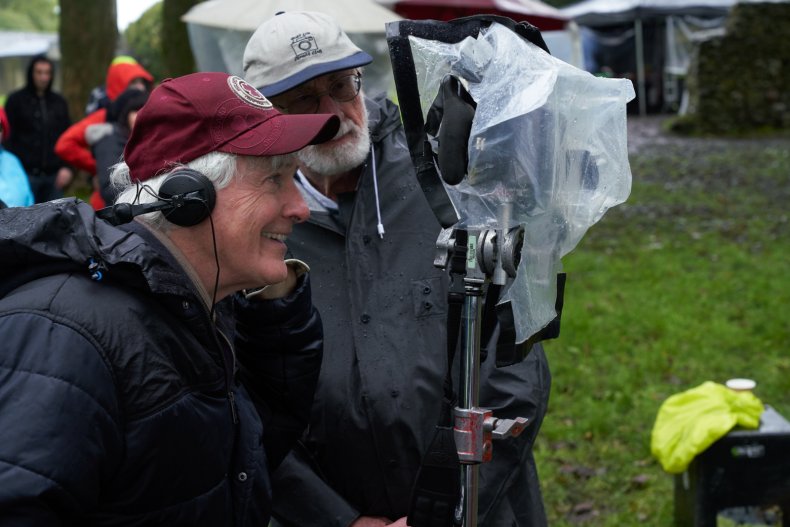 The locations may be different, but there are plenty of similarities between Moonstruck and Wild Mountain Thyme. Both have a boatload of quirky characters, a life-changing romance that is hanging in the balance and some pretty sweet eye candy. This time we are also treated to some of the most beautiful scenery seen this side of The Quiet Man. No coincidence there: Wild Mountain Thyme was shot just up the road a bit, a good stretch of the legs, in County Mayo. Shanley says he asked his producers for the most beautiful scenery and mountains they could find, and he sure got it.
And for quirkiness, well for starters the properties of the two main characters are separated by two fences with two gates about 20 feet apart. This is based on fact—the farms and the gates do exist—and accepted as normal by all the locals. When Shanley questioned it, he says, "Everyone just looked at me like I was crazy." But he knew he had to put that in a movie or a play.
Then there are the Irish people who, Shanley believes, are blessed with a wonderful dark sense of humor—even if it is inadvertently dark and inadvertently humorous. On his family trip, his Irish uncle told story after story involving suicides. At one point, Shanley says, "I broke up laughing. And he says to me, 'Why are you laughing? This is serious." But it was just so over-the-top. And if thoughts of death are always close to the surface in Wild Mountain Thyme, they never detract from its humor.
This experience eventually led to Shanley writing Outside Mullingar, which was produced by New York's Manhattan Theatre Club in 2014, and it was generally well-received by the critics. When it came time to make it into a movie, Shanley took the reins. He had directed movies before: his own play, the Pulitzer- and Tony-winning Doubt, and the Hollywood movie Joe Versus the Volcano, starring Tom Hanks, Meg Ryan and Abe Vigoda.
Still adapting one's own work from one medium to another can be problematic for some writers. Too slavish an adaption and the result is often wooden. Too loose and the audience might wonder why one bothered to adapt it in the first place. Shanley, who has also adapted the book Alive, says when adapting he writes "from the truth" and it's key "to keep the promise you make to the audience." Doing that keeps the material fresh and the audience engaged.
Wild Mountain Thyme, says Shanley, is not really a romantic comedy, it's a human comedy. To him, the relationship he between Anthony (Jamie Dornan) and his father, Tony (Christopher Walken), is as important as Anthony and Rosemary (Emily Blunt) and Rosemary and Adam (Jon Hamm). And while Walken can steal any scene at any time, given the weapons-grade eye candy involved, the audience might beg to differ. Rosemary and Anthony seem destined to get together and live happily ever after.
The big problem in a romantic comedy is how to keep two people who seem destined to get together and live happily ever after believably apart for the 90 or so minutes of the movie. Enter Jon Hamm, and some doubts do arise...or arouse.
Dornan's Anthony is about fifty shades removed from Christian Grey, the role for which he probably most famous role. And Hamm is no Don Draper here, but his appeal to Blunt's Rosemary is evident from their first meeting. The real appeal of this—or any—fairy tale really lies in the telling of the story. And Shanley can and does weave a pleasant little tale. You can enjoy on many levels as a fairy tale, a family comedy or and a love story. It's a strange little many-faceted emerald of a love story, and it's welcome one for this strange little holiday season.
Wild Mountain Thyme opens on Friday, December 11.