Wild Photos as New York Snowfall Tops 6 Feet Amid 'Zero Visibility' Storm
Receiving over 6 feet of snow, Buffalo, New York, and surrounding cities were slammed by a historic lake-effect snowstorm this weekend, with the Buffalo Bills moving their Sunday game against the Cleveland Browns to Detroit.
The excessive snowfall "will produce near zero visibility, very difficult to impossible travel, damage to infrastructure, and may paralyze the hardest-hit communities," the Weather Prediction Center said Saturday morning. The National Weather Service (NWS) also updated snowfall totals as of 1:30 p.m. showing Orchard Park, New York, receiving 77 inches of snow.
Meanwhile, videos posted to social media show the scale of the snowfall, with one video depicting snow reaching near the top of a stop sign and another showing a wall of snow as someone opens their garage door.
According to the NWS, lake-effect snow happens "when cold air, often originating from Canada, moves across the open waters of the Great Lakes."
"As the cold air passes over the unfrozen and relatively warm waters of the Great Lakes, warmth and moisture are transferred into the lowest portion of the atmosphere. The air rises, clouds form and grow into narrow band that produces 2 to 3 inches of snow per hour or more," the NWS added.
Meteorologist and climate specialist Jeff Berardelli told Newsweek on Saturday, "The heaviest lake effect events happen in early winter or earlier as you can see because the lake is still warm. By mid-winter the lake gets icy, and moisture gets more sparse."
Buffalo broke its record for the most snow in a single day with 16.1 inches falling on Saturday. The previous record was set in 2014 with 7.6 inches dropping during the historic and deadly "Snowvember" event that dropped close to 7 feet of snow on the area, AccuWeather reported.
Buffalo was hit by bands of lake-effect snow on Friday with a "wall" making its way into the city around 11:30 p.m. New York Governor Kathy Hochul echoed efforts to keep New Yorkers safe on Saturday tweeting that people should stay off the roads to allow first responders to plow and get necessary resources to those that need them.
Meanwhile, the National Guard arrived in Lake Erie County on Saturday to help pickup and deliver people who needed dialysis treatment. A travel ban remains in effect for portions of Erie County, according to the county's website.
Hochul issued a State of Emergency for Western New York ahead of the storm on Thursday morning. At a briefing on Saturday, the governor said, "Because we were so preemptive in this strike, we were able to avert many tragedies."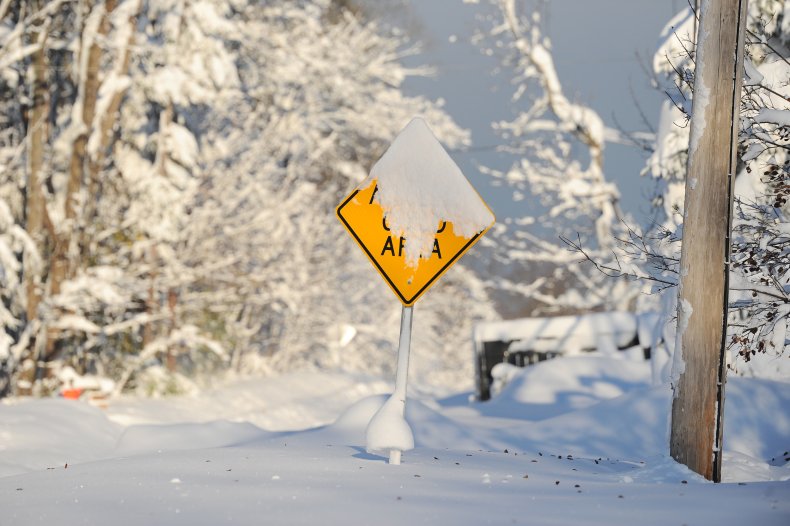 Travel plans around the Thanksgiving holiday may also be interrupted by a "significant storm to form over the center of the country," AccuWeather said Saturday, adding that the storm could impact major travel hubs Chicago, Atlanta and New York.
"While the days leading up to Thanksgiving and the holiday itself are expected to feature largely dry conditions across the mid-Atlantic and Northeast, conditions may quickly change as holiday shoppers head out in search of deals next Friday," AccuWeather meteorologist Brandon Buckingham said.
Update 11/19/2022, 5:32 p.m. ET: This article has been updated to include comment from Berardelli.