Far-Right Wilders Launches Campaign With Invective Against Moroccans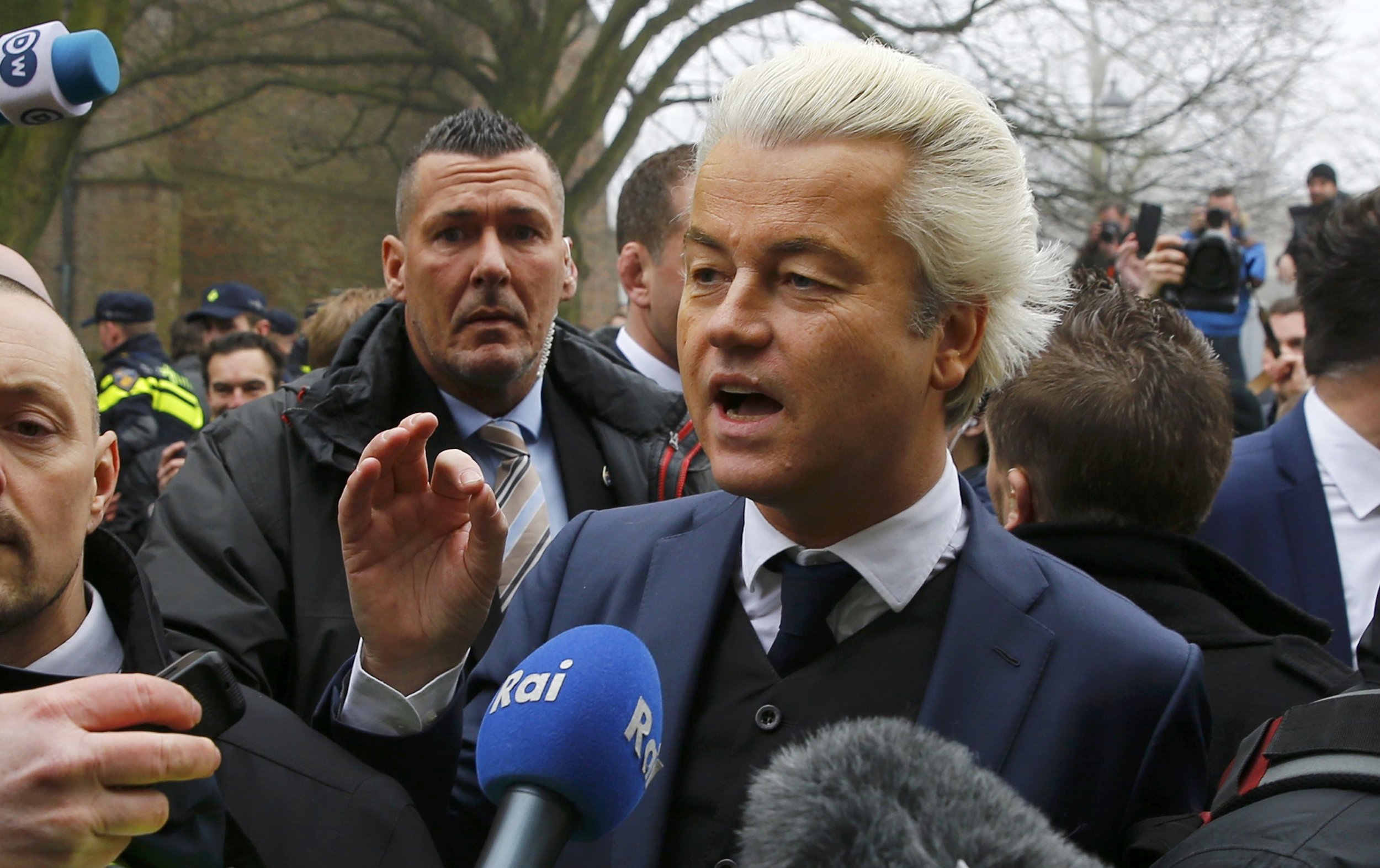 Geert Wilders launched his election campaign on Saturday, promising to crack down on "Moroccan scum" he said were making the streets unsafe and urging the Dutch to "regain" their country with a vote for his anti-Muslim, anti-EU Freedom Party.
Wilders was surrounded by police and security guards during a walkabout in his party's stronghold of Spijkenisse, part of the ethnically diverse industrial area surrounding the vast port of Rotterdam.
"There is a lot of Moroccan scum in Holland who make the streets unsafe," he said. "If you want to regain your country, make the Netherlands for the people of the Netherlands again, then you can only vote for one party."
Wilders—who has lived in hiding since the 2004 murder by an Islamist of Dutch filmmaker Theo van Gogh—hopes a global upsurge in populism will propel him to power in the March 15 parliamentary election. His campaign pledges include a ban on Muslim immigration, shuttering all mosques and leaving the European Union.
But social policies were more important to many of his supporters waiting to see him in Spijkenisse's market.
"The most important thing for me is bringing the pension age back down to 65," said Wil Fens, 59, who works as a crane operator at the port.
A few protesters held up placards labelling Wilders an extremist.
Wilders said Dutch voters would defy "elite fearmongering" to put him in power, which in turn would boost French far-right ally Marine Le Pen and the Alternative for Germany party, both hoping to transform European politics in elections this year.
Wilders' party leads in opinion polls with 17 percent, a whisker ahead of the pro-business Liberals of Prime Minister Mark Rutte, who closed the gap by matching some of his anti-immigration rhetoric and getting an electoral boost from a surging economy.
But even if he wins, Wilders would struggle to form a government since most major parties have ruled out joining a coalition with him, viewing his policies as offensive or sometimes unconstitutional.
The fragmented political landscape means a coalition government of four or more parties is all but inevitable.
"Despite all the hate and fearmongering of the elite both in Britain and Brussels people took their fate in their own hands," he said of Britain's June 23 vote to leave the European Union. "I think that will happen in Holland, in France, Austria and in Germany," he said.
In December, Wilders was convicted of inciting discrimination for leading supporters in a chant that they wanted "Fewer! Fewer! Fewer!" Moroccans in the country.
A study published by the Social Affairs Ministry on Tuesday found that up to 40 percent of the Turks and Moroccans in the Netherlands do not feel they belong or are accepted.