Wildfire in Ireland Unveils World War II Message Carved Into Land
A wildfire in Ireland has revealed a landmark from World War II that was previously covered in thick undergrowth.
After the blaze was put out, a Garda Air Support Unit was flying over the area when they noticed the word EIRE, the Irish name for Ireland, on the charred coastline.
This isn't the only sign of its kind in Ireland; there are over 80 different Eire signs across the country. Volunteers carved them into the ground during World War II to warn American and German bombers they were flying over Ireland, which was a neutral country at the time.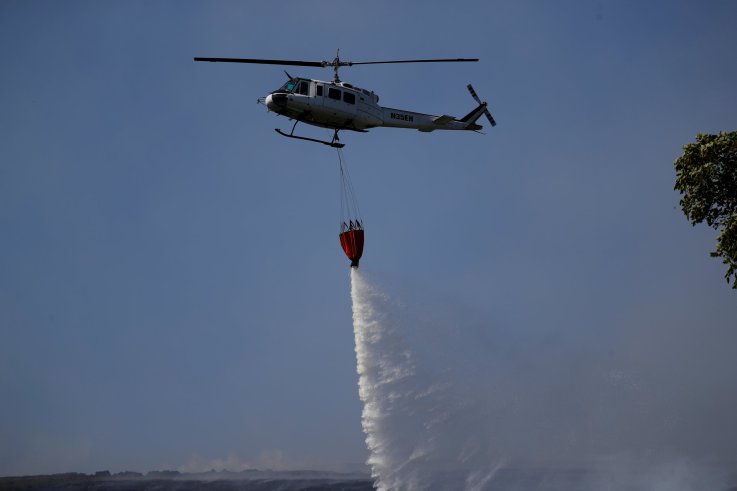 After carving the signs out, nearly 165 tons of whitewashed stone set in concrete was used to make the signs more visible.
"The signs themselves are quite common on the west coast, but unusual on the east," a spokesperson from the Garda Air Support told Irish broadcaster RTE.
More than 40,000 gallons of seawater was poured onto the fire, which was burning in the County Wicklow area last month. The blaze forced the evacuation of homes and caused damage to overhead railway lines.
Despite being a neutral country, Ireland allowed allied forces to fly over the country during the war. Rather than just warning bombers, the signs were used as a navigational tool, the BBC reported.
For weeks, fires have been raging throughout Europe because of high temperatures and dry conditions. The most recent wildfire has been burning in Portugal, where a total of 800 firefighters and 12 aircraft have been used to fight the blaze, which has already burned nearly 3,000 acres of forest in the country's Monchique area.
One hundred people were evacuated from the surrounding area. Portugal has previously faced deadly wildfires, when 114 people were killed last year in the country's deadliest wildfire in history.
A fire in Greece killed nearly 90 people in July. On Sunday, the heads of both the police force and the fire brigade were replaced just two days after the country's civil protection minister, Nikos Toskas, resigned.
In July, Sweden has also seen wildfires throughout its territory. "Over 360 fire-fighting personnel, 7 planes, 6 helicopters and 67 vehicles were mobilized through the European Civil Protection Mechanism in the past three weeks, to assist Sweden in combating the unprecedented forest fires," a press release from the European Commission read.
Wildfire in Ireland Unveils World War II Message Carved Into Land | World