Wildfire Smoke Increases Susceptibility to COVID-19, Medical Experts Warn
As massive wildfires continue to rage across much of America's West Coast, medical experts have warned that the smoke-filled air left in the fires' wake can increase the body's susceptibility to COVID-19.
"There is evidence that exposure of lungs to bad air quality can increase the protein in the virus that binds...to the infection in the lungs," Dr. Brad Spellberg, chief medical officer at County-USC Medical Center in Los Angeles, told KCAL-TV.
Several coronavirus testing sites in Los Angeles County were forced to temporarily close this week because of the poor air quality caused by wildfires burning in the area, KCAL reported.
Wildfire smoke can trigger a wide arrange of symptoms in humans, many of which are eerily similar to ones most commonly associated with COVID-19: scratchy throat; headaches; difficulty breathing; wheezing; coughing; fatigue; and chest pain—in addition to burning eyes and a runny nose, according to KCAL.
Monrovia resident Imani Johnson told KCAL that she could already feel the effects of the thick layer of smoke. "I feel it a little bit in my throat now, even with my mask on. It's the worst," she said.
Pollution created by wildfires can also cause inflammation in the body, said Dr. Cheryl Pirozzi, a pulmonologist at University of Utah Health.
"What we know about wildfire smoke and particulate pollution is that exposure increases the risk for respiratory viral infections," Pirozzi said in a university blog post.
Italian scientists found in 2014 that air pollutants can increase airway inflammation in the lungs and reduce their capacity to clear out viral invaders. Pneumonia and bronchiolitis are already among the common respiratory infections that can be triggered by particulate pollution. But experts fear that the new coronavirus could be added to the list.
And anyone who may have already had a severe COVID-19 infection could be suffering from "significant impairment" in terms of their lung function, placing them at a higher risk of developing severe complications from the wildfire smoke.
Those who already have lung and heart diseases, like asthma, are at a particular risk of further harm caused by air pollution, Spellberg emphasized in an email to Newsweek. "People with health conditions need to stay indoors and as much as possible away from pollution," he wrote.
Newsweek contacted Pirozzi for further comment, but did not hear back in time for publication.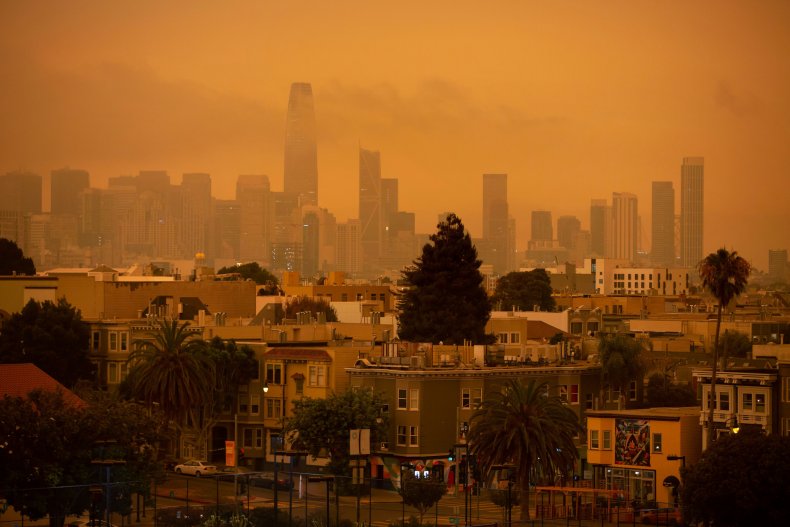 Parts of California, Oregon and Washington have found themselves in the midst of an intense fire season, fueled by a record-breaking heatwave and abnormal amount of lightning strikes—two factors many are pointing to as evidence of a climate crisis. California Governor Gavin Newsom declared a state of emergency August 18, revealing one day later that the state was battling more than 360 fires.
Nearly one month has passed, and West Coast residents are wondering when they might next get to enjoy clean, fresh air. The fires are still raging, having scorched millions of acres and claimed the lives of more than a dozen people.
National Weather Service meteorologist Roger Gass told Nexstar Media Wire that the amount of smoke in the air is "very fire dependent," as the smoke travels wherever the fires go. But even a shift in wind, which would push the fire and its smoke in a different direction, wouldn't bring current conditions back to normal.
"We're not going to see completely clear skies for a while," Gass said.
Residents who live in areas with high levels of wildfire smoke should stay inside with the doors and windows closed, according to the Environmental Protection Agency. People can also use a portable air cleaner to reduce indoor air pollution, or wear an N95 face mask if they must travel outdoors.
Update 2:07 p.m. ET:This article has been updated to include comments from Dr. Brad Spellberg.