Wildfires 2018 Map: Where Martin Fire And Other Largest Wildfires Are Still Burning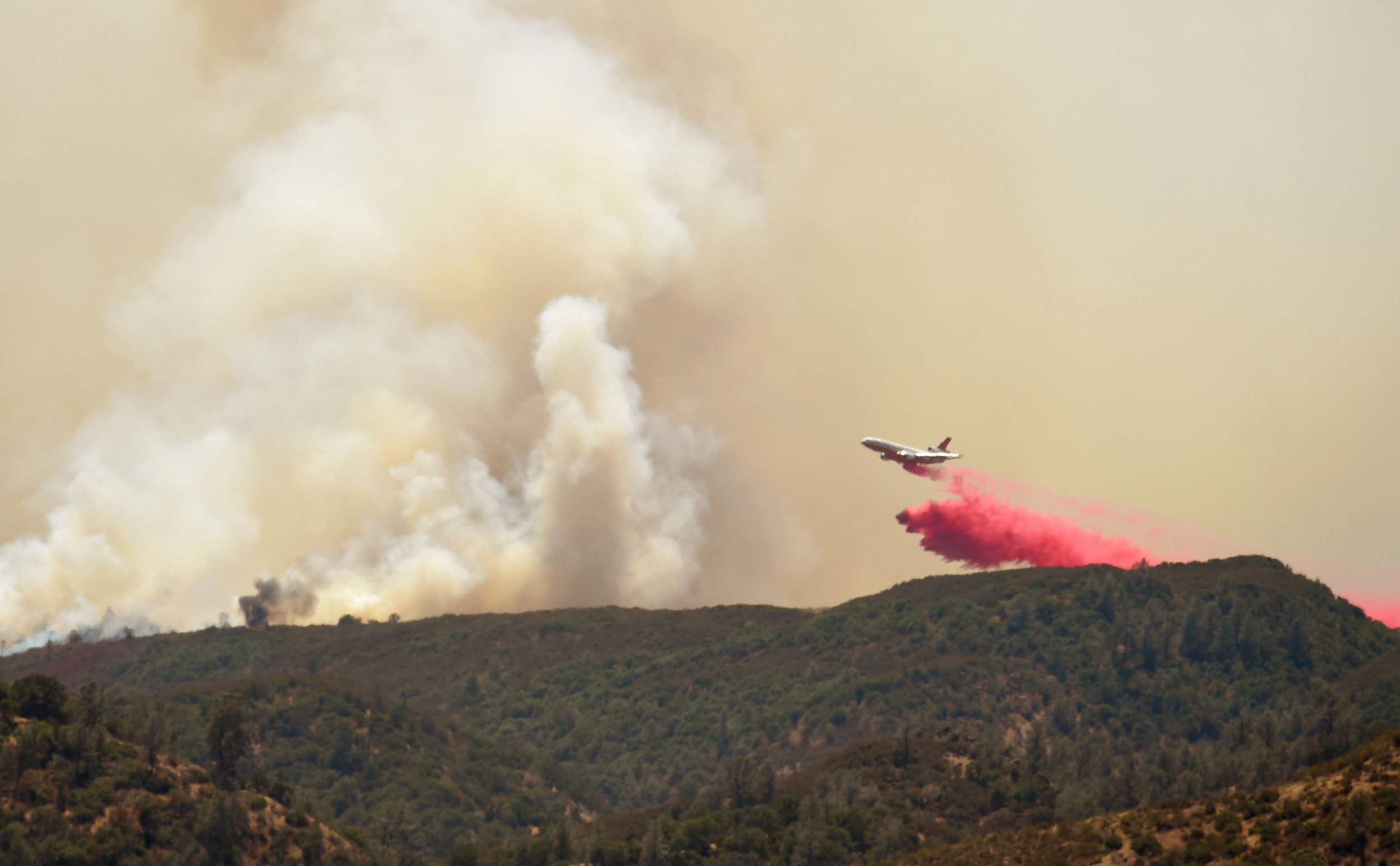 While fire officials in several states continue to battle destructive wildfires out west, firefighters in Colorado were given a much-needed hand from some much-needed rain. Crews were able to gain better control of several of the largest wildfires in the state, including the Spring Creek Fire.
Meanwhile, in California a new 500-acre wildfire ignited Sunday night, shutting down Interstate 580. In Utah, residents affected by the Dollar Ridge Fire are being allowed back to their homes, Duchesne County sheriff's officials said.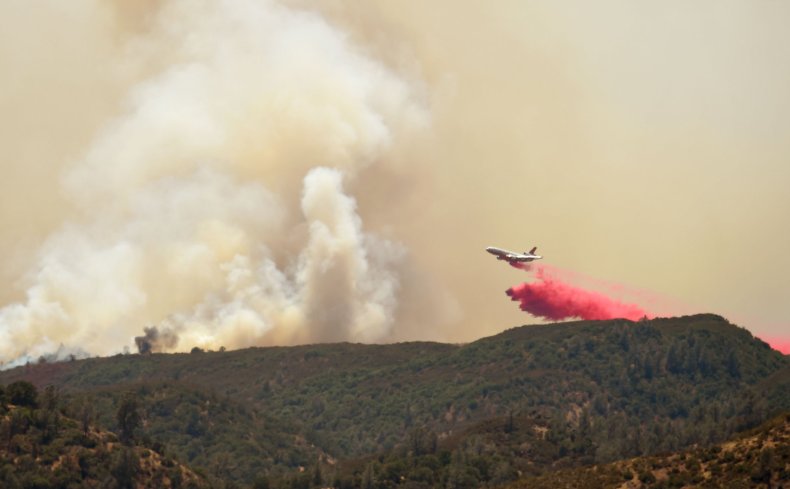 Newsweek has updates for the largest fires affecting the western United States, including the Spring Creek Fire in Colorado and the Martin Fire in Nevada.
Martin Fire Paradise Valley, Nevada 399,429 Acres, 8 Percent Contained
The Martin Fire first ignited on Thursday about 4 miles northeast of Paradise Valley. Officials are still investigating the cause.
According to the Reno Gazette-Journal, the fire grew by 88,000 acres on Sunday, making it the largest wildfire currently burning in the United States. "The fire remains very active under the combination of high temperatures, low humidity and strong southwest winds," officials said.
Officials with the Humboldt County Sheriff's Office (HCSO) and the Bureau of Land Management's (BLM) Law Enforcement Division would like to speak to anyone who may have been camping or near Martin Creek or Martin Creek Canyon on the night of July Fourth.
Anyone who may have information on the person or people involved with the fire is asked to contact the Humboldt County Secret Witness line at 775-623-6969, the BLM's Law Enforcement tip line at 775-885-6117 or visit the HCSO's Report Suspicious Activity site here.
Spring Creek Fire Fort Garland, Colorado 107,627 Acres, 70 Percent Contained
The largest fire in Colorado was doused with long overdue rain, allowing firefighters to build containment lines over the weekend.
"Everything is moving in the right direction," Linda Smith, Costilla County spokeswoman, told The Denver Post. The human-caused fire destroyed at least 132 homes and damaged an additional 119.
The Rocky Mountain Incident Management Team said Monday that residents are returning to the burned area but reminded them to remain on high alert. Highway 160 is now open in both directions, but Highway 12 remains closed from mile marker 7 to mile marker 22.5, and Highway 69 is closed from mile marker 5 to mile marker 42.
County Fire Sacramento, California 90,288 Acres, 73 Percent Contained
Over 2,600 fire personnel continue to work to contain the County Fire affecting Napa and Yolo counties in California. The wildfire, which began June 30, grew nearly 2,000 acres over the weekend to reach over 90,000 acres.
"Firefighters are working aggressively to mop up and strengthen control lines," the California Department of Forestry and Fire Protection said Monday. Several evacuations were lifted, including along the eastern shore of Lake Berryessa, east to the Napa-Yolo County Line, north of Highway 128 and south of the intersection of East Side Road and Knoxville Berryessa Road.
The County Fire has destroyed 16 structures, damaged three and threatened 96.
416 Fire Durango, Colorado 54,129 Acres, 50 Percent Contained
The 416 Fire continues to burn in the San Juan National Forest near Durango. Officials announced Monday that significant rain is expected to reach the area by midweek.
La Plata County issued pre-evacuation notices for 317 residences in Tripp Creek, Dyke Canyon, Hermosa Circle and Falls Creek Ranch. "With the predicted weather, the fire is not expected to show noticeable spread or significant smoke production. However, it may continue to show smokes until winter weather ends the fire season," officials said Monday.
Fire spokeswoman Kathy Arnoldus told The Denver Post that firefighters will not build containment lines on the western and northern parts of the fire because they are in inaccessible wilderness areas.
Dollar Ridge Fire Duchesne, Utah 49,789 Acres, 35 Percent Contained
More than 800 firefighters are working to contain the human-caused Duchesne Fire, which has destroyed at least 90 homes. According to KSTU-TV, a majority of evacuated residents have been allowed to return to their homes.
Authorities said there is a "high potential" that the fire will grow to the south and west, with the blaze "spreading through large dead and down stands of timber stringers" in the next 24 hours. Scattered rain showers and thunderstorms are expected over the area Monday and Tuesday.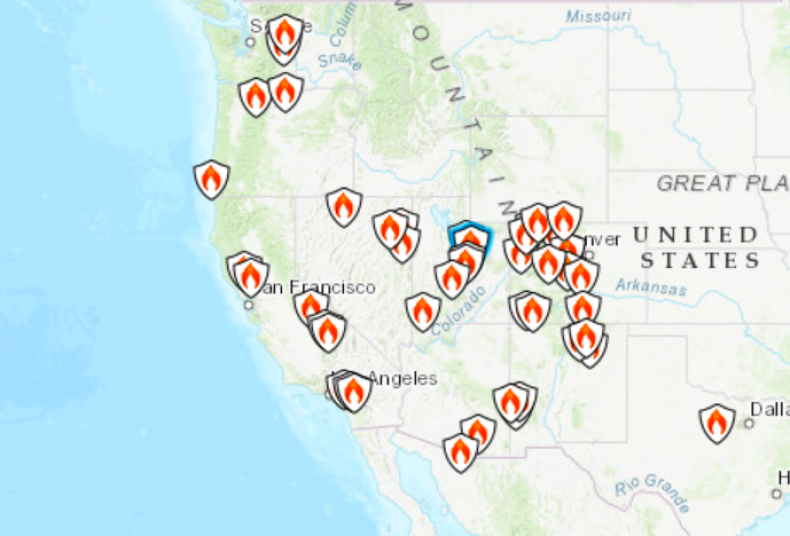 Wildfires 2018 Map: Where Martin Fire And Other Largest Wildfires Are Still Burning | U.S.