Wildfire season is in full swing with a new batch of destructive wildfires affecting the western part of the country. Several fires have ignited in July in California, including the Carr Fire, which has grown to 2,500 acres in just 24 hours.
Meanwhile, firefighters in Oregon continue to battle nine fires across the region that have consumed more than 25,000 acres combined. Idaho added a new wildfire on Monday, near Payette National Forests, that has already consumed 2,100 acres.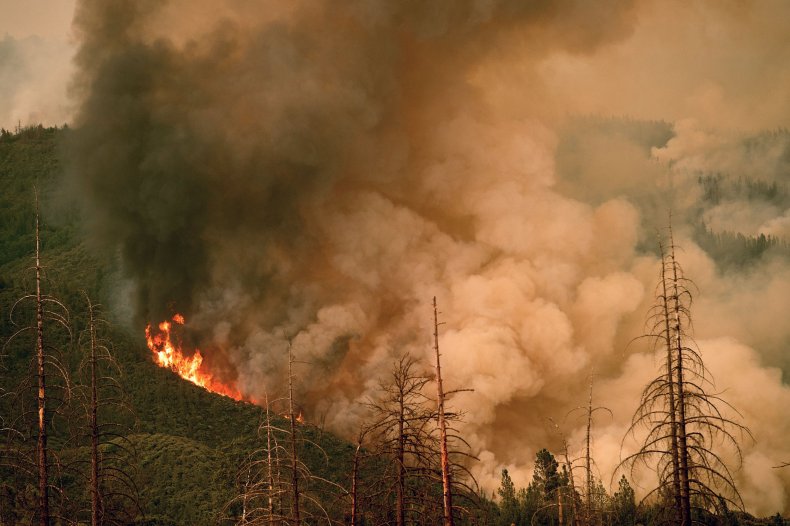 Newsweek has rounded up some of the fastest-growing and biggest fires affecting the western United States, including the Ferguson Fire in California and the Rattlesnake Creek Fire in Idaho.
Ferguson Fire
Awahanee, California
36,587 acres, 25 percent contained
The Ferguson Fire, which began on July 13 and is threatening Yosemite National Park, has burned 36,587 acres and is 25 percent contained, officials announced on Tuesday. The fast-moving fire has prompted massive evacuations, and one firefighter has died.
Fire officials said the Ferguson Fire is "burning in steps, rugged terrain with little to no access roads." The fire has not destroyed or damaged any homes in the area, but it did destroy a non-residential building. Six firefighters have been injured attempting to control the fire.
"We are slowly making progress," fire spokesman Rich Eagan told The San Francisco Chronicle. "Maybe not as fast as some people would like, but we're working hard and making progress."
Eagan said that high temperatures Wednesday and Thursday, reaching as high as 103 degrees, could make things difficult for firefighters. More than 3,300 firefighters are working to contain the blaze, along with 194 engines, 45 water tenders, 16 helicopters, 91 hand crews and 52 bulldozers.
Officials announced Tuesday that parts of Yosemite National Park would be closed due to the smoke of the Ferguson Fire. Yosemite Valley and Wawona will be closed, and visitors are asked to leave those areas by Wednesday morning, YourCentralValley.com reported.
Garner Complex
Grants Pass, Oregon
11,564 acres, 14 percent contained
The Garner Complex near Grants Pass, Oregon, was first ignited by lightning on July 15. Since then, the fire, which includes the Taylor Creek and Grave Creek fires, has burned through 11,564 acres and is 14 percent contained.
"As soon as we get one fire knocked down and out cold, another one comes to life and jumps containment lines," Garner Complex spokeswoman Ashley Lertora told The Statesman Journal. "We're facing near-critical fire weather conditions in the next few days, and our teams are really battling to stay on top of them."
On Monday, officials announced that progress at the Taylor Creek Fire had prompted evacuation level downgrades for parts of Shan Creek Road and Limpy Creek Road.
Carr Fire
Whiskeytown, California
2,500 acres, 5 percent contained
The aggressive Carr Fire in Shasta County, California, ignited on Monday and quickly spread to 2,500 acres. The fast-moving blaze is burning through Whiskeytown National Recreation Area and is 5 percent contained as of Tuesday.
Cal Fire announced an evacuation order has been issued for French Gulch and Whiskey Creek Road, north of Highway 299 and SR299 west of Trinity Mountain Road to the base of Buckhorn Summit. An evacuation center was opened at Weaverville Elementary School and at Shasta High School for residents east of Trinity Mountain Road, officials said.
Cal Fire spokesperson Cheryl Buliavac told The Sacramento Bee that the fire is burning through steep, hard-to-access terrain north of 299, which is challenging firefighting efforts. "We're seeing fire behavior that we don't typically see until much later in the season," Buliavac told the newspaper.
The Carr Fire has prompted the closure of Highway 299 and Trinity Mountain Road in both directions.
Rattlesnake Creek Fire
Near Pollock, Idaho
2,100 acres, zero percent contained
The Rattlesnake Creek Fire in Idaho is another aggressive fire that began burning near Highway 95 by mile marker 184 on Monday. A total of 300 personnel are working to contain the fire.
The Idaho County Sheriff's Office has placed traffic control measures along Highway 95 for public and firefighter safety. Motorists are urged to avoid the area if possible and to not stop along the roadway.