Linking Wildfires to Climate Change Has 'Almost a Religious' Aspect, Says Trump-Supporting Former Australian PM
The former prime minister of Australia has downplayed the links between climate change and the devastating bushfires that have affected his country in recent months, saying that there is "almost a religious" aspect to those who use extreme weather events as proof of the phenomenon.
The wildfires began in September last year and have burned millions of hectares of land, killed 29 people and caused widespread destruction to property.
The severity of the fires this season has been exacerbated by record-breaking hot and dry conditions across the country—both of which have a "well-established" linked to climate change—Stefan Rahmstorf, from Germany's Potsdam Institute for Climate Impact Research, told Time.
However, speaking at an event in the United States hosted by the conservative think tank Heritage Foundation, Tony Abbot—who serves as a volunteer firefighter—played down the contribution of climate change to the fires.
"I'm not one of those people who sees the current bushfires as confirmation of all we've ever feared about the changing climate," Abbot said, according to The Sydney Morning Herald.
"I see the current bushfires as the sort of thing that we are always going to be prone to in a country such as ours—a land of droughts and flooding rains as the poet [Dorothea Mackellar] said all those years back," he said.
The former prime minister also said that while the current bushfire season may be the longest in Australian history, previous seasons have been worse in terms of the number of people killed or area of land burned.
"I think the [current] prime minister [Scott Morrison] is right: he said climate change may be playing a role in the drought which triggered the bushfires," Abbott said. "But we have to remember that bushfires are hardly unknown in Australia."
Abbott went on to argue that there was a tendency nowadays to consider all extreme weather events as proof of climate change.
"Bushfires prove climate change. Floods prove climate change. Superstorm Sandy, I think that proved climate change," he said. "Whether it's extraordinarily cold or extraordinarily hot; whether it's extraordinarily dry or extraordinarily wet. It all proves climate change.
"If you think climate change is the most important thing, everything can be turned to proof. I think that to many it has almost a religious aspect to it."
Morrison and his government have faced a barrage of criticism for their handling of the bushfires. The prime minister drew particular ire after it emerged he was on an unannounced holiday in Hawaii while fires ravaged his country over the Christmas period.
However, Abbott defended Morrison, saying that he had done a good job of dealing with the bushfires.
"I don't think anyone could fault the extraordinary effort that the prime minister has put into responding to the current or now I think starting to recede bushfire emergency," Abbott is quoted as saying. "In terms of money, time, and commitment of the armed forces it has been unprecedented so all credit to Scott Morrison for what he has done there."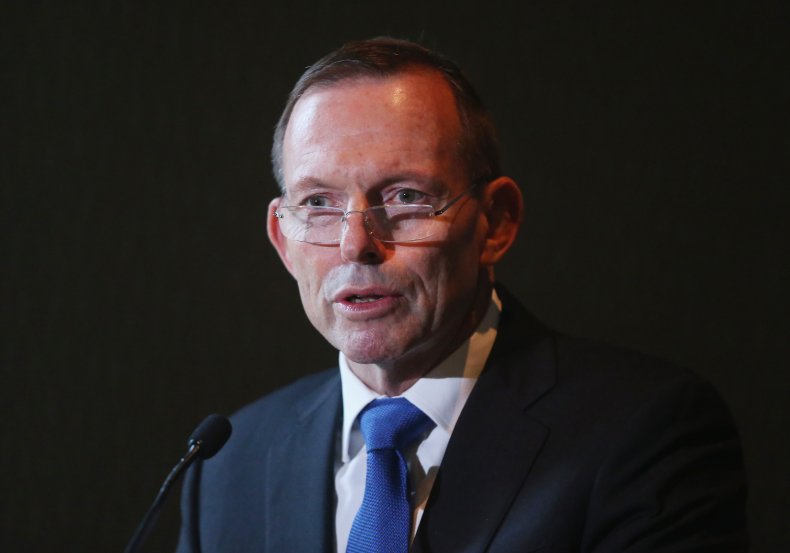 He added that Australia should take "sensible" measures to reduce its carbon emissions, however, not to go so far as to impede economic growth.
Abbot also praised U.S. President Donald Trump, saying that while he would have been "reluctant Trump voter" in 2016, he would now endorse him for second term, despite admitting that he had made some "questionable calls." These include the withdrawal of U.S. troops from Syria and pulling out of the Trans-Pacific Partnership free trade deal.
"He might seem crass or intemperate—that doesn't mean he's not the best possible president," Abbott reportedly told the audience. "The one thing you can't say about Trump is that he's been shy to lead. The singular feature of Donald Trump is that he has supreme self-confidence in himself and his country and that frankly was the missing ingredient in the previous presidency.
"His style sometimes grates, but he has been a very good president. Maybe it's been overtaken by Trump derangement syndrome, but for the first time in years the main narrative has not been one of American decline. It's refreshing actually that Trump doesn't talk about what America can't do, but what it can do."
On Tuesday, Trump gave a speech at the World Economic Forum 2020 in Davos, Switzerland, in which he appeared to criticize climate activists.
"To embrace the possibilities of tomorrow," he said, "we must reject the perennial prophets of doom and their predictions of the apocalypse. They are the heirs of yesterday's foolish fortune tellers...and they want to see us do badly."
He continued: "These alarmists always demand the same thing: absolute power to dominate, transform and control every aspect of our lives."
The Trump administration has faced criticism for its rollback of environmental regulations and the decision to withdraw from the Paris climate accord, leaving the U.S. as the only nation which is not signed up to the agreement.