Hillary Clinton Says Wildfires, Red Tides, Climate Change Will All Become Worse With Brett Kavanaugh on Supreme Court
Rising temperatures, wildfires and red tides, some of this year's most pressing environmental issues, will only become worse if Donald Trump's Supreme Court nominee Brett Kavanaugh is placed on the high court, Hillary Clinton says.
"This year has seen record-high temperatures across the world, the biggest wildfire in California history, and an unprecedented red tide in Florida," Clinton wrote in a Twitter post on Friday morning.
"It's urgent that we act to curb climate change—and Brett Kavanaugh on the Supreme Court could make progress virtually impossible," the former secretary of state and presidential candidate added.
The post comes as Kavanaugh faces the fourth day of his Senate confirmation hearing on Capitol Hill. For the past two days the federal judge has been questioned by Republicans and Democrats on everything from his stance on Roe v. Wade as "settled law" to presidential power and subpoenas.
The confirmation hearing has been contentious, beginning with Democrats repeatedly calling for proceedings to halt after over 40,000 documents relating to Kavanaugh were released to the Senate committee just hours before the first day. More than 200 protesters have been arrested so far for demonstrating against the judge.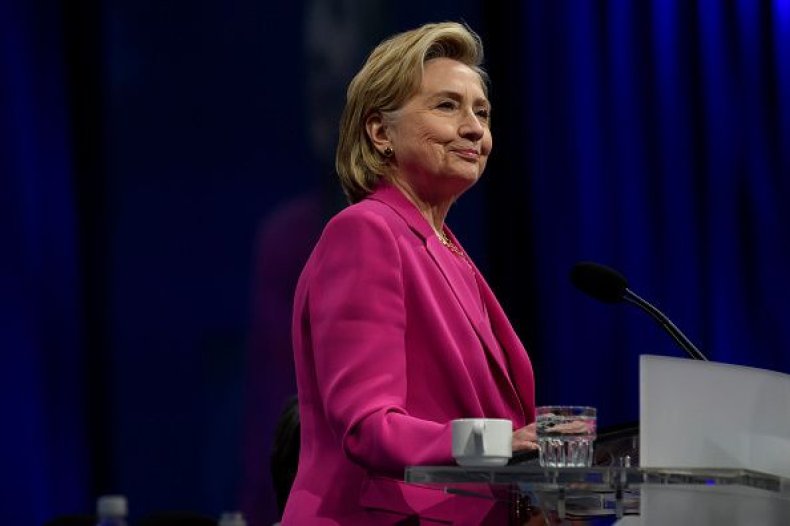 Kavanaugh's prior rulings on issues relating to the environment have shown the judge to favor corporate interests over environmental protections.
In 2012, a group of states and industry representatives went to court to challenge an Environmental Protection Agency regulation to reduce air pollution that crosses state borders in EME Homer City Generation v. EPA. The case also questioned who was able to control the costs of setting a regulation, the agency or the states.
The case appeared before Judge Kavanaugh in the D.C. District Court, where he ruled for the industry representatives, writing that the "EPA may rely on cost-effectiveness factors in order to allow some upwind States to do less than their full fair share" to control pollution, but not more.
In another Kavanaugh case, the EPA revoked a permit for a coal mining company to excavate the tops of several West Virginia mountains, saying that the project would result in "unacceptable adverse effect" to the environment. But Kavanaugh ruled against the EPA, writing that the agency had failed to analyze whether the benefits to the environment would outweigh the costs of shutting down the operation.
This year states across the country are suffering due to the effects of climate change, perhaps most notably Florida's red tide and California's burning wildfires.
More than 6,000 wildfires have hit California this year, burning more than 1,435,263 acres of land throughout the state and causing over $2.5 billion of damage, according to the California Department of Forestry and Fire Protection and the National Interagency Fire Center. By the end of July, the fires had killed at least eight people.
In Florida, a red tide is killing marine life and disrupting the state's tourism as beaches become noxious from the tide's toxic bacteria. The state's shoreline is littered with dead fish, dolphins, manatees and sea turtles. In August, Florida Governor Rick Scott declared a state of emergency in some of the areas hit hardest by the tide.
Kavanaugh defended his environmental decisions during his confirmation hearing on Wednesday, saying that in "some cases I've ruled against environmentalist interests, and in many cases I've ruled for environmentalist interests."
Hillary Clinton Says Wildfires, Red Tides, Climate Change Will All Become Worse With Brett Kavanaugh on Supreme Court | U.S.